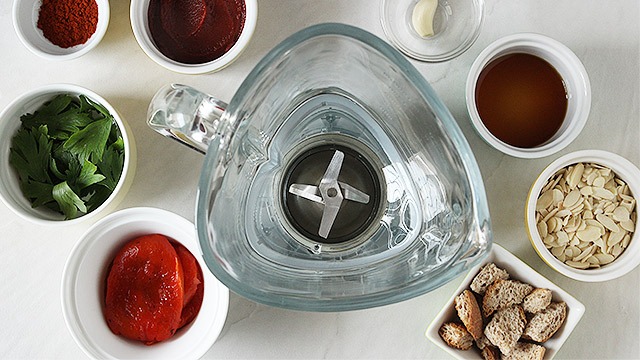 Does the thought of trying to clean and wash an appliance a big obstacle to you using it? We totally understand. Appliances are hard to clean, especially those with lots of parts or have sharp blades that you need to clean thoroughly before storing. 
READ THESE: MORE ARTICLES ON BLENDERS 
If you're one of us, the ones who don't like cleaning up, this tip will get your dirty blender jug clean very quickly, too. It takes a few steps but it's much safer than reaching in with a sponge to clean the spaces between the blades. Plus, you don't have to dismantle the blades from the jug if it's difficult to do. 
Instead do this: fill the blender jug with soapy water and blitz! The soapy water will get the jug and the blades clean in no time! The agitation from the blades will foam up the soapy water and the rest is all vigorously washed away by the blending action. Think of this as a mini dishwasher inside your blender and you get the idea. 
Need the steps? Here's what you do:
1. Rinse the blender jug thoroughly. (optional)  
2. Fill the jug 3/4 of the way with water and add about 1 teaspoon dishwashing soap. 
3. Return it to the blender base, cover and seal the lid, and turn on the blender. 
4. Keep it on until the entire jug and the lid is clean. 
5. Turn off the blender, remove the lid, and rinse. 
READ THESE: MORE ARTICLES ON BLENDERS 
It's that easy. Any recipe that requires you using the blender shouldn't be that intimidating now! 
ALSO READ: 
***
Thinking about what to cook next? Join our Facebook group, Yummy Pinoy Cooking Club, to get more recipe ideas, share your own dishes, and find out what the rest of the community are making and eating!
Got your own version of the classic dishes? Pa-share naman! Get your recipe published on Yummy.ph by submitting your recipe here!
ADVERTISEMENT - CONTINUE READING BELOW
Recommended Videos