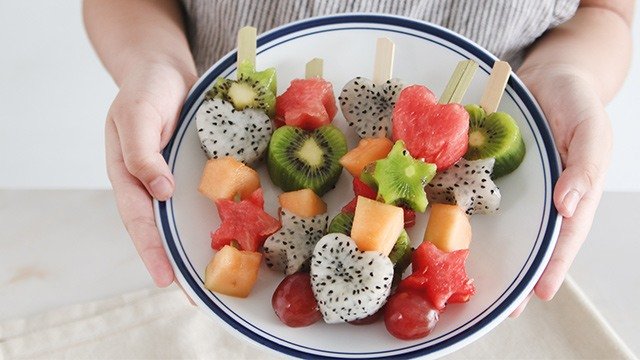 Kids can have fun in the kitchen, too! Start a kitchen project with the kids this summer and make these fun fruit skewers. Local produce is best during summer, too: bright, fresh, flavorful mangoes, pineapples, melons, dragonfruit, and berries are everywhere!
Read our tips to making these fruit skewers extra festive.
1 Pick ripe but firm fruit.
Overripe fruit tends to be too soft and mushy for skewers, so stick to just ripened fruit for this recipe.
2 Stamp out different shapes.
Do the prep work yourself or properly supervise the kids when it comes to slicing the fruit. Keeping them in 1-inch-thick slices makes it easier to stamp out shapes. Use small cookie cutters to stamp out hearts, stars, and flowers from your fruit.
3 Use lots of colorful fruit.
Be creative! Use pink watermelon, yellow pineapple, purple grapes, orange melon, green kiwi, and polka-dotted dragon fruit for and festive fruit skewer.
4 Serve with yogurt.
Serve your fruit skewers with cold, unsweetened yogurt on the side. The tartness of the yogurt is perfect with all those sweet fruits!