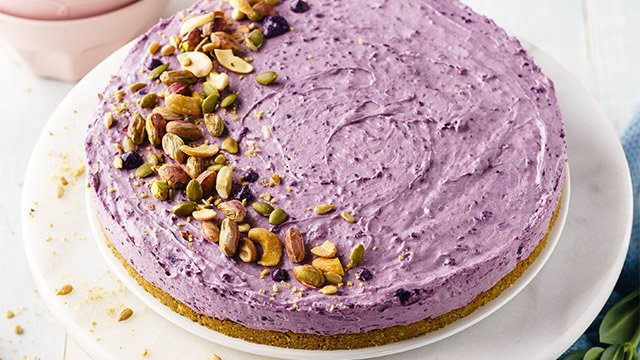 Ube desserts are a no-fail option. Make a no-bake cheesecake in this beloved Pinoy flavor by using only a handful of ingredients. Pistachios and other kinds of nuts for the crust make this extra decadent. The greatest thing about this dessert: it doesn't require an oven! 
No-Bake Ube Cheesecake
1 cup mixed nuts, (shelled pistachios, cashews, and pumpkin and sunflower seed nuts), more for garnish
1 cup graham cracker crumbs
1/2 cup sugar, plus 2 tablespoons, divided
1/8 teaspoon salt
1/3 cup butter, melted
2 bars cream cheese, softened (225 gram bar each)
1/2 cup all-purpose cream
1 tablespoon vanilla extract
1 jar ube halaya, (340 grams), more as garnish
1 In a blender, finely process nuts and seeds until finely chopped, scraping sides as needed. (Be careful not to create butter.) Transfer mixture to a bowl. Stir in graham cracker crumbs, 2 Tbsp. sugar, and a pinch of salt. Pour in melted butter and mix until mixture retains its shape when squeezed in your hand. Press mixture evenly onto the bottom of a 9-inch springform pan. Chill until ready to use.
2 Meanwhile, in the bowl of a mixer with the beater attachment, beat cream cheese and remaining sugar until light and fluffy. Add cream and vanilla extract, and beat until well mixed. Spoon ube into cream cheese mixture in batches, beating on low until well mixed before adding the next heaping spoonful. Pour mixture onto nut crust. Smoothen the surface using an offset spatula. Tap pan on the counter to release any air bubbles, then chill at least 4 hours or until firm.
3 To serve, remove cake from springform pan. Decorate with nuts, seed nuts, and ube as desired. Slice and serve while cold.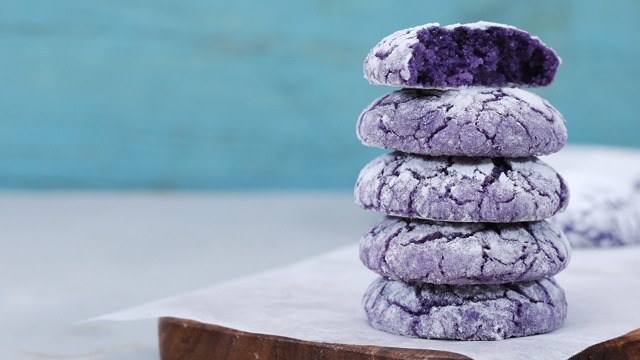 WATCH: How To Bake Ube Crinkles
Posted in:
Baking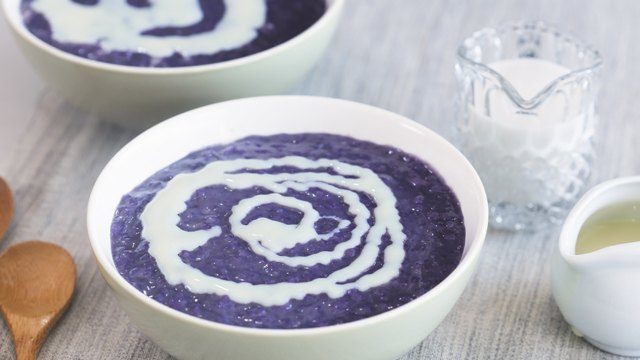 WATCH: How To Cook Ube Champorado
Posted in:
Cooking
h
ADVERTISEMENT - CONTINUE READING BELOW
Recommended Videos