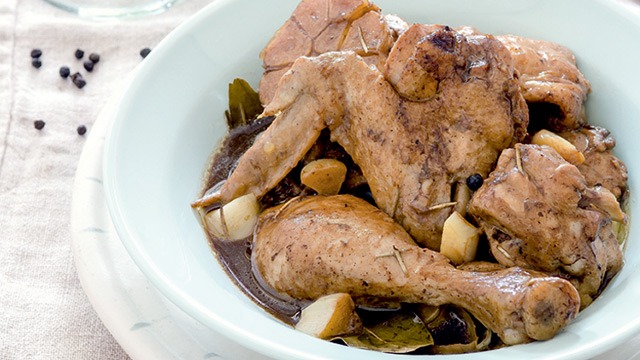 There are many different kinds of vinegar in the market and all of them all have a similar trait: sourness. When it comes to Filipino cooking, the adobo is one of the most basic, as well as one of most popular recipes. It's a super flavorful combination of sourness from the vinegar and saltiness from the soy sauce. 
The vinegar and the soy sauce are the key ingredients in the adobo. If you follow the thinking of one food scientist about the evolution of the adobo, the most vital ingredient in adobo is really the vinegar since this was what preserved it. "Adobo" more accurately refers to a dish being marinated or cooked in vinegar. Its main purpose was to preserve the meat during a time when refrigeration was rare. That's why the most accurate rendition of the original adobo recipe may just be the adobo sa puti or adobong puti since this adobo recipe relies only on vinegar as its main stewing base.
That might be why vinegar may be the most fundamental ingredient in Filipino cooking. While you can make adobo without soy sauce, you just can't make adobo without vinegar! The most common kind of vinegar to use in adobo is the cane vinegar but there are others that can do the job just as well. However, the flavor of your adobo may be different since not all vinegar are the same.
When using another kind of vinegar, you need to gauge how much vinegar to use in your dish since it might be too strong for the dish while a less tangy one might not give it enough flavor. Either way, temper how much you put in as you can always add a little bit more vinegar to the dish later. 
If you can't find the right vinegar for adobo wherever you are, why not try the other kinds for a different kind of adobo? You just might love it, too. Here are the different kinds of adobo recipes you can make with a different vinegar: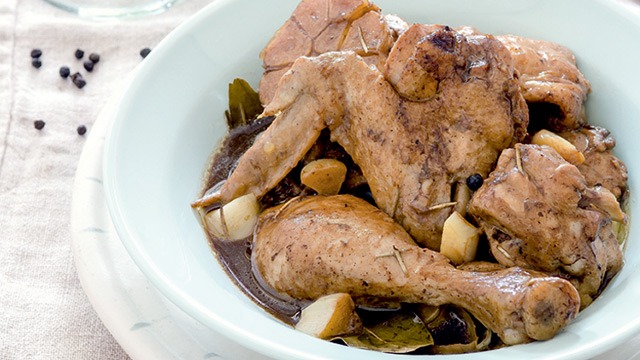 1 Balsamic vinegar 
Balsamic vinegar might not be the first vinegar you think of when making adobo, but trust in the recipe. This balsamic vinegar-based adobo has a tartness with a touch of sweetness that the Filipino palate might just enjoy. With this vinegar, you can use a little more than your usual vinegar recipe may call for since it has a sweetness to it that might shine through.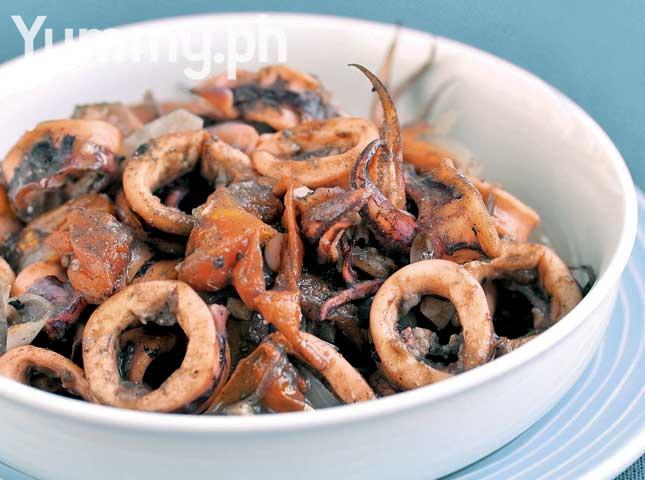 Adobong Pusit Balsamico
Posted in:
Recipe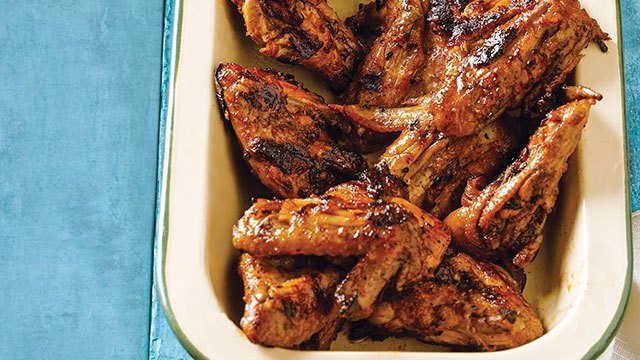 2 White vinegar 
White vinegar is a clear vinegar with a clean, sharp taste. This means that you might have to use more than usual to get the flavor but you will get a fantastic tartness that you just like that's not like the usual coconut vinegar used in adobo.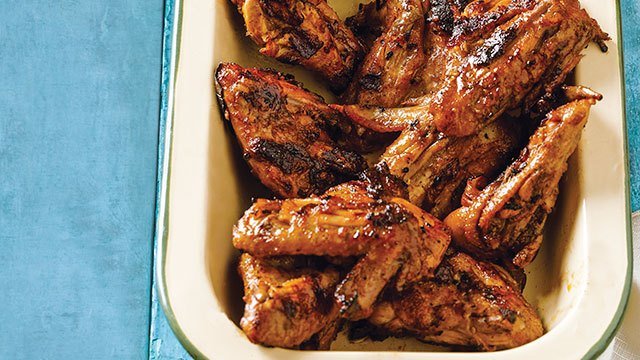 Adobo Chicken Wings Recipe
Posted in:
Recipe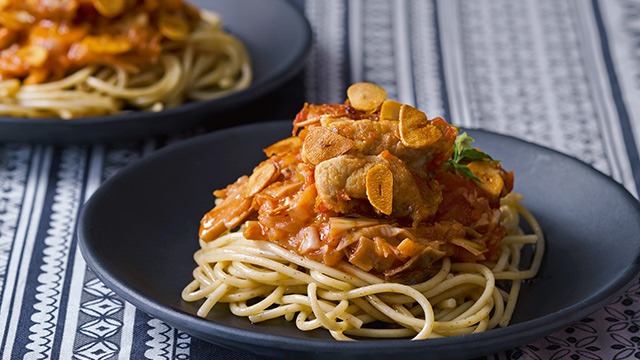 Adobo sa Kamatis Recipe
Posted in:
Recipe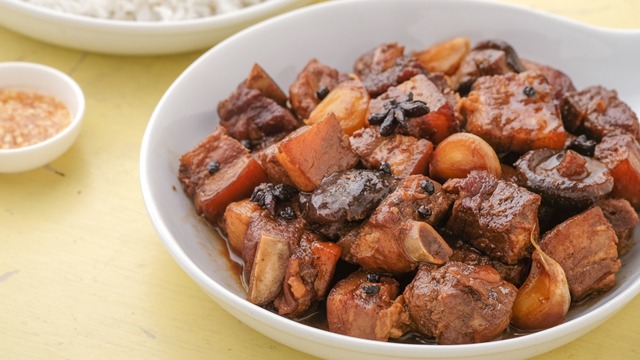 3 Coconut vinegar 
If it's available, grab the coconut vinegar. You know it's coconut vinegar from its cloudy, white liquid. It's actually milder than white vinegar so when using this vinegar, use it as the recipe states. This the sukang puti that we commonly use for adobo! It's potency however can range so give it taste and if it's just as tart as you like it, add it full strength to get the best tasting adobo you can make.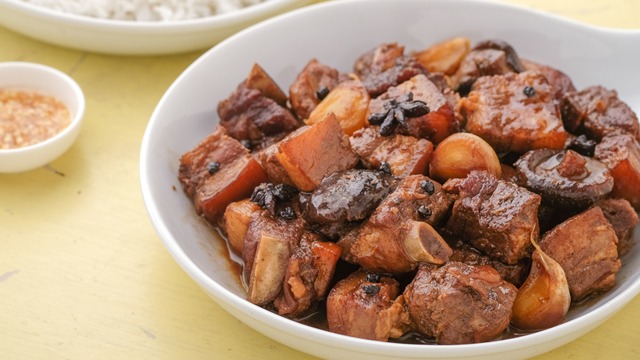 Chinese-Style Pork Adobo Recipe
Posted in:
Recipe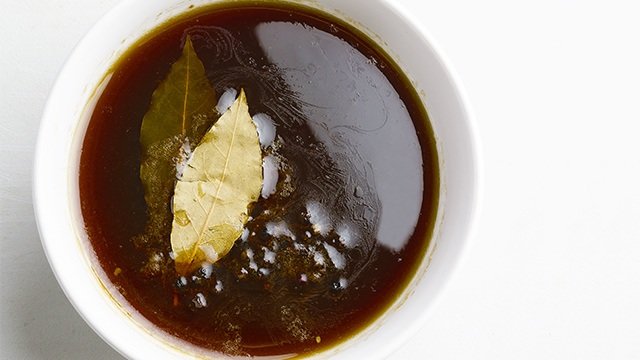 Adobo Sauce Recipe
Posted in:
Recipe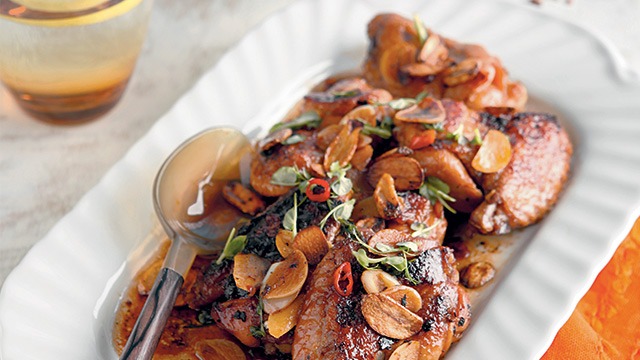 ADVERTISEMENT - CONTINUE READING BELOW
Recommended Videos
4 Rice vinegar 
Rice vinegar might be the next most available vinegar in Asian markets so if this is the vinegar you have access to, don't worry. You can still make a delicious adobo with this vinegar! In this recipe, however, you'll need to use more because just like the balsamic vinegar, rice vinegar is sweet but delicate in flavor. It's got less tang than other vinegar so err on the safe side and add the right amount as stated in your recipe. You can add another tablespoon or two later and simmer as needed.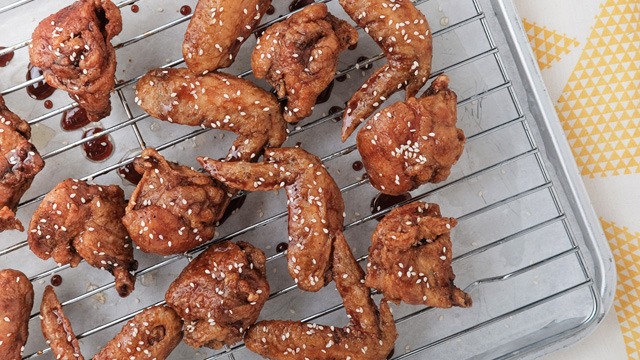 Japanese Chicken Wings Recipe
Posted in:
Recipe
Vinegar may be an essential ingredient in adobo but it can be substituted! You just need to know a little bit more about the vinegar you'll be using to know how much you'll need to make it as delicious as the one you grew up eating. With these easy swaps, there's no excuse not to have a Filipino adobo dish on your table. 
ALSO READ: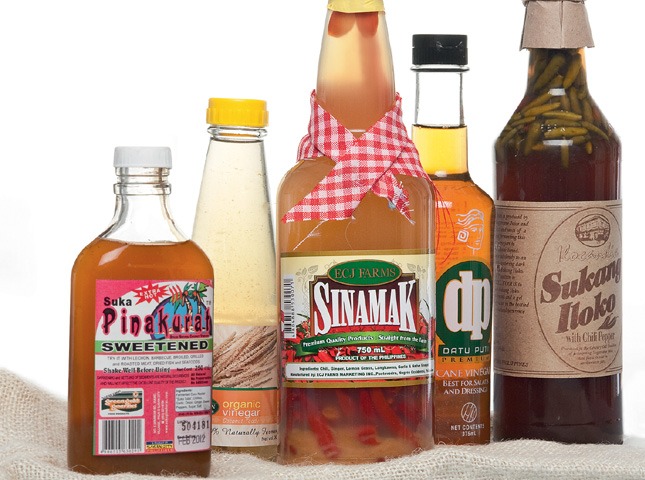 Kitchen Newbie's Guide to Vinegar
Posted in:
Cooking