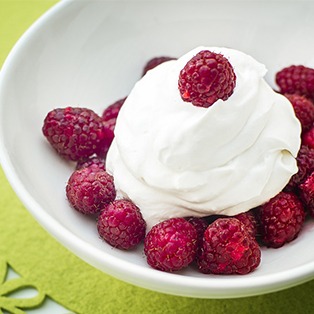 .
Crème Fraiche is a bit of a culinary mystery. Most of us have seen it used on TV and even fewer of us have actually used it in the kitchen. Many chefs suggest alternating it with sour cream, but are they really all that similar? Here are a few things you might want to know about the elusive French ingredient:
1. It isn't as fancy as it sounds.
Crème Fraiche, which literally translates to "fresh cream" in English, is simply a slightly aged and naturally thickened soured cream. While classic American sour cream uses lactic acid to cause "souring", Crème Fraiche is soured naturally, using naturally occurring cultures and bacteria, much like yogurt and buttermilk.
2. Sour cream really is a great alternative.
While Crème Fraiche does contain a little bit more fat than sour cream, making it perfect for stirring into warm soups and sauces without curdling, they share a pretty similar, if not identical flavor profile. Crème Fraiche is the richer, more tart, and sexier counterpart of sour cream. If a recipe calls for Crème Fraiche, don't hesitate to switch it out with sour cream!
3. You can make it at home!
Avoid spending tons of cash at the specialty food store and make your own Crème Fraiche at home! All you have to do is mix around two cups of heavy whipping cream (don't use all purpose cream, as it has stabilizers in it) with two tablespoons of yogurt (a natural culture) and leave it out, slightly covered in a warm place. After 24 hours, you should have your own thick, luscious Crème Fraiche ready to use! Make sure to refrigerate it immediately after making it, in order to avoid spoilage.
ALSO READ: Whipping Cream versus All-Purpose Cream
Image from Pixabay.com