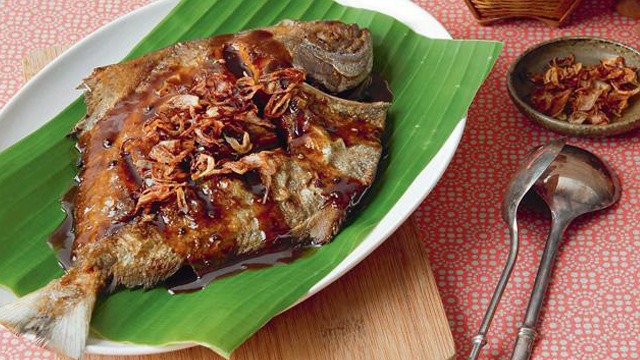 Have you tried cooking pompano before? What's great about the pompano is that it's an easy fish to prepare since there's no need to remove the scales prior to cooking it. You can have it gutted at the fishmonger before bringing it home and it's ready to cook!
Don't know what a pompano fish is? Here's what we know:
What is a pompano fish?
A pompano fish is an ocean fish. (You might also know it as "pampano".) It's under the Trachinotus genus of the Carangidae family, also known as "jacks" which are actually hard to catch since jacks are what are known as fighting fish. This makes it a prize for sport fishermen but it can be raised commercially as it is done here in the country. Its scientific name is Trachinotus blochii, the silver pompano or just "pompano" as it is known by the locals.
The pompano looks flat when you see it on display, more like a flatfish because it has a very narrow fish so it lies flat. Unlike flatfish, however, it doesn't have a flat underside nor does it have its eyes on one side of its head like the sole, flounder, or the fluke. Instead, it has the look of a typical fish with its eyes on both sides of its body but with a much more narrow or tall body.
The pompano has large eyes and a small mouth. It has very tiny scales that you do not have to remove prior to cooking! The scales give the fish a shimmery silver look hence its name. It's a fish that is usually marketed once it reaches a maximum length of around 8 inches or 20 centimeters. One pompano fish can be as heavy as 400 up to 800 grams but it can and has been known to grow even bigger and heavier if left to mature beyond this size in the wild. (One of the biggest pompano caught on record is around 4 kilos or a little over 8 pounds in weight.)
How to Cook Pompano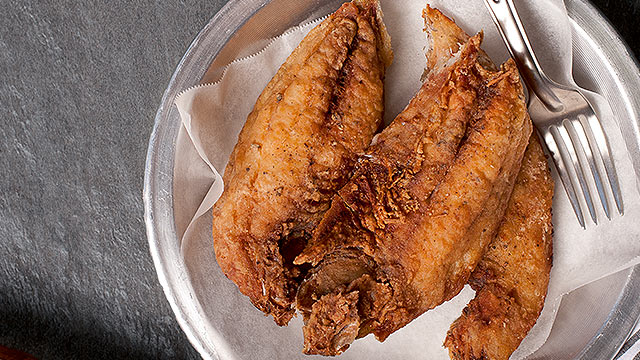 There is little preparation to do before cooking the fish. However, there is a danger to simply frying any kind of fish: overcooking. If frying, scoring the fish is a quick and easy way to ensure that the inside of the fish can cook as fast as the outside.
Here is how to score a pompano fish:
1 Pat dry the fish. Using a sharp knife, make shallow diagonal slices across the flesh of the fish. (Cut deep enough to cut through the skin and scales but not so deep that the bones are exposed.) Do it again in the other direction to create diamond-shaped slices on the body of the fish.
2 Flip and repeat these diagonal slices on the other side, so both sides of the fish are scored in this way.
3 Lightly season the fish with salt, rubbing the seasoning into the cuts. Add other seasonings as desired.
4 Heat a nonstick pan over medium heat. Add enough oil to coat the bottom of the pan.
5 Once hot, place the fish in the pan and let fry until golden brown. Flip. Repeat frying until cooked through.
6 Remove from the pan and serve while hot.
This is fantastic served as is with a side of veggies since the pompano fish is a firm white fish with a delicate taste.
The easiest way to cook pompano may be to fry it, but you don't have to stop there! Feel free to treat it like other fish that has been fried first and then topped with a chunky sweet and sour sauce ala escabeche, served with a tamarind sauce or added to a sinigang sa sampaloc soup.