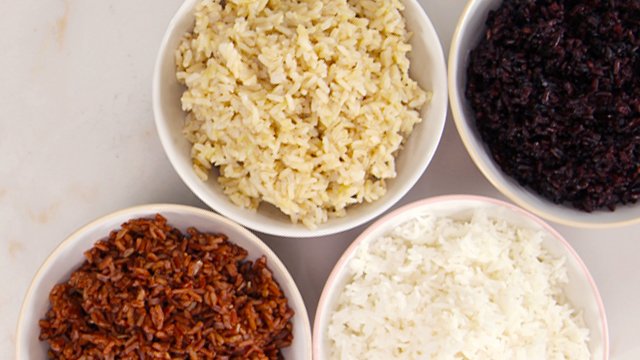 Ever felt lost at the wet market or groceries, surrounded by a variety of rice at the supermarket? What does it all mean? Do the names really make a difference? Why are there so many different sizes, shapes, tastes, and colors? It's okay. We understand. Navigating the different kinds of rice can be tricky.
Did you know that we have 300 varieties of rice in the Philippines? What we see in the market is just the tip of the iceberg. It's no surprise as rice has been on our diets since time immemorial. One of our country's highly-lauded heritage site, Banaue Rice Terraces, is hinged on our timeless love for rice.
Here, we'll go through locally produced rice you can find the supermarkets, wet markets, specialty stores, and online. Not in this list are imported rice such as jasmine rice, sushi rice, basmati rice, and risotto.
Public Markets: Simplified
Last December 2018, at the same time that the government enforced a temporary standard retail price on rice, they also banned the use of brand names we're well acquainted with: Sinandomeng and Angelica varieties. Agricultural Secretary Emmanuel Piñol in fact, said that these popular brands didn't even exist. Instead, it was used to unfairly jack up prices of rice. Worse still, the Dinorado Rice and Jasmine Rice you find in public markets might not even be the real thing. Thus, the types of rice you'll see in public markets now are Regular Milled Rice (which will have a few stones you'll have to take out), Well-Milled Rice, Long Grain Head Rice, Local Rice and Imported Rice. 
Exempt from naming policy and SRP are Special Rice that is either Organic or Heirloom. The operating costs for organic and heirloom rice are more expensive than your typical rice paddy with its seasonal, lower yields, thus driving up the price. If you don't have a trusted suki, the way to buy regulated special rice that says what it really is, then you need to go to the supermarkets or groceries.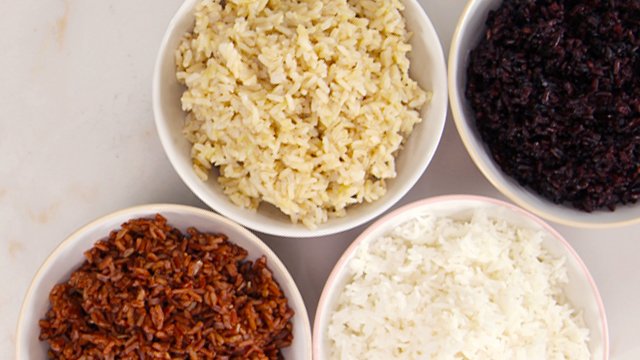 Before we get started, a note on the "colors" of rice.
All rice in the market is milled to remove the inedible shells around the grain called "bran". We get white rice once the rice is milled to the point that all of the bran the "germ", where nutrients are usually stored, are polished off completely. We're left with the white part of rice, which is packed with carbohydrates and protein. Once cooked, white rice is usually soft and smooth.
For brown rice, milling is stopped once the bran is removed but the grain still carries the color and the germ is still intact. This gives brown rice higher nutritional content but also that chewy texture and nutty taste. It's also usually high in fiber and magnesium. Fair warning, it is a little bit trickier to cook than white rice (but don't worry, we have tips here.)
Heirloom rice, which comes in black, brown, yellow, purple, red, and even green, are usually processed similarly to brown rice to preserve much of the rice's color and nutritional properties.
Red rice is rich in fiber, manganese, and zinc. It also boosts metabolism while having a lower glycemic index.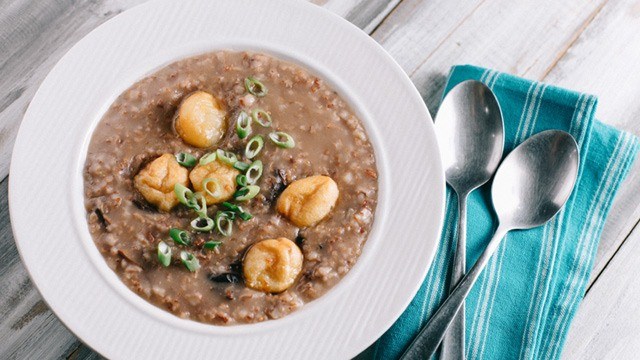 Red Rice Lugaw Recipe
Posted in:
Recipe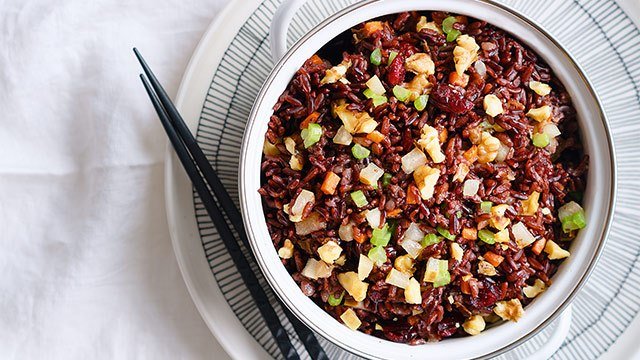 Violet or purple rice is usually aromatic and sticky, making them perfect for desserts. When purple rice takes on a much darker color, it's also referred to as Black rice. Black rice is rich in antioxidants, fiber, vitamin B, essential oils, minerals, iron, and also has a lower glycemic index.
ADVERTISEMENT - CONTINUE READING BELOW
Recommended Videos
Black Rice with Cranberries Recipe
Posted in:
Recipe
Typical Rice Varieties You'll Find At The Groceries Or Supermarket
Dinorado/Denorado Rice is the traditional Filipino favorite which usually fetches at a premium price. They're usually meant for special occasions because of their high quality. Uncooked, these rice grains have a slight pinkish tinge that really set them apart. Cooked, they are fragrant, fluffy, soft, and slightly sticky.
Wag-Wag Rice, which means, "shake off" first came into the Philippine market in 1955 for lowland and flood-affected areas. The Wag-Wag rice we see today has been reinvented to become hardier against the environment. When cooked, this rice has no stickiness and the grains are medium-slender. What makes them stand out though, is their low price.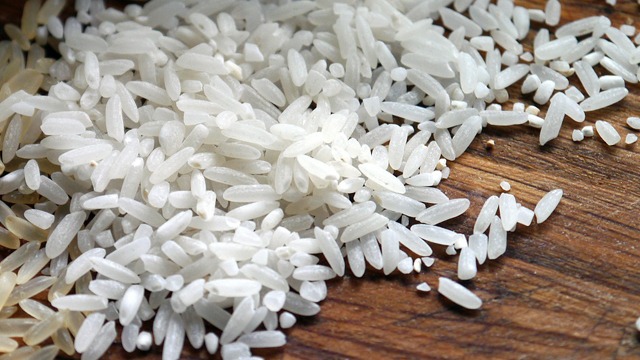 Jasponica Rice is a hybrid variety of rice developed by Doña Maria. It brings together the fragrance of Jasmine rice with the slight stickiness of premium Japanese rice. When cooked, it's soft, fragrant, and fluffy. It's available in white, brown, special (a mix of brown and white qualities), and congee (alternative to malagkit).
Miponica Rice is another hybrid rice variety developed by Doña Maria. It's a combination of the Philippine Milagrosa and Japanese rice. When cooked, it's fluffy and sticky, making it perfect for making sushi, paella, and risotto.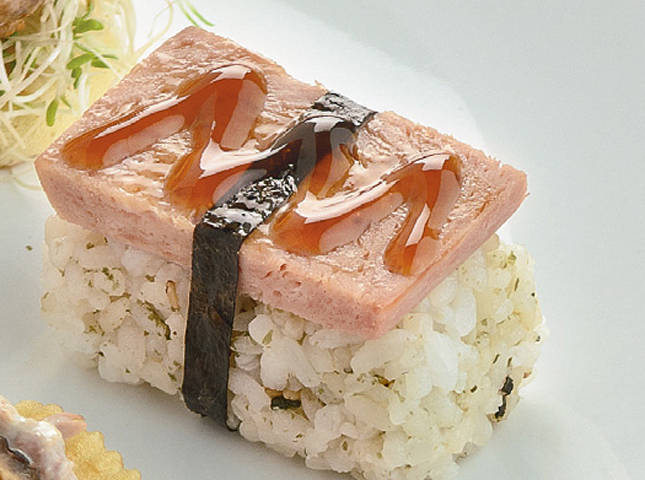 Spam Sushi with Balsamic Teriyaki
Posted in:
Recipe
Finding Heirloom Rice
These are rice grains cultivated and passed down from generation to generation and often are celebrated by their communities in festivals. These colorful rice are more flavorful, fragrant and are packed with nutrition. They can be very expensive, especially compared to typical rice varieties. They are also widely-sought after outside of the country.
They are propagated by farmers and produced in smaller scales as they are usually low-yielding. Not only are these rice typically seasonal, with harvests few and far between, they are also usually planted in very choice locations. Most of these heirloom rice require a climate exclusive to highlands, explaining why most of these heirloom rice comes from the mountainous Cordilleran region.
Chong-Ak/Unoy/Ngoporan/Inniwoyan/Madduli rice are grown by the Kalinga who hold it sacred, serving it at their ceremonies and festivals to please their god Kabunyan. The Kalinga enjoy it for its enticing aroma and how it gives them strength and protection from illnesses. This plump, rusty red grain, best thrives at higher elevations where it gets bigger and more aromatic. Use this for rice bowls, puddings, and salads. You can order here from Beauty MNL, or as a champorado blend on Sweets Central Delicacies.
Minaangan rice is a thin, red rice grain in Ifugao, propagated by the Hundungan who inherited the seeds from ancestors past. It's so nutritious, it's even said to be medicinal, helping with ulcers and dizzy spells. Its slight stickiness makes it perfect for champorado. You can buy it as part of a champorado kit by Mama Sita's on Lazada.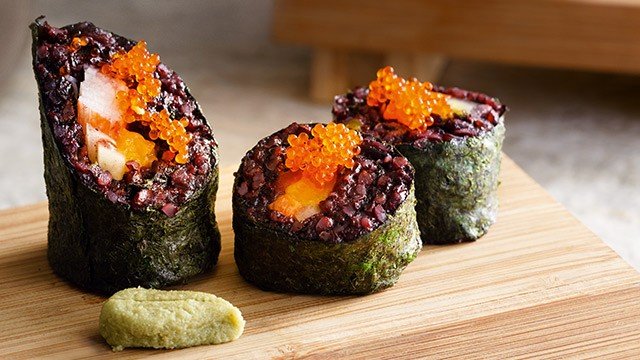 Ominio rice is very dark purple rice, which is why it's also called black rice. It has to be grown 700 meters above sea level, which is why it's found in the Mountain Province. It has a fruity and chocolatey aroma that lends itself perfectly to champorado. It's also very sticky, making it perfect for black sushi and dark to purple rice desserts. You can also buy it as part of a champorado kit by Mama Sita's on Lazada.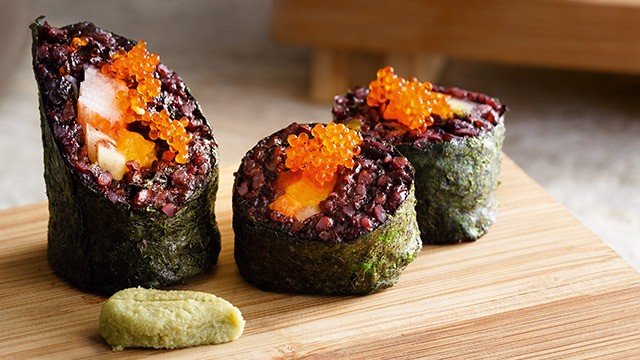 Purple Rice and Kani Maki Recipe
Posted in:
Recipe
Balintanaw rice, just like Ominio rice, is found in the Mountain province. This deep purple rice flecked with brown is a bit sticky but firm when cooked. It can also be bought as Mama Sita's champorado kit on Lazada or buy a kilogram of the rice at Sweet Central Delicacies.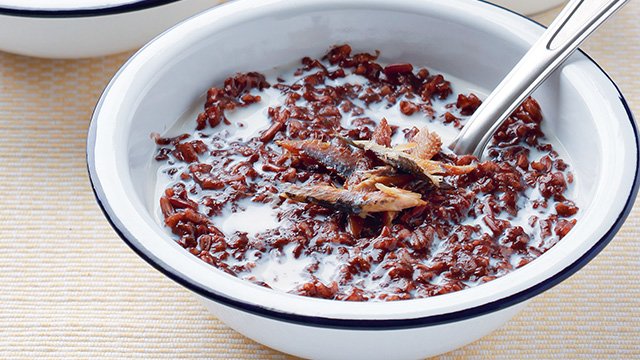 Ifugao Tinawon Rice has large grains with a pinkish tint. It's clean and light on the palate with a slight sweetness at the end. The flavorful grains don't stick together and have a firm bite. You can buy a kilo at Sweet Central Delicacies here.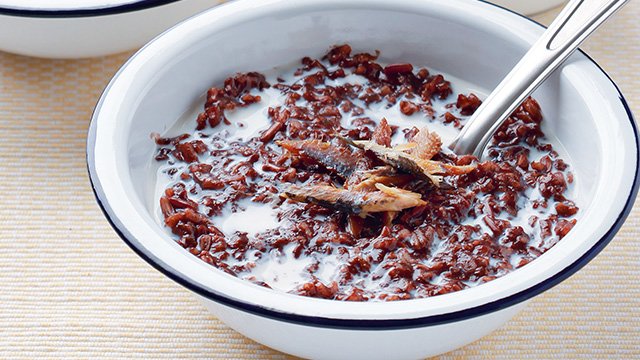 Red Rice Tablea Champorado Recipe
Posted in:
Recipe
Adlai rice is cultivated in Philippine highlands where rice is not commonly grown. It has a higher fat and protein content, has anti-inflammatory properties and is good for blood sugar levels. It has a nutty taste that's perfect for breakfast bowls, champurado, and more. You can buy a brown and white version from Beauty Manila, or buy it from Ritual PH online or at their store in Makati City.
ALSO READ: