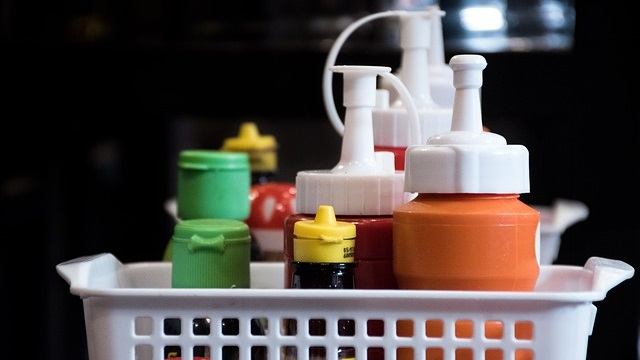 A refrigerator is a fantastic appliance. It can keep many of our food fresh as well as cold for long periods of time. The most common appliance apart from the stove is this big appliance so it should be used to its utmost ability. 
However, did you know that your kitchen contains ingredients that should be kept cold in the refrigerator but you don't actually store it there? 
According to Eat By Date, a website that educates consumers on food safety and other food-related information, the shelf life of food is defined as how long food may be stored without any refrigeration before the quality of the product deteriorates. This basically means how long does a certain food or ingredient lasts before it begins to spoil. This can be as few as hours to as much as months or even years. 
That's why expiry dates are important but also just as important is how you store your ingredients. For many wet ingredients that aren't fermented, these ingredients need to be refrigerated to stay as fresh for much longer. You'll notice that vinegar, soy sauce, and fish sauce, all fermented ingredients don't need to be refrigerated. However, sauces like mayonnaise and salad dressings definitely need to be refrigerated. That's because these food contains ingredients that spoil easily, such as eggs, cream, chopped onions and garlic, and the like. 
The rules of thumb can be these:
If it contains ingredients that are fresh and spoils easily, keep it refrigerated. 
If it was originally stored in the chiller, keep it refrigerated.
If the packaging states to refrigerate before or after opening, refrigerate it.
If it was fermented, there's no need to refrigerate. 
You use these bottled seasonings every day, so its' best to know where it's safe to store. Need more help? Here's a quick guide on the most common bottled seasonings and condiments that should or do not need to be chilled: 
Ingredient

Unopened

Opened

All-purpose cream
shelf
refrigerated
Bottled salad dressings
shelf
refrigerated
Spreadable butter
refrigerated
refrigerated
Mayonnaise
shelf
refrigerated
Mustard
shelf
shelf; refrigerated for longer storage
Ketchup
shelf

shelf; refrigerated 

for longer storage

Banana ketchup
shelf

shelf; refrigerated for longer storage

Patis (fish sauce)
shelf
shelf
Toyo (soy sauce)
shelf
shelf
Vinegar
shelf
shelf
Oyster sauce
shelf
shelf
Bagoong (shrimp paste)
shelf
shelf
Liquid seasoning
shelf
shelf
Hot sauce
shelf
shelf
Chili paste
shelf
refrigerated
Pancake syrup
shelf
shelf
Honey
shelf
shelf
Lechon sauce
shelf
refrigerated
Don't see the condiment you want to know needs refrigeration? Check out this website that might help. 
ALSO READ: 
ADVERTISEMENT - CONTINUE READING BELOW
Recommended Videos