It's 2020, time to make your health a top priority. Whether you want to lose weight or boost your overall well-being, you need to maintain good eating habits to stay fit.
Stay committed to your health goals by asking a sibling, friend, or even your closest office mate to be your fitness buddy. He or she can join you for a run or a session at the gym, and even help you prepare delicious but guiltless meals at home.
You can also guide one another toward healthier food choices—and help each other resist unnecessary (and unhealthy!) cravings. Swap and try out wholesome, tasty recipes like these filling yet guilt-free noodle dishes you can easily make and enjoy.
Who says healthy eating has to be bland and boring?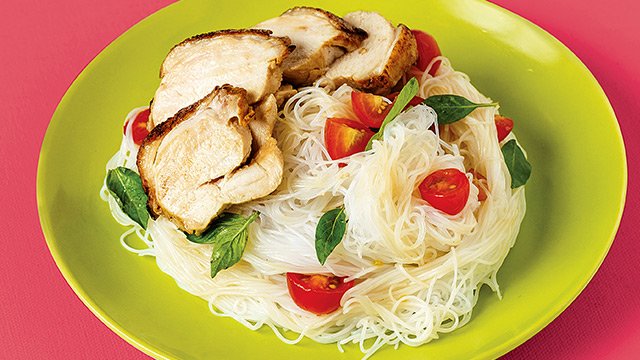 Chicken Noodle Salad
Salads are staples in meal plans of anyone who's being more mindful of what he or she is eating. However, having too much of the same thing may lead to umay.
Shake things up by mixing vermicelli noodles, or sotanghon, and protein to add texture and variety. This chicken noodle salad, for example, can be enjoyed either fresh or chilled.
Yield: 1 to 2 servings
Chicken Noodle Salad Ingredients:
1 medium chicken breast fillet
1/4 cup store-bought sesame dressing
black pepper, to season
100 grams Sapporo Long Kow Vermicelli, dried
1/2 cup cherry tomatoes, halved
1/2 cup fresh Thai basil
1/4 cup store-bought sesame dressing
How to Make Chicken Noodle Salad:
1 Combine chicken breast fillet with Asian sesame dressing in a bowl. Season with freshly cracked black pepper. Cover and set aside to marinate for 5 minutes.
2 Soak dried vermicelli noodles (sotanghon) in hot water for 3 to 4 minutes or until soft. Drain noodles and toss with cherry tomatoes, basil, and 1/4 cup sesame dressing; set aside.
3 Grill chicken on a grill pan over medium-high heat for 4 to 5 minutes per side or until cooked through. Serve noodles topped with grilled chicken.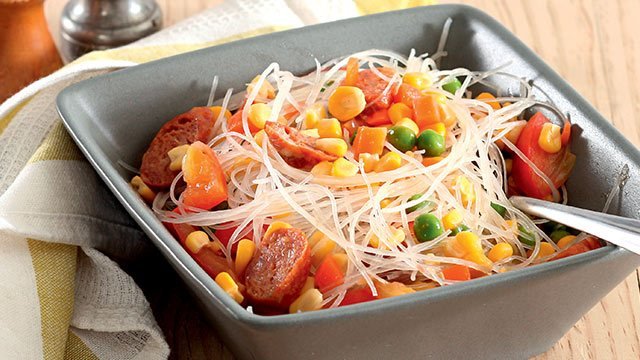 Vegetable Saut
é

with Sotangon

Turn a simple vegetable sauté into a complete meal by adding sotanghon! Most, if not all, of the ingredients in this dish may already be in your pantry, so all you have to do is slice them up, cook, and enjoy.

The dish is colorful, too, and you know what they say: the more colors on your plate, the more nutrients you're getting. You can also add red bell peppers or purple cabbage for extra heft and flavor.

Yield: 4 servings

Vegetable Sauté with Sotanghon Ingredients:

1 90-gram pack Sapporo Long Kow Vermicelli

1 tablespoon oil

1 cup chorizo de bilbao, sliced

1 red onion, sliced

2 cloves garlic

1 400-gram can whole kernel corn, drained

1 medium carrot, peeled and cut into small cubes

1 cup frozen green peas, thawed

1 cube beef bouillon

1 cup water

How to Make Vegetable Sauté with Sotanghon:

1 Soak sotanghon in cold water for 10 minutes or until soft. Set aside.

2 Heat oil in a stainless wok over medium heat. Add chorizo de bilbao and sauté until browned. Remove from heat. Set aside.

3 Sauté in the remaining oil red onion and garlic until soft. Add corn, carrot, and green peas. Add beef bouillon cube and stir until dissolved. Pour in water; bring to a boil then simmer. Drain sotanghon and add to the simmering wok. Cover and simmer until sotanghon is completely cooked. Season with salt and pepper.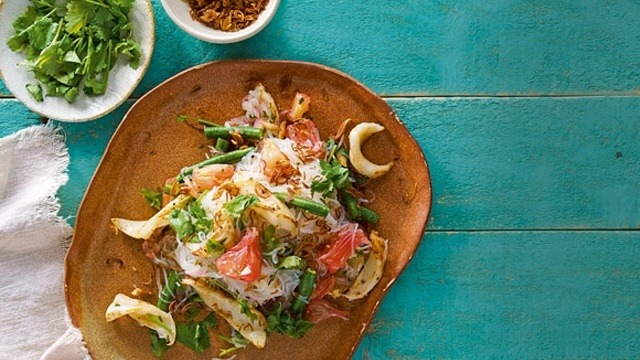 Squid and Pomelo Glass Noodle Salad
Craving something a little different than your usual? Tickle your tastebuds with this squid and pomelo glass noodle salad packed with different flavors and textures. You can prepare this in a jiffy, too–just chop the veggies, grill the squid for a couple of minutes, and toss all of the ingredients together in a sweet-salty-tangy-spicy dressing.
Yield: 4 servings
Squid and Pomelo Glass Noodle Salad Ingredients:
2 teaspoons sugar
2 tablespoons Thai fish sauce (patis)
2 tablespoons light soy sauce
1/4 cup lime juice
2 tablespoons sesame oil
salt, black pepper, and chili pepper flakes, to taste
200 grams squid, head, tentacles, and outer skin removed, then cut into 2-inch rectangles
2 tablespoons vegetable oil, for grilling
200 grams pomelo, broken into chunks
200 grams Sapporo Long Kow Vermicelli (sotanghon), cooked according to package directions
2 yard-long green beans (sitaw), cut into 1-inch lengths
2 tablespoons shallots, sliced
2 tablespoons mint leaves
2 tablespoons cilantro (wansoy) leaves
How to Make Squid and Pomelo Glass Noodle Salad:
1 Make the dressing: Mix sugar, Thai fish sauce, light soy sauce, lime juice, sesame oil, salt, black pepper, and chili flakes in a bowl. Set aside.
2 Make diagonal incisions on the squid to make the pieces curl. Heat a grill pan. Add oil. Grill squid for 2 minutes. Set aside.
3 Combine squid, pomelo, noodles, beans, shallots, and herbs in a large bowl. Toss in dressing.
These dishes prove keeping your health in check can be fun and delicious. You don't even have to look far and spend too much since most of the ingredients are already in your refrigerator or pantry, like veggies and sotanghon.
Try Sapporo Long Kow Vermicelli when you make these and other recipes that call for sotanghon. It's versatile enough to be cooked and eaten in various different ways based on your preferences. It's a lighter alternative to your usual rice, too!
Follow Sapporo Products Inc. on Facebook and visit www.sapporoproducts.com for more information.