Desserts aren't really that complicated to make. In fact, you can even create one using readily available kitchen tools and ingredients.
Case in point: choco bark. This no-bake dessert calls for two ingredients — Cream-O sandwich cookies and white chocolate—pans, and a bowl. That's it!
Cream-O Choco Bark is a sweet, winning combination that's great for capping off an indulgent meal or just for snacking throughout the day. Make it today by following this recipe: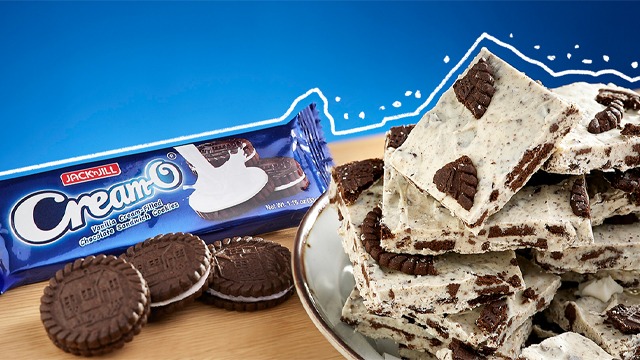 Cream-O Choco Bark Recipe
Takes: 40 minutes (including 20 minutes of chilling)
Yield: Approximately 9x13in bark x 1/2in thickness
Cream-O Choco Bark Ingredients:
18 pieces Cream-O Vanilla Cookies
350 grams white chocolate chips
How to make Cream-O Choco Bark:
1. Crush the Cream-O cookies in a ziplock bag with a rolling pin. Make sure to keep the pieces chunky.
2. Fill a medium pan halfway with water and simmer.
3. Place stainless steel bowl on pan.
4. Melt the white chocolate chips in the bowl while mixing slowly. Do not leave it unattended as it can burn easily. Remove bowl from pan once the chocolate is fully melted.
5. Set aside 1/2 cup of the crushed cookies.
6. Mix the rest of the cookies into the melted white chocolate.
7. Spread the white chocolate mixture on a pan lined with wax paper.
8. Sprinkle the reserved 1/2 cup of crushed cookies and press firmly onto the white chocolate mixture.
9. Refrigerate for 20 minutes and cut into squares before serving.
To learn more recipes using Cream-O Cookies, visit www.Creamoholics.com.