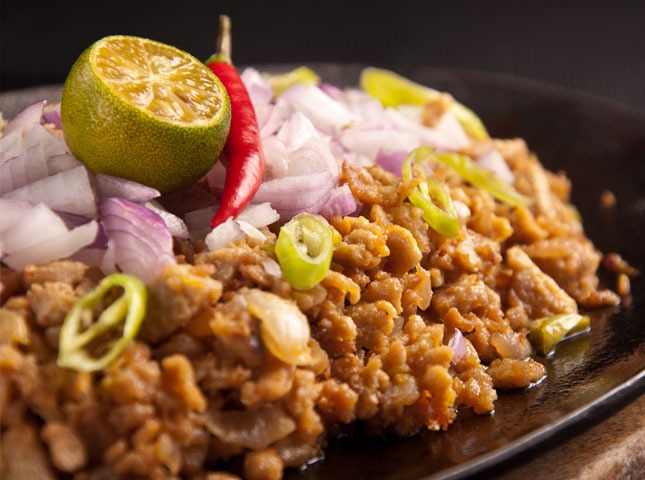 Whether one is prepping for family meals or searching for a new party recipe to try, many turn to local cuisine for hearty, comforting dishes. Which Pinoy dishes are readers searching for? We list down the most searched Pinoy dishes on Yummy.ph (based on Google Analytics, January 1-September 6, 2014):
1. Adobo
It comes as no surprise that Yummy.ph readers are searching for adobo. A dish of braised pork or chicken in vinegar, soy sauce, and garlic, adobo is almost always cooked in any Pinoy home and has spawned a multitude of variations. It's sweet, salty, and sour all at the same time and has even inspired a book listing 150 ways to cook adobo.
2. Leche Flan
The Pinoy-style flan, or caramel custard, is made from beaten egg yolks, milk, and sugar. When steamed just right, it can be the creamiest, melt-in-your-mouth flan you'll ever have. Yum!
3. Paella
Paella has become a Pinoy fave, too, with its medley of saffron (or rosemary)-seasoned rice and vegetables.
4. Maja Blanca
Not just served during fiestas, this dessert with delicate flavors is made from coconut milk and cornstarch (or gulaman), and often topped with latik.
5. Empanada
This stuffed pastry—with ground beef, chicken or pork with vegetables—is baked or fried. Like most Filipino recipes, the Pinoy empanada has several variations including the popular Ilocos empanada, made with longganisa and unripe papaya.
6. Kare-Kare
This comforting stew with oxtail, beef, or tripe, and veggies and flavored with ground peanuts or peanut butter is not complete with a side dish of shrimp paste.
7. Menudo
Pork menudo is almost always a mainstay at Pinoy gatherings—whether they're fiestas or a family meal. And rightly so: this dish puts together pork chunks and garbanzos (some add hotdog and even raisins) in a tasty, thick tomato-based sauce.
8. Lumpia
Lumpiang Shanghai or Filipino spring rolls are often served as an appetizer or as the main dish. Ground meat, minced onions, and chopped carrots are seasoned perfectly, rolled up in lumpia wrapper and then deep-fried. Best eaten with a sweet chili sauce!
9. Sisig
While mainly viewed as pulutan or bar chow, the sisig (whether pork, chicken, or tuna sisig) can also be a viand. And why not? This dish of minced meat (chopped pig parts), chili, liver, onions, and seasoned with calamansi is a plate of porky goodness and has even been recognized by a New York Times review.
10. Lechon Kawali
This pan-roasted pork dish with crackling, salty skin and juicy pork meat is an easy Pinoy favorite. Don't forget to serve with store-bought gravy or lechon sauce!
With all these sought-after Pinoy dishes, you must be craving to get a hold of these recipes! Nowadays, one need not lug around cookbooks to search for heirloom recipes or use it as a reference every time you want to whip up your fave Pinoy dish. Recipes are now just an online search away on your smartphone or tablet!
How about all the Yummy print issues you missed? You can now download its online versions via the Buqo mobile app (available for Android and iOS). Your wishlist of dream recipes are easy to find and right at your fingertips! Buqo allows you to download your fave e-magazines or recipe books and you can conveniently pay using your Smart or Sun Prepaid load or have it charged to your Postpaid bill of either network—no need for a credit card. When you pay via Smart and Sun Cellular load or bill, you'll get a 50% discount on SUMMIT Books and Magazines from September 10 to November 9!
If you're using an Android phone, you can purchase Yummy and pay with your Smart account straight through the app. For iOS users, you may purchase via the mobile or desktop browser via www.buqo.ph.
For more details on how to pay for e-books and e-magazines on Buqo through Smart, check www.smart.com.ph/buqo.