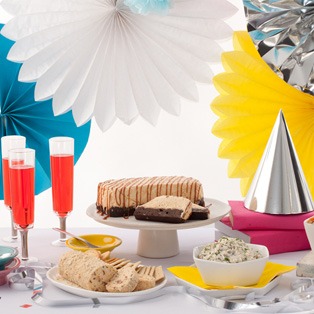 .
We just know it: impromptu parties will be part and parcel of your holiday calendar. Make sure you're stress-free by knowing the essentials on throwing an #instantparty:
1 Dress up your space.
Turn your home into a festive space with easy decorating ideas: use paper plates as a backdrop for your buffet table or turn a simple waffle party into an eye-catching spread. You can also check out party stores such as Celebrations Party Central for ready-made party décor.
ALSO READ: Tip of the Week: How to Make Homecooked Food Party-Ready
2  Serve fuss-free (and easy-to-prep) food.
There's nothing wrong with serving simple dishes as long as they taste and look good. Go for one-pot meals, three-ingredient drinks or an easy but delicious salmon spread.
You can even chill watermelon slices and turn them into fruit popsicles. If you want a more elaborate spread, go for a themed potluck party and involve everyone on the guestlist.
ALSO READ:  5 Tips for the Perfect Potluck Party
3 Add fun elements to your get-together.
Don't forget to ask your musically-inclined friends to put together a playlist—music always sets the mood for a fun party. And don't forget the drinks! A classic margarita or a non-alcholic option are always good ideas. 
ADVERTISEMENT - CONTINUE READING BELOW
Recommended Videos