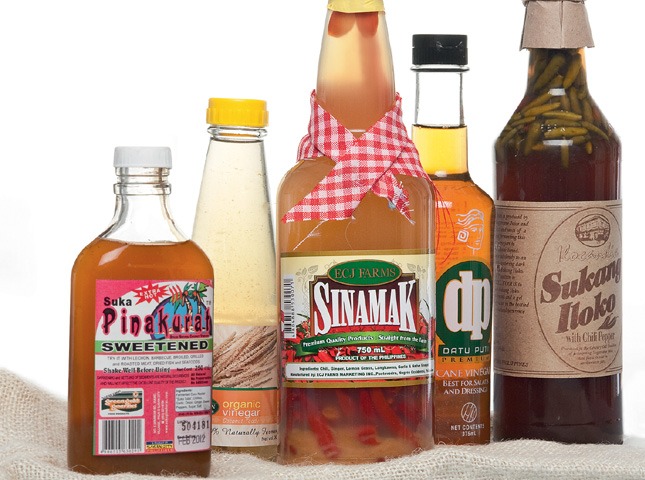 Aside from being a vital ingredient for our favorite sawsawans, marinades, and salad dressings, a splash of vinegar can also help round out the flavors of a dish. It's an indispensable ingredient that can be used in other ways in the kitchen:
1. Get rid of the pesky mineral deposits and coffee oils that tend to build up in your coffee maker after weeks and weeks of constant use.
Simply fill up the coffee maker reservoir with equal parts water and white vinegar, and let it run through a brewing cycle. Let stand for 10 minutes, then repeat with a clean batch of water and vinegar. Rinse with clean water, then run a cycle with clean water only. Do monthly, if necessary.
To clean a coffee press, use equal parts hot water and white vinegar. Soak for 10 minutes, pour out water, then clean with detergent, and rinse.
2. You can wash fruits and vegetables with vinegar.
A mixture of 1 part white vinegar diluted in 3 parts of water can be used to wash produce. This will help remove bacteria and residue. Rinse after spraying or wiping the vinegar on fruits and veggies.
3. Vinegar can be used to eliminate stale smells from lunch boxes, insulated bags, coffee mugs, and even trash cans.
Deodorize smelly lunch boxes and coffee mugs by placing a paper towel dampened with white vinegar inside. Leave overnight. Clean the item with detergent and water, then air dry.

4. Remove irritating stickers from bottles and containers with vinegar.
Douse a cloth, dish towel, or paper napkin with white vinegar. Place this on top of the sticker label and let it soak through. Let sit for 10 minutes or until sticker is soft enough to scrape away. Wipe away the sticky residue with the cloth. Apply vinegar a few more times, if needed. You can also use this trick when the kids get sticker-happy on your walls, gadgets, and furniture.
ADVERTISEMENT - CONTINUE READING BELOW
Recommended Videos
Photos by Miguel Nacianceno, Enrico Gutierrez, and Louie Aguinaldo (bottles of vinegar)