4 Secrets to Taking Instagram Worthy Food Pictures
Globe myBusiness and Mercato Centrale taught aspiring food entrepreneurs how to make their followers' mouths water!
SPONSORED BY GLOBE MYBUSINESS
Globe myBusiness in partnership with Mercato Centrale held a food styling, and photography workshop hosted by Sam Oh, and I Shoot Food Manila's president, Adrian Agulto to teach business owners and aspiring food entrepreneurs the how to translate their passion for food into something marketable online. An excited audience of mercato vendors, and food and photography enthusiasts watched Agulto demonstrate how to turn dishes into a series of picturesque, and appetizing photos by only using a Lenovo Phablet.
Have a dish worth shooting
According to Agulto, the first and most important part of taking a beautiful food photo is perfectly preparing the food. You can't shoot a burnt steak, melted ice cream or soggy fries, and expect them to look appetizing.
So after masterfully preparing several servings of a dish, you've got to find the best-looking parts of the dish. Put the biggest, juiciest, parts front and center, so that at first glance, anyone viewing the picture will feel hunger pangs – even if they've just finished a huge and delicious meal.
But just getting the food right once isn't enough. You've got to prepare a secondary subject. For example, if you're shooting a steak, and you cut it a certain way to show the deep red at the heart of a perfect medium rare, you might decide the photo doesn't work, and then wish you hadn't cut it. But if you have another one prepared waiting in the wings, then it's not a problem. Worst case scenario, you'll have two great pictures to choose from.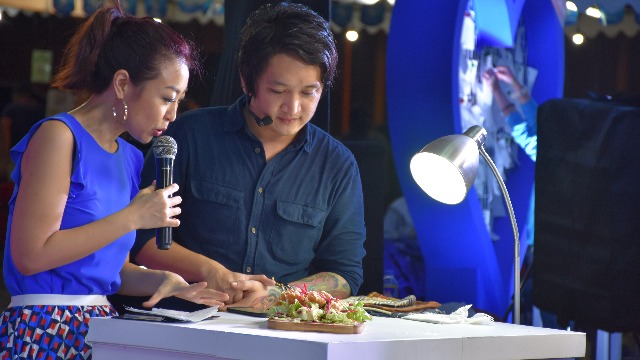 Always Compose your food
Composing a food photo starts with how the dish is plated. If the arrangement of the elements of the dish on the plate is not visually appealing, then you're going to have a bad photo. Don't be afraid to rearrange them.
Often times, when one prepares a dish, fried dumplings for example, the dish isn't just fried dumplings. It could come with some leafy greens, or a crabstick, or grilled tomatoes, or various sauces on the side. So shooting a dish all filled up with side dishes might confuse the viewers about what the dish is at its heart. After all, captioning a picture of dumplings, tomatoes, leafy greens, and various sauces "Fried Dumplings," might cause some confusion.
So Agulto says that every food photograph must have a focal point. In the case of the fried dumplings, the focal point would be the dumplings, and everything on the side should only serve to accentuate the dumplings. That being said, if there are elements in the dish that you think are distracting, don't be afraid to lessen them, hide parts of them outside the frame, or remove them altogether. Rule of thumb: Keep the focal point in the center of the photo.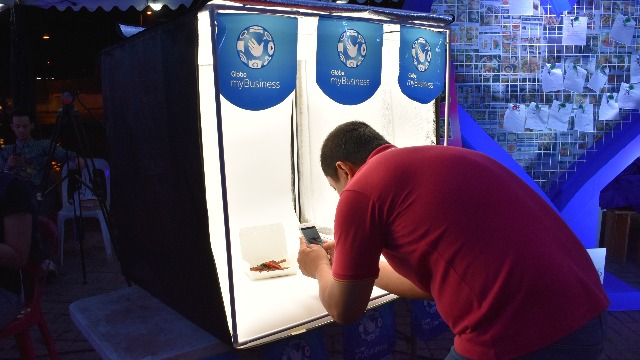 Maintain a Foodie Frame
Now you might think that composing a food photograph ends when you've got the dish all arranged in a pretty way. But a food photograph isn't only a photograph of food. It's also got the plate – whatever kind of plate that may be, a wooden board, a bowl, a wok, a paellera, a banana leaf – and the table the food is served on.
And generally, seeing the plate underneath the food tends to break the experience a little because it can be distracting. So Agulto says that in general, you should try to avoid negative space – that's to say parts of the photo that are needlessly empty.
Avoiding negative space can be done in several ways. Shooting the food from a different angle is one; or artificially creating volume by hiding wads of tissue underneath the food so that the elements seem to take up more space.
Then there's the case of the table. Putting the plate on a plain, off-white Monobloc table may not necessarily achieve the look you want to accompany the glamorized sisig you've just prettified. And so Agulto advises that you use colored placemats to create contrast, and keeps your frames spicy.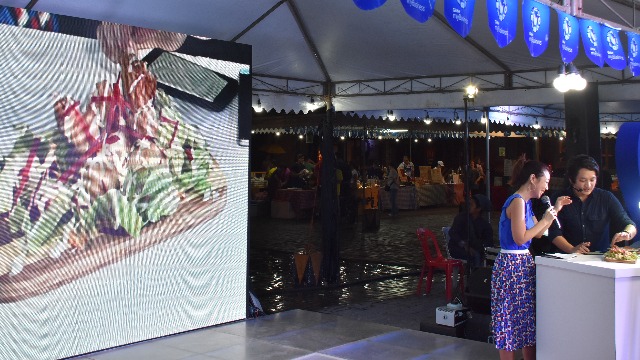 Make your food pictures an Experience
The two best angles to shoot a food photo are from directly on top, 90 degrees, or from 45 degrees. The former allows you to showcase every element of the dish in such a way that the photo communicates just what the dish is. The latter, on the other hand, is the angle from which people see food when they sit down at a table to eat. This angle pulls a viewer into the experience of that moment just before you "dig in."
Ultimately, taking good food shots is a matter of decision making. The decisions you make will influence how appetizing the food in the photos is going to look. And how good the food looks is certainly going to get people to want to try it out.
You don't need to be a pro to take good pictures of your products. Get the Lenovo Phablet with Globe myBusiness' Unli Postpaid Plan 1499.
For exclusive discounts and invites to Globe myBusiness workshops and events, sign-up on their mailing list at http://glb.bz/SGmyBizKit
This article is sponsored by Globe myBusiness.