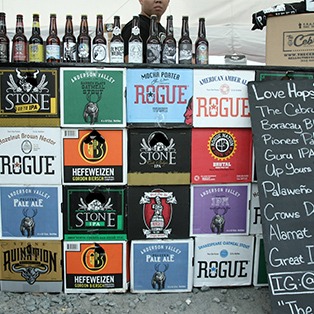 Inspired by this year's creative flavors we saw at Brewfest MNL, we've decided to put together a list of some of our own bar chow recipes that we think will go really, really well with some brews from the event, such as The Rippin' Red Ale by Turning Wheels Brewery, Hopnosis by Craftpoint and Midnight Blur by Nipa Brews.
More often than not, beer goes best with meaty, hearty dishes that are meant to be eaten with your hands. These soft tacos are stuffed with tender braised beef spiced with cumin and pepper, which are flavors that match well with something like a hoppy IPA.
Nachos are a classic bar food staple, so we decided to up the ante a bit and topped crispy French fries with everyone's favorite nacho toppings! This recipe is all about the cheese, meat and just a hint of spice. Something like this might go well with a rich, almost caramel-y amber ale that won't mess around too much with the flavors of the fries.
ADVERTISEMENT - CONTINUE READING BELOW
Recommended Videos
With beer this good, regular macaroni and cheese just won't do. We've switched things up by adding some leftover pulled pork to the standard mac and cheese mix to boost the dish's meat-quotient. A robust beer often goes best with cheesy dishes like this, so try reaching for something like a hearty brown ale.
Blue Cheese Chicken Croquettes with Spicy Buffalo Sauce
What's bar chow without something deep-fried and just a little bit spicy? These chicken croquettes are a creative twist on a classic that proves that bar chow can be interesting, too! Most often, starters like this are paired with sharper, lighter beers such like pilsners.
How could we make a list of bar food faves without mentioning this Pinoy classic? Sisig is most often served with beer, so it only makes sense to serve it up with some of the best beers that the country has to offer! Something this rich, meaty and spicy will go best with something like a dark lager, which can match its meaty, almost caramelized top notes.