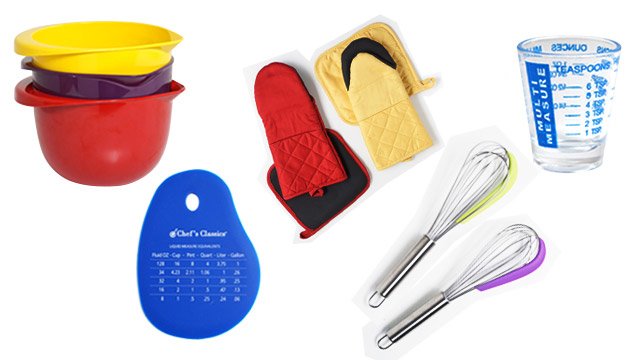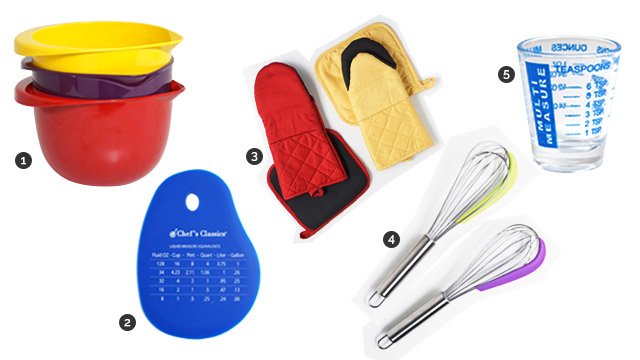 So many tools and gadgets were created to make every aspect of cooking easier for the everyday cook. The great thing about these? Many of them don't have to cost too much. 
We took a look around and found 5 kitchen items that can (and will!) make a difference in the way you do things when in the kitchen. We promise, each will have you wondering why you didn't have it before.
1 Mixing Bowls with Spouts and Non-Slip Grips for P650
If you've ever mixed ingredients into a bowl only to have it spill because you were mixing vigorously, don't worry. The non-slip grips on the bottoms of these colorful mixing bowls will make mixing easier and thus, less spill free. Plus, it has a hand-hold and a spout so pouring is a breeze.
It may be the most expensive item on the list, but it's worth its weight in usage. It's that handy.  
My Colors mixing bowls (3.0L) in red, yellow, and purple, P649.75 each
2 A Scraper with a Handy Table of Measurements for P270
The silicone spatula is the ultimate kitchen tool, whether you're cooking, baking, or just mixing ingredients in a bowl. This particular scraper ditches the handle so you have even more control as you're scraping. Not only that, if ever you need some guidance about measurements while reading a recipe, no need to search online. It's all there in your handheld scraper.
Chef's Classics Silicone Scraper in red or blue, P269.75 each
3 Kitchen Mitts with No-Slip Pads for P250
Potholders and oven mitts are essential in the kitchen. From lifting lids off pots with boiling liquids to reaching into a hot oven to remove your baked macaroni, you need something padded to help you get the job done.
These oven mitts and potholders are every cook's dream come true. Not only are each a gorgeous hue which you can match to your kitchen décor, each has a side with silicone padding that prevents slippage! No more dropping hot lids, hot baking dishes, and hot utensils in the kitchen while using this dynamic duo. Pair this with the mixing bowls with non-slip grips and nothing will slip from your grasp ever again.
SM Home 2pk Oven Mitt and Potholder Set yellow and maroon, P249.75 each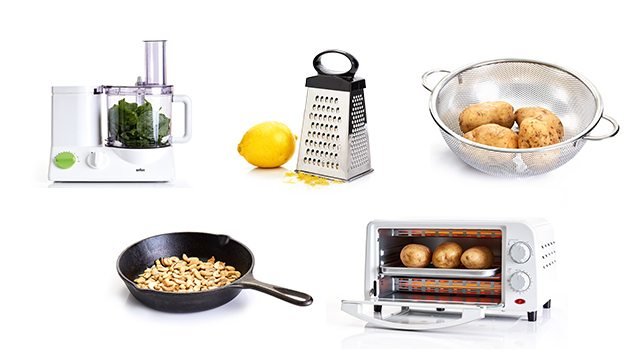 10 Useful Kitchen Tools Under P500
Posted in:
Cooking
4 A Whisk That Scrapes for P200
You have to love multitasking tools, and this is one that has to be a favorite. Not every wire on the whisk is covered in silicone (silicone can create resistance as you're whisking) so whisking cream to soft peaks is done faster with maximum results. But since only one tine is covered in silicone and is shaped like a mini scraper on this whisk, no need to reach for another tool to get every last bit scraped out of the bowl and onto your dessert. 
ADVERTISEMENT - CONTINUE READING BELOW
Recommended Videos
Kitchen whisk in green or purple, P199.75 each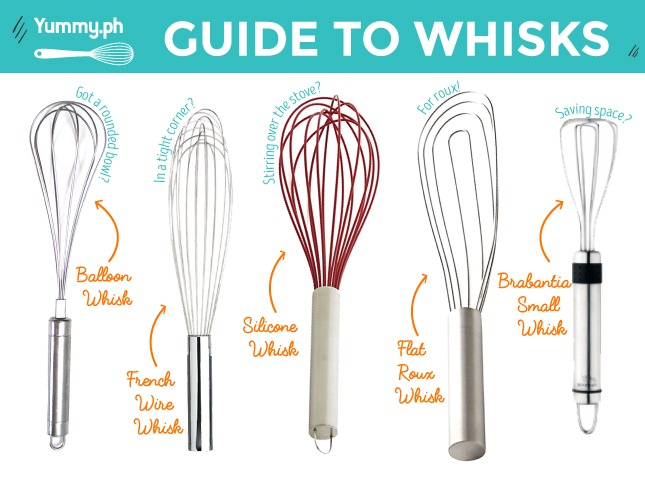 INFOGRAPHIC: The Yummy.ph Guide to Whisks
Posted in:
Lessons
5 A Shot Glass That Measures for P50
You would think a shot glass is good only for doing shots. But not this shot glass. This shot glass can measure how much liquid you've added to it. No more spilling vanilla extract while baking. Not only that, it's made of durable plastic so should you accidentally drop it, it won't shatter. Genius.
Smart Cook Multi Measure Cup, P49.75
All kitchen tools are available at SM Home, SM Megamall Bldg.B L/G, Mandaluyong City.