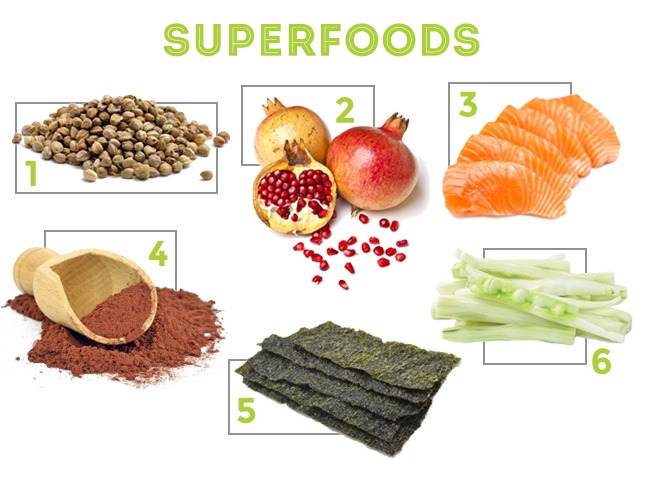 You've probably seen "superfoods" appear on your social media feed a couple of times in the past few days. The term is basically given to food with astonishing health benefits, and over the recent years, more and more people have started raving about them, making produce like kale, açai, and quinoa rise in popularity. But there's more to the superfood department than just those three mainstays.
Here are six more superfoods you can count on to fortify your meals:
1 Hemp Seeds
These protein-rich nuts from the plant cannabis sativa have a notorious relative – marijuana. But there's only one thing high about hemp seeds: the number of benefits that come with them. 
Barely containing the psychoactive element present in marijuana, hemp hearts are an excellent source of omega-6 and omega-3, which are important for cell growth, transmitting nerve impulses, and keeping your heart healthy. Unshelled nuts are also loaded with fiber, making them a good supplement for easy digestion.  
Hemp seeds have a mild, nutty taste that's perfect for soups, salads, and pesto.
2 Pomegranate
This fruit with a colorful history is full of antioxidants, which prevent bad cholesterol from oxidizing and hardening the arteries. Eating pomegranate regularly promotes healthy bowel movement, resolves tartar and bleeding gums, and prevents osteoarthritis.
Pomegranate juice, on the other hand, contains a potent trio of cancer fighters: polyphenols, isoflavones, and ellagic acid, which can significantly cut your risk of contracting the Big C, especially breast cancer and prostate cancer. It is also an ideal drink for people with blood sugar problems.
Enjoy the succulent pomegranate arils alone or sprinkled over fresh fruit salads.
3 Salmon
While salmon is best known for its omega-3 benefits, it is also abundant in protein and amino acids, which boost cardiovascular health as well as muscle and tissue development. It's also a great source of vitamin D (for calcium absorption), vitamin B-12 (for better memory), and selenium, which is necessary for healthy nails, skin, and hair.
CLICK HERE for SALMON RECIPES. 
4 Cacao/Cocoa
The difference between cacao and cocoa may be confusing. To keep things simple, cacao is chocolate in its purest and rawest form, while cocoa is raw cacao roasted in higher temperatures.
Rich in "bliss chemicals", both are natural anti-depressants. They also contain flavonoids, which lower blood pressure and improve blood circulation. Between the two, cacao has a greater amount of antioxidants, but cocoa is good too, as long as it's free of added sugars, milk, and oils.
Add cacao nibs or organic cocoa powder in your cookie batter for an intensified chocolate flavor.
5 Seaweed
Tagged as the new kale, seaweed is gaining a solid following among chefs and health buffs. In fact, English celebrity chef Jamie Oliver calls it "the most nutritious vegetable in the world" and attributes his weight loss to it.
Packed with omega-3 fatty acids and essential minerals such as iodine, magnesium, calcium, iron, potassium and zinc, it is your best bet for keeping your heart, thyroid, and skin healthy.
Incorporate it in your diet by snacking on sheets of nori or adding locally harvested seaweed in your salad.
ADVERTISEMENT - CONTINUE READING BELOW
Recommended Videos
6 Moringa or malunggay
Also known as the miracle tree, moringa or "malunggay" is an unassuming yet impressive superfood. According to renowned Indian nutritionist C. Gopalan, it contains seven times the amount of vitamin C of an orange, four times the calcium of milk, and four times the beta-carotene of carrots. It lowers cholesterol, has anti-inflammatory properties, and may aid in lowering blood sugar levels.
CLICK HERE for MALUNGGAY RECIPES.
Images from Freedigitalphotos.net and globalhemp.com; collage by Riell Santos