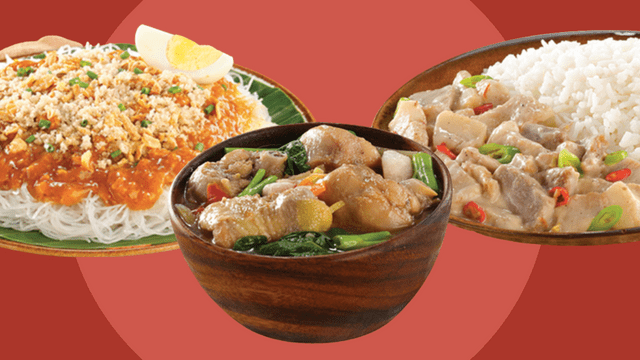 If you're like us who love 7-Eleven's heat-and-eat meals, be it during petsa de peligro or days when you're too busy or lazy to cook, then you'll notice new items in the convenience store's Chef's Creations line. Created in collaboration with the Chef Claude Tayag, the new dishes at 7-Eleven are Batchoy, Palabok, Bicol Express, and Sinampalukang Manok.
The Batchoy and the Sinampalukang Manok come in handy now that it's raining more often. The craving for something warm and comforting is automatic and these heat-and-eat dishes offer instant satisfaction. The hard part is choosing between the meaty noodle soup or a sour chicken soup served with white rice, but then again, you can always have both if you have the budget for it.
Another noodle dish is the Palabok. If you're a huge fan of this umami bomb of a noodle dish, then this is the more obvious item to search for in 7-Eleven's open chillers. But if heat is what you want, the Bicol Express provides. This pork-chili-gata dish is best served with rice because of how tasty it is!
7-Eleven's new Chef's Creations dishes have a starting price of P95. According to the convenience store's Facebook page, these are available in select 7-Eleven stores in Luzon but hopefully, they can be rolled out in all stores soon.
*****
ADVERTISEMENT - CONTINUE READING BELOW
Recommended Videos