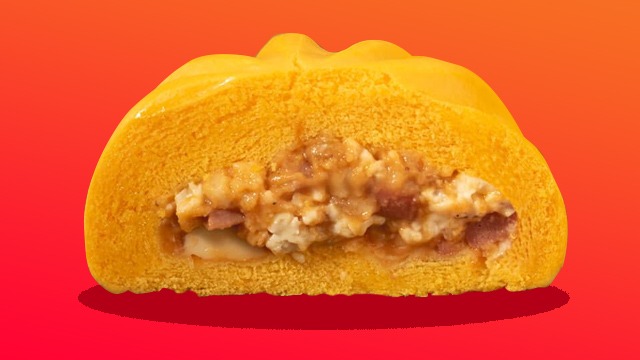 If we're talking about tasty, affordable, and easily accessible siopao, 7-Eleven's siopao checks all of those boxes. They offer these steamed buns in different flavors depending on your craving and they also have these in different sizes depending on the budget you're working with.
You likely already have your favorite 7-Eleven siopao but if you're willing to try something new and something unique, you should definitely try out their new Pizza Pao.
Yes, 7-Eleven's Pizza Pao is just what you think it is: a combination of siopao and pizza in one. The steamed bun is yellow-orange in color and is stuffed with melted cheese, a sweet tomato sauce, and bits of meat. If you're craving pizza, this siopao will satisfy it!
Buy this siopao with your favorite ice-cold drink—you know you can never go wrong with a pizza and soda combo. And while you're at the store, you might as well grab one or two of their underrated, affordable sweet treats for a post-siopao dessert.
7-Eleven's Pizza Pao costs P36 each. This is available at select 7-Eleven Luzon stores.