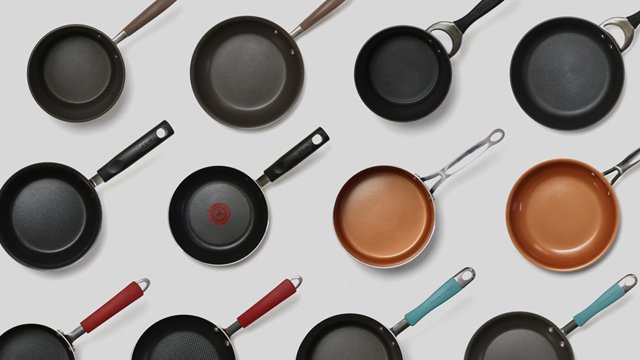 Nonstick pans are a staple in every kitchen, including the commercial ones. What else would you use when cooking scrambled eggs, making perfect pancakes, or ensuring fish fillets don't stick to the pan?
Plus, these nonstick pans not only help you cook healthier because it uses less oil than other pans, it also makes clean up easy, because nothing should stick onto its surface, making scrubbing off tough stains and cooked-on food a thing of the past.
While a nonstick pan is a great and useful investment for every kitchen, you might think it's expensive. The good news is that a good nonstick pan does not need to be expensive. And while you can definitely splurge and opt for those with a known brand to be sure of the durability and effectivity of your nonstick pan, the less expensive ones can be just as durable and effective, especially if you know how to properly use and take care of it.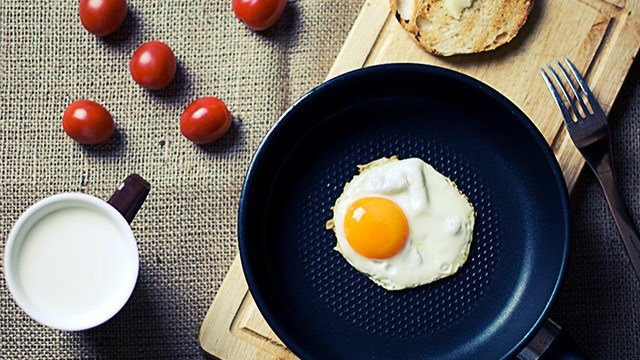 How To Not Ruin Your Nonstick Pan
Posted in:
Prepping
Here are 7 nonstick pans that won't put a strain on your budget.
Under P700
Chef's Gallery
These pans use a Xylan Plus nonstick coating, a type of coating like those used in the automotive industry to create low friction, corrosion protection, and wear resistance coatings. With such heavy-duty applications on a coating tha's also used on these cookware, you know you have a pan that can withstand the occasional scratches and wear-and-tear usage of the home kitchen.
Chef's Gallery Frying Pan 26 cm, P550, Handyman, Robinsons Forum, Mandaluyong
Dynamex
If you're looking for a professional nonstick pan that's easily within your budget, grab this one. It looks as solid and heavy-bottomed as it feels. Plus, it looks exactly like the pan pros use in a commercial kitchen. Nothing says durable like a pan that looks and feels like it's built to last.
Dynamex Professional Non-Stick 25 cm Pan, P599.75, SM Home, SM City Bicutan 
Lifestyle Essential Living
This brand says it knows what you need in your home, and a nonstick pan that's affordable as well as usable on any stove (even an induction stove!) is what it deems you need. With a pan this large and this affordable, it can easily make cooking an omelet good for the entire family to pan frying fried chicken for Sunday dinner fast and easy.  
Lifestyle Essential Living 28 cm Non-stick Fry Pan, starts at P649.75, Robinsons Forum and SM Home, SM City Bicutan 
Masflex
Durability of the non-stick coating is the biggest concern for these pans. That's why there are pans that tout its multi-layered coatings, such as this one. This one is coated in 5 layers so any accidental scratches won't leave too much of a dent in your nonstick surface, ensuring its longevity in your kitchen. Plus, it's induction ready so it works on any stove.
Masflex Diamond 26 cm Non-stick Fry Pan, P699.75, SM Home, SM City Bicutan
ASD Plus
This China brand has leveled up its products with the new Plus series. Each of the product in this cookware line has been transformed into induction-ready pots and pans, so whether you need one that is or not, you have an affordable choice to choose from.
ASD Plus Fry Pan 28 cm, P699.75, Robinsons Forum and SM City Bicutan
Under P1000
Chef's Classics
If a nonstick pan with the patented DuPont Teflon coating is what you're after, you can't go wrong choosing this one. One of the mainstays of this cookware line, it's got the non-stick surface that also sports a honeycomb pattern, ensuring nothing will stick to its surface, a handle that doesn't and won't heat up, and an induction base making it that much more versatile. All that for a super affordable price tag.
Chef's Classics blue label nonstick fry pan 28 cm, P750, Robinsons Forum and SM City Bicutan  
Meyer
A solid construction, such as the rivets that attach the handle to this Teflon-coated frying pan, is a sign of the high quality this cookware line presents. That handle will never come loose and together with a reassuring weight that screams durability, you're in for a comfortable cooking experience every time.
Meyer Non-stick 26 cm Open Frypan, P989.75, Robinsons Forum