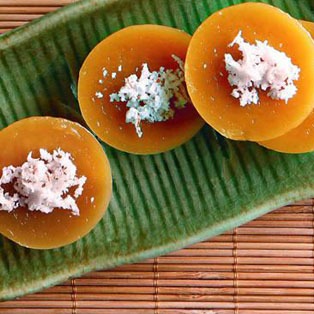 .
Traditionally made with rice, coconut, root vegetables, or coconut milk, the Pinoy kakanin is an important part of the Filipino culinary experience. Served at family gatherings and parties, these are well-loved snacks or desserts you can also easily make at home:

Pro tip: using carabao's milk imparts a slightly salty flavor to the mixture, which might not be achieved if using regular milk.

Sate your pichi-pichi cravings by having this recipe on hand.
Served with budbod on the side, this is a crowd favorite. You can also make snack-sized versions.
Best eaten with a sprinkling of toasted sesame seeds!
ADVERTISEMENT - CONTINUE READING BELOW
Recommended Videos
Tsokolate and coconut makes the local biko more special.
Rice balls, tsokolate, and sweet mangoes make for a great breakfast or snack! 

Make Maja Blanca buffet-worthy by using individual serving dishes.
There's no reason not to make these yummy treats at home—you only need a few ingredients!
See more kakanin recipes here.