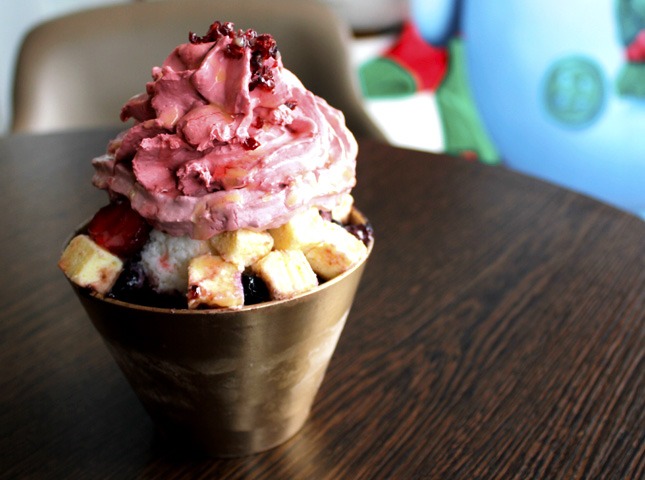 The Patbingsu, which literally means "red beans with ice", is a popular summer dessert in Korea. Lately, the Bingsu, all decked out in interesting flavor combos, is appearing on a lot of Instagram feeds. And why not? It's a picture-pretty dessert that tastes as good as it looks.
Café Seolhwa at The Forum, Bonifacio Global City, serves several variations of the Bingsu. They have the traditional Patbingsu made with Azuki red beans, and rice cake but the seemingly more popular ones are  those that have interesting flavor combos (try the Green Tea Bingsu, Berries and Cheese Bingsu, and the Choco Brownie Bingsu).
Craving for Patbingsu? Try this recipe which throws in bilo-bilo (rice balls) into the mix for a Pinoy twist:
Patbingsu Recipe 
Makes 6 bowls 
Prep Time 20 minutes
Cooking Time 10 minutes
For the Rice Balls (Bilo-Bilo):
1/4 cup galapong, shaped into 1/4-inch balls (available in wet markets)
water for boiling
1 cup simple syrup (1 part sugar dissolved in 2 parts water)
1 cup coconut milk
1/2 cup condensed milk
6 cups shaved rice
11/2 cups store-brought sweetened red beans
1 pint strawberry ice cream
1/4 strawberry syrup
3 tablespoons sweetened green tea powder
1 Prepare the rice balls: Boil water in a large pot. Carefully place balls one by one into the boiling water. Balls are cooked once they rise to the top. Scoop out using a slotted spoon, then place in a container with simple syrup.
2 Combine coconut milk, condensed milk, and evaporated milk in a bowl. mix until well combined. Chill until ready to use.
3 Assemble the patbingsu: place shaved ice in a bowl. add red beans and rice balls. top with a scoop of ice cream. Drizzle strawberry syrup and chilled milk mixture over each bowl, then dust green tea powder on top. Repeat with remaining ingredients to make 6 bowls.
ADVERTISEMENT - CONTINUE READING BELOW
Recommended Videos