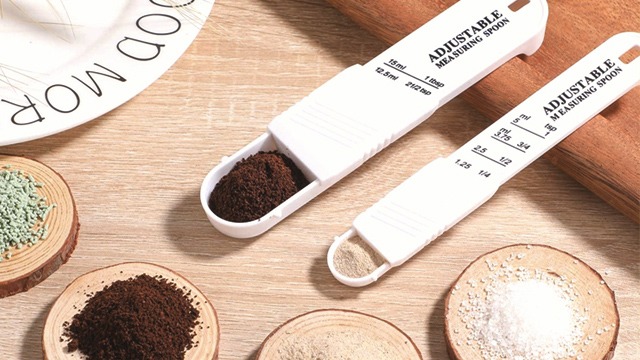 Measuring spoons are often sold in sets and they often come attached to a hoop, just like keychains. If you don't like the struggle of sorting through all the measuring spoons, switching from one measuring spoon to another, or cleaning all the used measuring spoons, you'll want to buy this adjustable measuring spoon from Japan Home Centre. 
All you have to do is slide to your desired measurement indicated on its handle, then the spoon's "bowl" will adjust its size to your needs. Japan Home Centre sells two adjustable measuring spoons: one for teaspoons and another for tablespoons.
What's great about an adjustable measuring spoon, aside from the fact that it's easier to use and you don't need to clean all the individual measuring spoons, this also replaces the 10 or 20 individual measuring spoons in your kitchen drawer so it doesn't look too cluttered. 
The adjustable measuring spoons are now available at Japan Home Centre.
***
Thinking about what to cook next? Join our Facebook group, Yummy Pinoy Cooking Club, to get more recipe ideas, share your own dishes, and find out what the rest of the community are making and eating!
Got your own version of the classic dishes? Pa-share naman! Get your recipe published on Yummy.ph by submitting your recipe here.