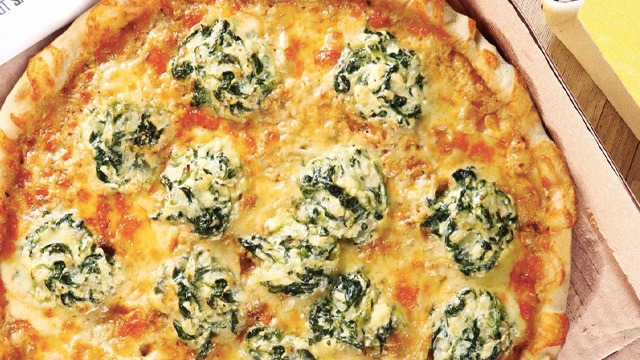 Have you been ordering pizza for lunch, merienda, or dinner? You're not alone! According to Grab's 2020 report, pizza is one of the most ordered food in 2020 and it was searched more than 6,000,000 times in a span of one year. 
If you want to limit your pizza budget, we can help! Here are the different pizza options under P500 that are available on GrabFood and Foodpanda:
Angel's Pizza
Want to try Angel's Pizza's famous Creamy Spinach Dip pizza? The 9-inch size only costs P420! But if you want to try their other flavors, they also have a Halleluia Mozzarella (P420), Garden Of Eden (P420), Cheesy Burger (P407), Angel's Pepperoni (P407), Angel's Aloha (P369), Garlic Shrimp (P407), Angel's Supreme (P407), and the Angel's on Fire (P420).
Crosta Pizzeria
For bang-for-your-buck options, you can never go wrong with Crosta Pizzeria! This pizzeria in Poblacion, Makati has 11-inch pizzas under P500. They have the Basic Bitch (P240), Pepperonley (P300), Smells Fishy (P460), Pork You (P480), Stuffed AF (P480), White Sausage (P460), and Retiree (P360).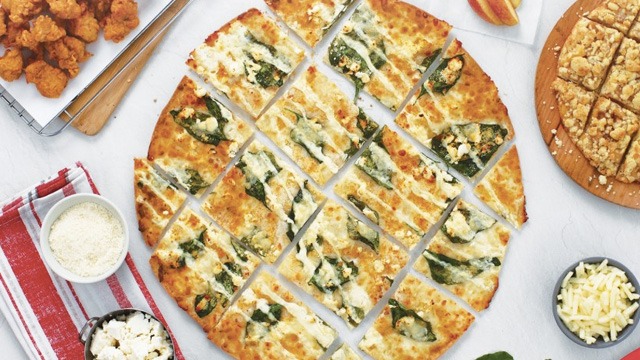 Domino's Pizza 
Domino's Finest Pizzas are all priced at P399! These are the Spinach and Feta, Domino's Deluxe, Ultimate Pepperoni, Aloha Pizza, and the 5 Cheese Pizza. Domino's Specialty Pizzas like the Grilled Chicken Taco Pizza, Extravaganzza, American Bacon Cheese Burger, Meatzza, Memphis BBQ Chicken, and White Bacon, are all priced at P449.
Firehouse Pizza
For those living in the south, you should definitely try Firehouse Pizza! They have Four Cheese (P350), Margherita (P400), Pepperoni (P380), Aglio Cheese (P360), Garden State (P430), Mushroom Truffle Pizza (P500), Firehouse (P500), Times Square (P500), Wagyu Carpaccio (P500), and Seafood (P500).
If you're vegan, Firehouse Pizza also has vegan options for you! They have the Vegan Firehouse (P480), Vegan Four Cheese (P480), and Vegan Truffle (P480).
Gino's Brick Oven Pizza
Gino's has a number of delicious pizzas with not-your-usual toppings and don't cost more than P500. These are the Pesto Mushroom Pizza (P470), Pesto Salami (P485), Pesto Bacon Mushroom Pizza (P485), Marinara (P325), Margherita (P385), Four Cheese (P450), Five Cheese (P490), Salami (P495), Sausage (P425), Panna Sausage (P425), Pannca Piccante (P475), Rosa Bianca (P500), Salami Bianca (P495), Bacon Gouda (P480), Mushroom (P470), B.O.M.B. (P500), and the Bianca Verde with Arugula (P440).
Don't forget to drizzle it with their special spicy honey!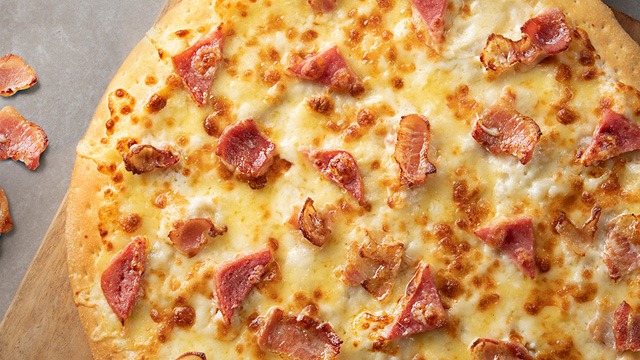 Greenwich
Greenwich's 9-inch classic pizzas are one of the most affordable on this list, as they all are priced at P174 each. There's the Cheeseburger Classic (P174), Cheesy Bacon & Ham Classic (P174), Ham & Cheese Classic(P174), and Ham & Pineapple Classic (P174).
ADVERTISEMENT - CONTINUE READING BELOW
Recommended Videos
You can get more premium flavors with the 9-inch Overload Pizzas: Hawaiian Overload (P245), 4 Cheese Overload (P245), Pepperoni Overload (P245), All In Overload (P279), Veggies & Cheese Overload (245), Bacon Overload (P279), All Meat Overload (P279), Beef & Pineapples Overload (P245), Beef & Sausage Overload (P279), and All Beef Overload (P245).
Motorino
Motorino, a restaurant known for their pizzas, has a few budget-friendly options on their menu! For the red sauce pizzas, they have the Classic Cheese (P475) that has tomato sauce mozzarella, pecorino, and olive oil; Salsiccia (P495) which is topped with Italian sausage, mozzarella, onion, and olive oil; and Pizza Al Uovo (P495) which has mozzarella, pecorino, egg, bacon, basil, and olive oil.
As for the pizzas with white sauce, Motorino has Aglio E Formaggio (P390) which is topped with garlic, mozzarella, pecorino, parsley, and olive oil.
Papa John's Pizza
Papa John's 9-inch specialty pizzas are under P500! Check out these flavors: All The Meats (P439) which has pepperoni, Italian sausage, beef bits, ham, and bacon; the Chicken Bacon Ranch (P369) which has grilled chicken, bacon bits, garlic, tomatoes, onion, and ranch; the Chicken BBQ (P369) that has grilled chicken, bacon bits, onions, and barbecue sauce; and the Texas Heat (P369) that's topped with ground beef, bacon bits, onions, green peppers, and spicy jalapeño peppers.
You can, of course, stick to more classic flavors like Papa John's Pepperoni (P439), Hawaiian (P439), Garden Special (P369), and the Simply Cheese (P369).
Pizza Telefono
Pizza Telefono's 10-inch hand-tossed pizzas are all under P500. There's the Pepperoni (P420), Pepperoni & Mushroom (P440), Hawaiian (P420), Cheese (P380), Four Cheese (P420), Meatza (P440), Very Veggie (P440), Super Telegono (P485), Gambas (P485), Margherita (P440), and the Creamy Margherita (P495).
One of the more unique flavors they have is the Gambas, which is topped with mozzarella cheese, parmesan, shrimp, and garlic confit.
Shakey's
Are you a big fan of Shakey's pizza? For your P500-and-less options, they have the Friday Special, Pizza Bianca, Pepperoni Crrrunch, Shakey's Special Manager's Choice, Hi-Protein Supreme, and the Truffle Greens Pizza (all are priced at P356/thin crust and P449/hand-tossed). There's also the Scallop Primo, Friday Special, Belly Buster, Angus Steakhouse, and the Angus Burger which cost P429/regular thin crust and P494/regular hand-tossed. 
The more affordable options are these classic pizzas: Classic Cheese (P251/regular thin crust, P427/large thin crust, and P344/regular hand-tossed), Garlic and Cheese (P345/regular thin crust and P432/regular hand-tossed), Pepperoni (P345/regular thin crust and P432/regular hand-tossed), and Hawaiian Delight (P345/regular thin crust and P432/regular hand-tossed).
Yellow Cab
Yellow Cab's 9-inch pizzas are under P500, like the Pepperoni (P345), Hawaiian (P345), Manhattan Meatlovers (P460), Garden Special (P460), Barbecue Chicken (P460), Roasted Garlic & Shrimp (P460), and #4 Cheese (P460).
Their newest, limited-edition flavor you can try is the pasta-turned-pizza Chicken Alfredo Pizza (P400/9-inch) which has boneless chicken, creamy white sauce, olives, and basil on a thin-crust New York-style pizza. You can also try the new Patty Melt (P460) which is topped with bits of burger patties, cheese, tomatoes, and sweetened onions.
***