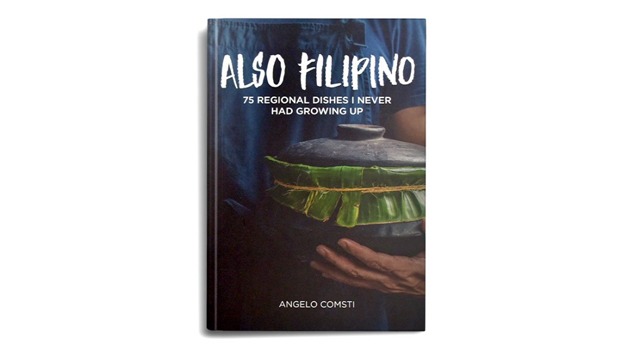 Let's admit it, sometimes, all we know of Pinoy food are the dishes served in our homes. Once in awhile, you get to sample regional dishes you've never had before and wonder what else it out there.
This was the case for food writer and cookbook author Angelo Comsti. He shares, "Growing up, my idea of Philippine cuisine was what my mom and lolas served at home. Then I traveled around the Philippines and discovered a world beyond adobo and kaldereta. So I kept a book where I took notes of the dishes I found in the provinces. I'd even go as far as asking for the recipe of a dish I liked in a carinderia. Then last year, my publisher signed me up to do a cookbook. I pitched this concept and I liked it. So I went to a couple more provinces and with the help of friends, introduced me to a ton of other regional recipes."
And that's how Also Filipino: 75 Regional Dishes I Never Had Growing Up, his fifth published work, was born.
It took four years, numerous trips to provinces, research, and recipe testing to come up with the cookbook. According to Comsti, "The hardest part was being turned down a couple of times. There were some people who, even with the help of people in the food industry and the government, just didn't want to share their recipes. I tried, but I'm not giving up. It's a good thing I'm always hungry."
He adds," The stories behind some of the dishes in the book are also treasures in themselves. Like Tessie Punzalan's Triangulo Valencia in Malabon, which she has been making for many decades now. She learned the recipe from a guy selling it in the wet market. He willingly shared the process to her and days after died. The Calandracas in Cavite was also interesting. It's actually a dish that started in wakes. The ingredients depend on the ingredients guests bring as abuloy."
Also Filipino: 75 Regional Dishes I Never Had Growing Up is published by RPD Publications and is available online at www.thekitchenbookstore.com.
ALSO READ:
ADVERTISEMENT - CONTINUE READING BELOW
Recommended Videos