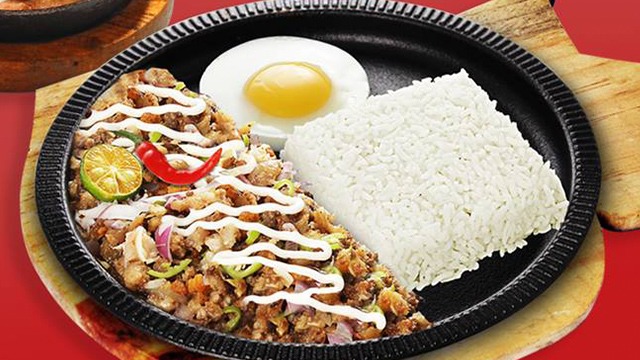 In case you missed it, Angkas recently launched Angkas Food last March 23, 2020. The motorcycle ridesharing's food delivery service is only temporary, most likely until the duration of the enhanced community quarantine, to support the community and the bikers (who will get 100% of the delivery fee).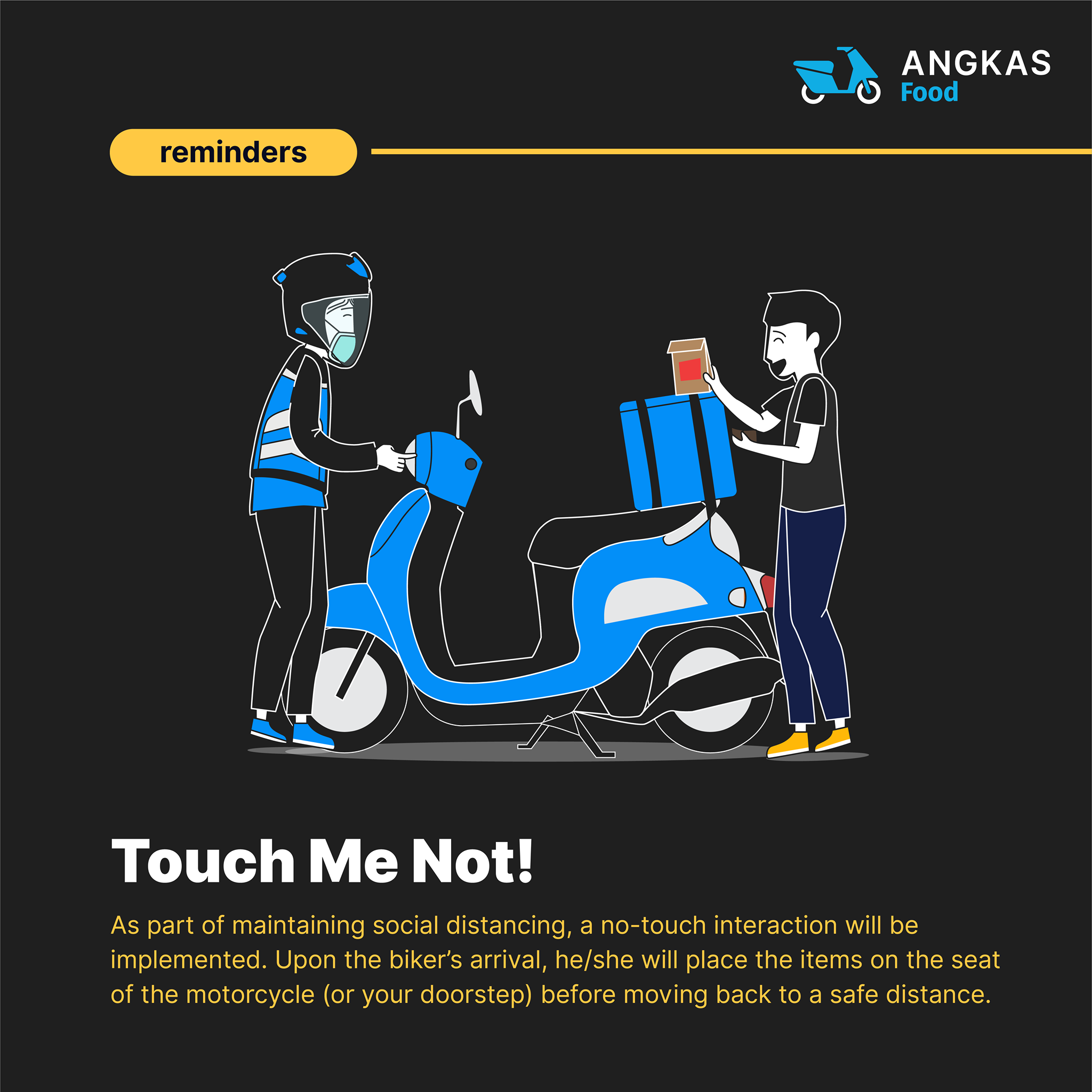 Regardless of the operating hours of the restaurants, Angkas Food starts accepting orders by 10 a.m. to 5:30 p.m. with a delivery fee of P60 within a three-kilometer radius from where you're ordering and an additional P10 per succeeding kilometer—with a limit of five additional kilometers. 
List of restaurants available through Angkas Food:
A'toda Madre
Makati Avenue, Makati City: (0998) 998 2017
Recommendations: Street Tacos, Nachos Gigantes, and Burrito Grande
Barik Supremo Lambanog
Makati City: (0915) 031 6787
Recommendations: Barik Supremo Ginger Sour and Barik Supremo Puro
Binalot
McKinley Hill, Taguig City: (0932) 5593 318 and Amaia Steps, Bicutan: (0923) 537 0518
Recommendations: Pork Sinigang, Tapa, Bistek, Adobo, and Tocino
Elbert's Pizza
Salcedo Village, Makati City: (02) 7978-8325
Recommendations: Margherita, Al Salsiccia, Al Diavola, Quattro Formaggi, and Margherita Speciale
Founding Farmers
Bel Air, Makati: (0947) 899 8904
Recommendations: Mixed Veggie Crisp – Sea Salt or Unsalted, Solo Shiitake Mushroom Crisp, Okra Veggie Crisp, and Roasted Edamame
GOGI Korean BBQ
Poblacion, Makati: (0916) 595 0178
Recommendations: Samgyeopsal, Galbi-Tang, Kimchi Stew, Sundubu-jigae, Marinated Chicken with Spicy Sauce Set
Kanto Food Stop
Muntinlupa City: (0945) 433 3739
Recommendations: KB1 – Vigan Longganisa meal, KB2 – Hamonado Longganisa meal, KB3-Chili and Cheese Sausage meal, and Longgarice
King Sisig
PCU Malate: (0995) 575-9524 and Comembo, Makati City: (0947) 606-3040
Recommendations: Krunchy Pork Sisig, Lechon Sisig, Chicken Sisig, Bangus Sisig, and Royal Tebasaki Fried Chicken.
Made in HK
Makati Avenue, Makati City: (0995) 072 1563
Recommendations: Roast Pork with Fried Egg Rice, Baked Pork Chop Egg Fried Rice, Satay Noodles with Chicken Fillet, Scallion Oil Pork Chop with Fried Egg Rice, and House Fried Rice
Mama V
Malate, Manila: (0939) 915 9731
Recommendations: Garlic Sotanghon, Breaded White Fish with Calamansi Butter, Angus Beef Tapa, Boneless Fried Chicken, Premium Ingredients Bacon Carbonara
Mey Lin
Jupiter, Makati City: (02) 889-96688 or (0917) 307 8999
Recommendations: Three Cup Chicken, Shrimps with Sotanghon, Pancit Canton (Stirred-fried Noodles), Pata Tim Half with 4 pieces of Cua Pao, and Pan-fried Whole White Pampano
Pomodoro Pizza
Kapitolyo, Pasig City: (0956) 930 9318
Recommendations: Amanti Della Carne Pizza, Formaggio Cremoso Pizza, Quattro Formaggi Pizza, Pesto Pizza, and Pizza Bianca Pizza
ADVERTISEMENT - CONTINUE READING BELOW
Recommended Videos
Secret Burger
Katipunan, Quezon City: (0917) 1447 325
Recommendations: Double Deluxe Cheeseburger, Double Bacon Cheeseburger, Deluxe Cheeseburger, Chicken Tenders and Fries Combo, Classic Chocolate Protein Milkshake
The Smokeyard
Poblacion, Makati City: (02) 7756-3980
Recommendations: Smoked Pork Belly, Smoked Beef Brisket Plate, Smoked Meat Platter (good for four!), Pulled Pork Sliders, and Beef Brisket Sandwich
VSpot Resto
Katipunan, Quezon City: (0956) 270 3846 or (0961) 772 1784
Recommendations: Original US Angus Tapa with Egg, Chili Chicken Wings, Spaghetti Bolognese, Spaghetti Carbonara, and Creamy Chicken with Corn (with rice)
Wobbly Pan, Spanish Bistro
Shangri-La, Mall: (0945) 412 8964
Recommendations: Callos, Lengua Estofada, Pollo Iberico, USDA Beef Salpicao, and Empanda de Pollo
* Accepts BDO/BPI, cash, and Gcash payments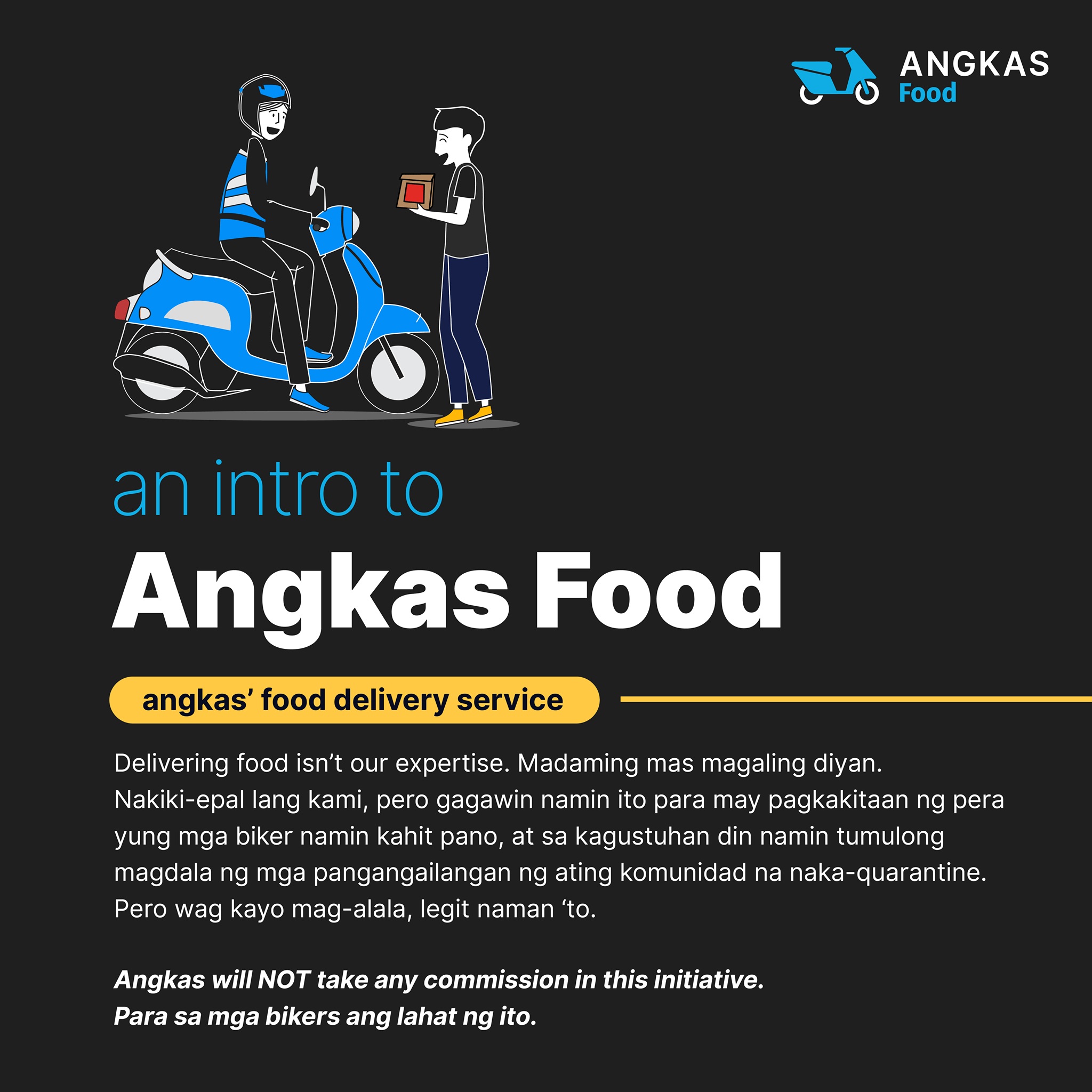 How to order using Angkas Food:
1 Call the restaurant to place your order, no need to use the mobile application!
2 Pay for your order (cashless if possible)
3 Leave your contact details with the restaurant
4 Meet the biker upon arrival to your delivery address
5 Pay for your order (if COD), plus delivery fee and, if applicable, parking fee.
For more information, visit Angkas' official website.