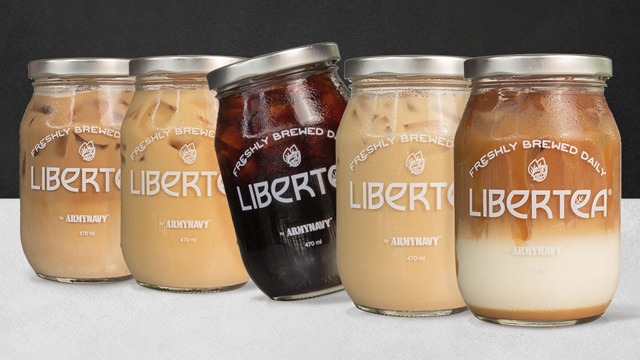 We all know that Army Navy serves a pretty delicious LiberTea, a brewed iced tea served in their mason jars. While that may seem like the obvious choice to pair with your burgers and burritos, Army Navy has released other drinks just recently, like the wide selection of milk tea they now offer in stores. The most recent additions to Army Navy's beverage options are iced coffee beverages.
Army Navy now serves iced coffee in five different blends: Cold Brew, Mocha, Latte, French Vanilla, and Caramel. The flavors are pretty common café-staples, but don't let that fool you! Army Navy's iced coffees are more than just "okay," especially when you consider the price. 
When you order it from GrabFood, the Cold Brew costs P140, Mocha costs P160, Latte costs P140, French Vanilla costs P160, and the Caramel costs P160. All of these come in their regular Army Navy mason jar, the same one used for LiberTea and milk tea. 
Curious to try it out? Army Navy's coffees are now available in all Luzon stores. You can order these via the Army Navy website, GrabFood, and Foodpanda.