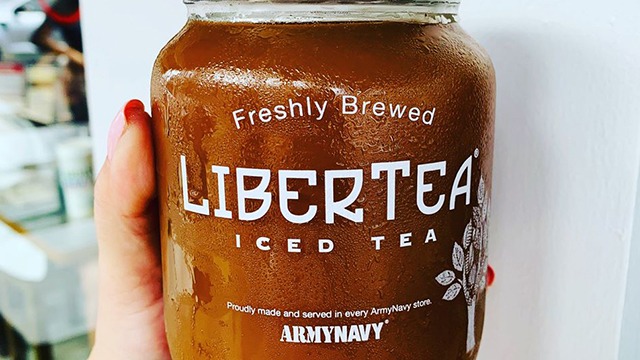 Fans of ArmyNavy Burger + Burrito's LiberTea Iced Tea probably have one, two, or more than 10 empty LiberTea-branded glass bottles at home. Even if there is a discount if you bring a used LiberTea jar on your next iced tea order at Army Navy, these bottles are often repurposed as a drinking glass, storage for food, and even a pencil holder. Does anyone relate?
Unfortunately, Army Navy is no longer using these glass jars for their LiberTea Iced Tea. In a post of ArmyNavy, it's mentioned that the new bottle is made of fully recycled PET bottles.
When the bigger LiberTea Iced Tea was first introduced, it came in a bigger glass bottle, containing 940ml of the delicious iced tea, and cost P190 each. Now with the new packaging, the 500ml bottle costs P120 and the new bigger packaging comes in a 1-liter bottle that costs P200.
Take a look at the new Army Navy LiberTea Iced Tea packaging:
If you are a fan of other LiberTea drinks and that super useful jar, Army Navy still uses the glass jars for the other LiberTea drinks! Under the LiberTea's line of drinks, there are around five kinds of iced coffee and 18 flavors of milk tea to choose from that will still be served and delivered in the glass jars.
*****
ADVERTISEMENT - CONTINUE READING BELOW
Recommended Videos