Consider this your delicious two-day
eating itinerary.
Baguio is still a popular summer and holiday destination and road trips to the North are now easier, thanks to a four or five-hour drive via the new Subic-Clark-Tarlac Expressway (SCTEx).
A first-timer's trip should include the requisite Baguio tourist spots: Burnham Park, where you can rent a bike or rent a boat (or indulge in strawberry or ube taho); Mines View Park which offers a beautiful view overlooking the outskirts of the city; Session Road, the famous business district dotted with establishments and restaurants; and the Valley of Colors, a village dotted with rainbow-colored houses (locals say you have to climb a mountain to get a better view of it). Beyond the usual tourist spots, a weekend in Baguio should include the best eats in this city. Consider this your delicious two-day eating itinerary:
Cordilleran Cuisine
Since you're already in the mountain province, why not get adventurous and try some traditional cuisine? Baguio, just like Sagada, is part of the Cordillera Administrative Region (CAR). This entire region is still occupied by a number of Igorots, or Cordillerans, that until now uphold their food traditions.
Farmer's Daughter: Kindot Jen Baboy, Dinakdakan, and Pinikpikan

Located near the Tam-Awan Village is Farmer's Daughter, the place to go to if you want to explore the array of traditional dishes the Cordillera region has to offer. A few of the dishes Farmer's Daughter is known for are the Kindot Jen Baboy, Dinakdakan, and the famous Pinikpikan, prepared the old-fashioned way.
ADVERTISEMENT - CONTINUE READING BELOW
Recommended Videos
In Ibaloi, "Kindot" refers to anything grilled, which basically makes the Kindot Jen Baboy a Cordilleran version of the well-loved inihaw na baboy. What makes this dish special and packed with flavorf is the pork and beef that they patiently smoke for three days, sometimes even for a week. Their version of Dinakdakan is a spicy and sour Ilocano-meets-Cordillera dish. This delicacy is made by grilling bits of pork offal, tossed in mushed brain and mayonnaise to give it a creamy coat, and then topped with crunchy garlic bits.
If you're a big fan of tinola, you'll want to order a bowl of the Pinikpikan. This native chicken soup dish is first prepared by repetitively beating a live chicken with a stick prior to cooking. The act of beating the chicken brings the blood to the surface, which is said to improve the flavor of this dish. The Pinikpikan at Farmer's Daughter is served in a coconut husk and is topped with etag (a slice of smoked salt-cured pork), and served with crisp watercress, all in a hot, ginger-laced comforting broth.
Farmer's Daughter is located at Tam-awan Village, Long Long Benguet Road, Baguio.
Choco-late De Batirol: traditional hot chocolate

If you're in the vicinity of Camp John Hay or the neighboring tourist spots, make sure to stop by Choco-late De Batirol where you can warm yourself up with a cup (or two) of traditional hot tsokolate and kakanin.
A cup of this bittersweet hot chocolate is traditionally prepared by drying different types of cacao nibs and roasting it with peanuts, which when combined are crushed to make the Chocopaste. This nutty chocolate paste is brewed and placed inside the batirol, a one-of-a-kind bronze pitcher, now used by the fifth generation at Choco-late De Batirol. A molinilyo, an old-fashioned wooden stick that looks similar to a honey dipper, is rubbed in between the palms to make the decadent drink satisfyingly frothy.
These are best paired with Choco-late De Batirol's slightly salty and sweet bibingka and suman sa lihiya that are cooked fresh on a daily basis. Both of these kakanin are all manually made with the use of charcoals, which fits in the traditional practices of the restaurant.
Choco-late De Batirol is located at Igorot Park, Camp John Hay, Baguio.
New Favorites
Baguio also has an emerging food scene. There's always something new to discover each time you visit the city. In the more developed parts of the city, you will find new cafes, watering holes, and new restaurants that may eventually become your new favorites.
Baguio Craft Brewery: local craft beer and beer-infused bar chow

If you're looking for a relaxed spot for a night out, you'll find beer heaven at Baguio Craft Brewery. This local brewery offers different flavors of ales, fruit beer, Stouts, and pilsner that you're bound to find at least one beer that's right for you. If the chalkboard menu of seems a little overwhelming, you can always ask the bartender for help and try out the different beers before committing to a glass.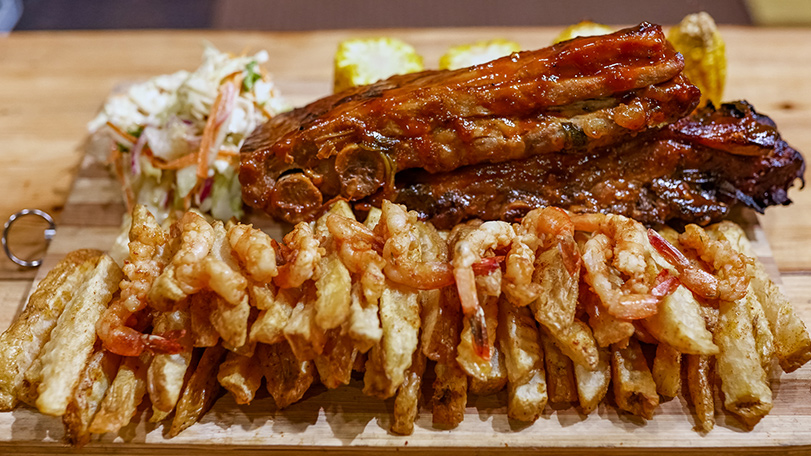 Of course, the typical Filipino inuman is incomplete without pulutan. Baguio Craft Brewery's delicious nachos and the beer-infused bar chow will make you embrace the messy eater in you. We highly recommend skipping the utensils and get your hands greasy with the Stout Crusader-infused isaw (chicken intestines) and dip it in their spicy vinegar. If you want a more substantial meal, you can always go for the brewery's savory ribs that include french fries, shrimp, and corn cob!
Baguio Craft Brewery is 4 Ben Palispis Highway, KM 4, Baguio.
Craft 1945: Casa Marcos' Spanish dishes + Baguio Craft Brewery's craft beers

If you're looking to hop to another bar or if you simply want to enjoy al fresco dining, you should grab a table at Craft 1945, which opened in late 2018. This cozy restaurant is the lovechild of Baguio Craft Brewery's mainstay beers and Casa Marcos' signature Spanish dishes.
Casa Marcos' tasty Paella Valenciana topped with succulent seafood, spicy gambas, and savory Spanish sisig, are all best paired with a mug of cold Craft 1945 beer. This pale, light beer is specifically crafted and brewed to suit the bold Spanish flavors that are prominent in most of Casa Marcos' dishes.
Craft 1945 is at Outlook Drive, Baguio, Benguet.
Baguio Classics
We've come to associate all these unique dishes and Baguio specialties as reliable, nostalgic comfort food that we've all grown to love and crave when we're in the city.
Cafe By The Ruins Dua: camote bread, fresh salad, and juicy bagnet

During your stay in Baguio, you should spend at least one morning at Café By The Ruins for a hearty breakfast. At the Dua branch, you'll be welcomed by a brightly lit two-story restaurant and the aroma of freshly baked pastries coming from the baking station, where you can observe how they make their bread and pastries.
One of the highly-requested Café By The Ruins
breads is their signature camote bread. The camote bread is an heirloom recipe of Ernie Lim, the uncle of Feliz Perez (one of the second-generation owners of Cafe by the Ruins). It's a sweet, dense bread that's best eaten with a dollop of tart strawberry jam and a bit of butter on top. We recommend pairing this bread and jam with a cup of Ruins' coffee with a side of the balikucha—which is a sugar candy that gives the coffee its caramel notes.
If you want a heftier meal, you can opt for their Baguio Bagnet. Crispy bagnet is served on top of Balatinaw, a locally-sourced reddish brown rice. You can even add a bit of Padas, salty fermented fish from Pangasinan, which is served on the side. This dish is served with a bowl of sinigang that complements the saltiness of the bagnet and the Padas. Don't leave without enjoying the fresh Baguio Bounty Salad that's literally a plate full of freshly-picked crisp greens, sweet fruits, tender chicken, and fresh seafood served with strawberry vinaigrette.
Cafe By The Ruins Dua is located at 225 Upper Session Road, Baguio.
Vizco's: Strawberry shortcake

Essential to your Baguio trip is to enjoy strawberries at its prime and strawberry fans should never leave Baguio without indulging in Vizco's popular strawberry shortcake. Just look for the queue of people along Session Road, and you'll find you're
at the right place.
This soft and creamy chiffon cake is topped and layered with fresh, ripe strawberries sourced from the highlands. It's an incredibly simple cake with just the right amount of sweetness. Once a forkful of this cake melts in your mouth, it's almost impossible to not ask for more. If you aren't a fan of strawberries, you can opt to go for Vizco's ube, red velvet, and mango cakes that are just as delicious.
Vizco's is at Porta Vaga Mall, Session Road, Baguio.
Good Shepherd: Ube jam, alfajor, and lengua de gato

One of the most-requested pasalubong from Baguio are goodies from the Good Shepherd Convent. These include jars of their smooth
ube jam, alfajor (shortbread cookies) with a sweet dulce de leche filling, and the lengua de gato, with milky pieces that melt in your mouth.
The convent center, located beside Mines View Park, takes on Cordilleran youth as scholars and trains them to help produce all the products we enjoy. It would be a sin to leave Baguio without bringing home these bottled goodies and treats.
Good Shepherd Convent is located on Gibraltar Road, Baguio
Other Baguio Must-Tries

If you have more time on your hands to go around and explore Baguio's, you should leave room in your belly to treat yourself to the rest of what Baguio can offer. Good Taste is a 24/7 restaurant that offers affordable Chinese cuisine with a few Western pastries. We highly recommend ending your Good Taste experience with a piece (or a whole box) of their cream puffs!
The city boasts of fresh vegetables so if you're a fan of crisp greens, Oh My Gulay is a famous farm-to-table restaurant and art cafe which you should add to your itinerary. They serve numerous mouthwatering vegetarian dishes and mock-meat dishes that your meat-loving friends will love.
Baguio also has an eat-all-you-can Mongolian BBQ buffet and hotpot at O Mai Khan. What we love about this place is that you can make your own Mongolian bowl filled with your favorite meats, greens, sauces, and other add-ons.
Good Taste is at Rajah Matanda Street, Baguio
Oh My Gulay is at 108 Session Road Baguio
O Mai Khan is at Session Road, Baguio