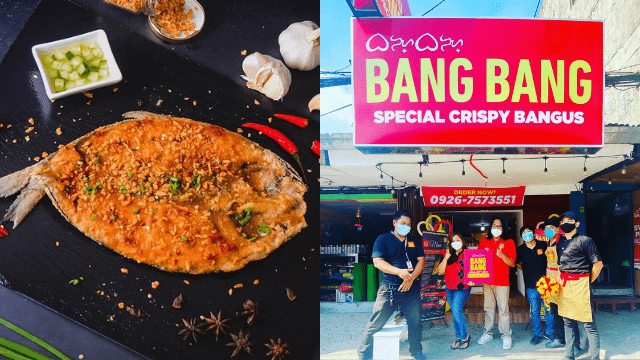 It's no secret that the pandemic hit various business sectors, including husband-and-wife Mike and Lucci Canlas's video and events production company. But that didn't stop their aspirations. They got creative and pushed through with their dream of making something big that could potentially go global.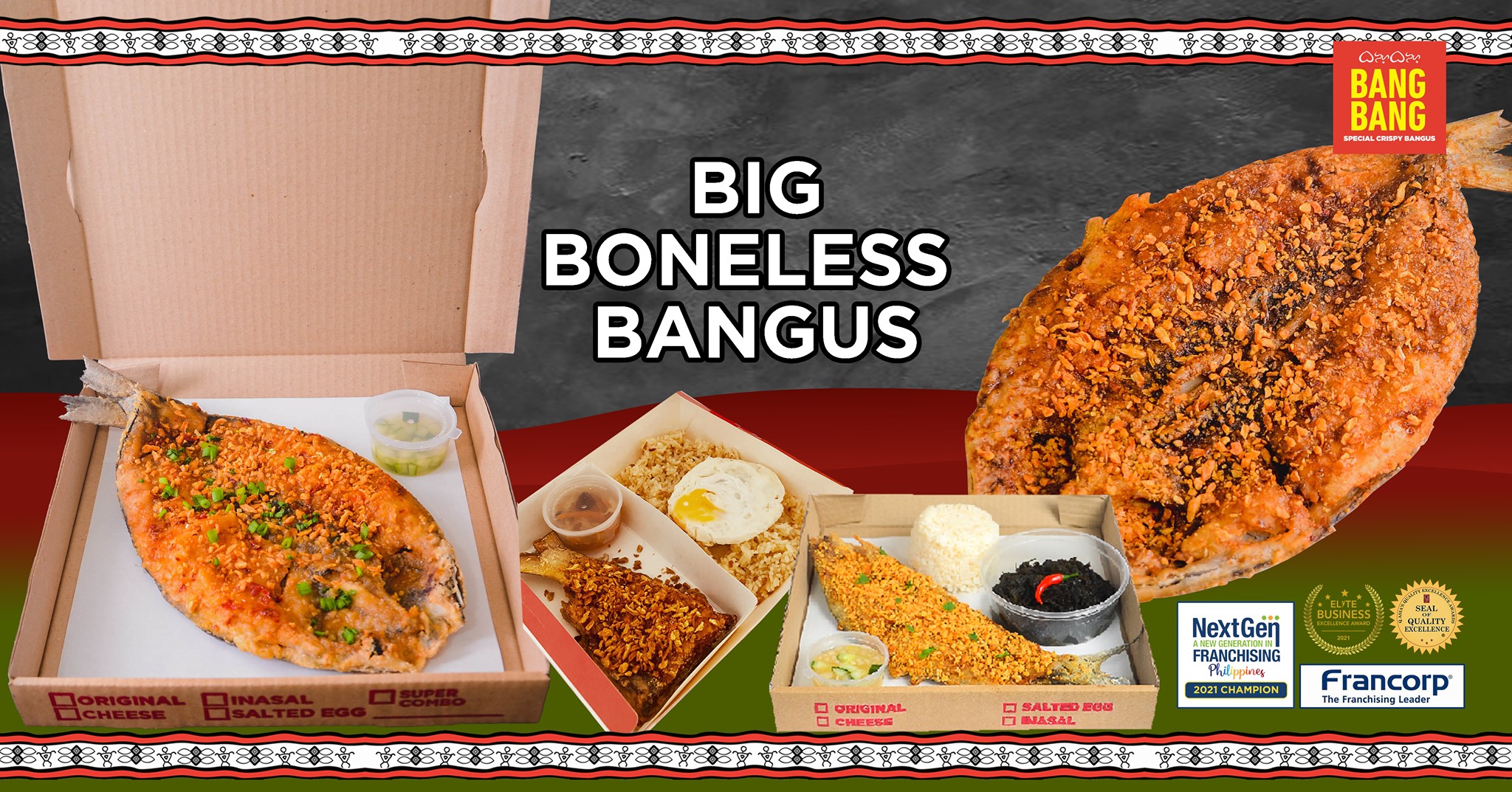 The duo shifted their focus and talent from video and events production to a food business and opened their first Bang Bang Special Crispy Bangus in June 2020 at the height of the lockdowns. Now, it's one of the hottest local food franchise concepts with a growing network nationwide anchored with the vision to take the world stage.
"It was very risky but we wanted to do something big," Lucci says. "By January 2021, we already had five stores. Then, in December, we grew to a total of 50 stores," said Lucci during one of Francorp's regularly held Franchise Your Business webinar.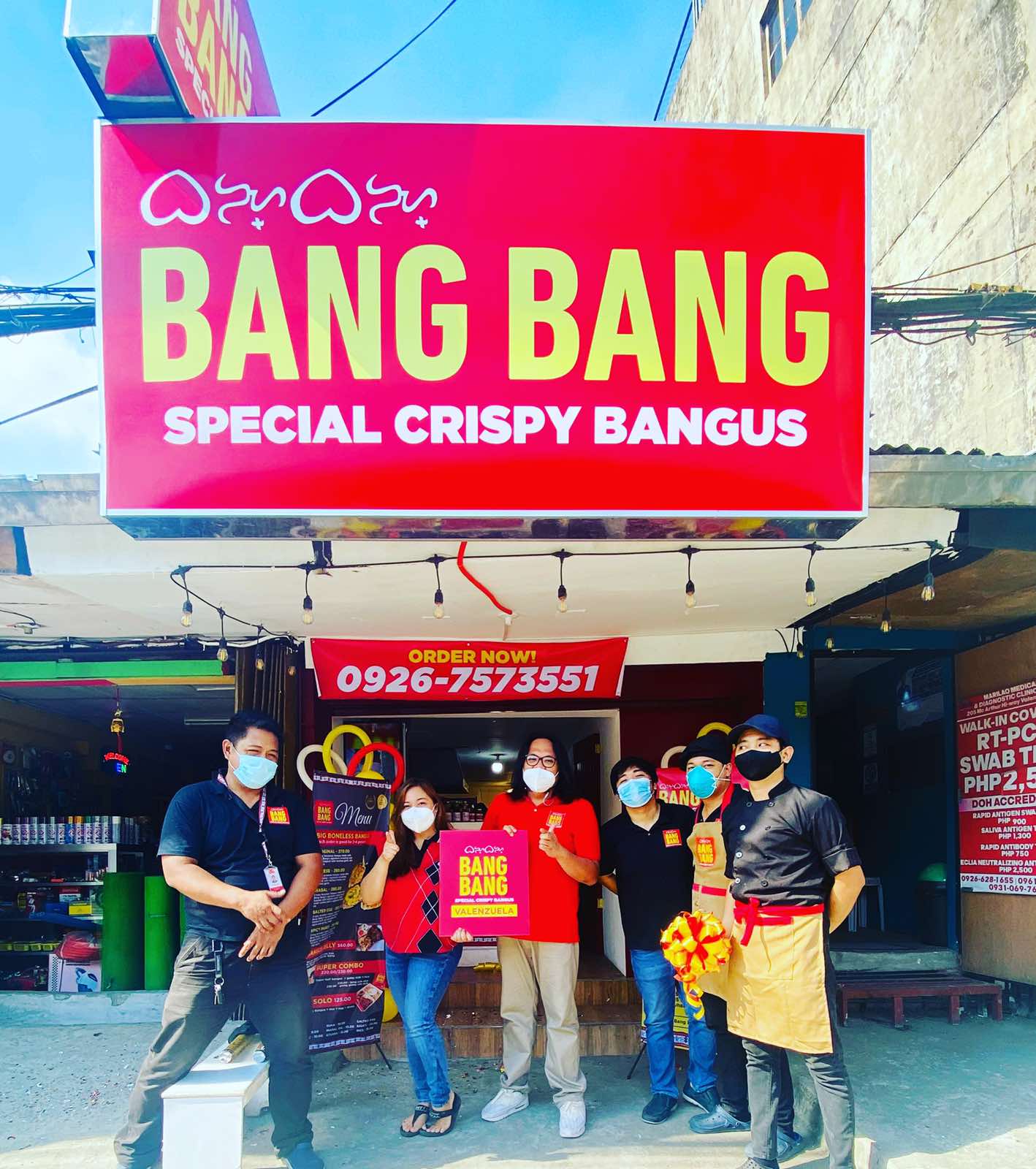 The food business sector in the country may be nearing its saturation point but Bang Bang offered something fresh, new, and familiar all at the same time. "Bang Bang is all about big, boneless, crispy bangus and we are the first one to do this kind of business in the country," Lucci says. "We offer carefully curated original flavors and we pack our bangus products in a pizza box."
Bangus or milkfish is definitely not a new dish but Bang Bang banked on the Filipinos' love for the delicious fish. They focused on bangus and gave it a twist by introducing new flavors like Spicy Pares, Salted Egg, Inasal, and Cheese together with their bestselling Original flavor. To better serve customers, their stores offer pick-up and delivery through various food delivery service providers.
ADVERTISEMENT - CONTINUE READING BELOW
Recommended Videos
Receiving overwhelming traction from customers, it's not surprising that Bang Bang also gained the same traction from aspiring franchisees. With their successful franchise launch, the Bang Bang Special Crispy Bangus was also hailed as the NextGen in Franchising 2021 awardee during the Franchise Asia International Conference in September 2021.
As one of the hottest and fast-growing food franchise concept in the country today, Bang Bang Special Crispy Bangus shares three tips on how your unique business concept can successfully scale up through franchising:
1 Keep it simple and consistent.
Bang Bang made sure to keep their business simple by having one core product, which is bangus, but with various new and delicious flavors and unique packaging. "We are in the business of replicating ourselves so there has to be less room for changes or elements that could be changed so that we could be uniform," explains Lucci.
The dream for Bang Bang is not to become a solitary business. The owners wanted it to become part of the many communities in the Philippines and the world. The best way to do this is to go into franchising. And in franchising, the business model should be simple, consistent, well-established, and replicable. 
"We need to have more constants, which means that everything has to be standardized," says Lucci, adding that if one of their stores would cook or prepare their bangus differently, then it would have a negative impact on the brand and the entire business.
In order to be consistent, Lucci says that businesses should measure everything, compute all costs, standardize operations, and set up quality parameters. 
2 Solidify your branding.
"A good product is a must but it also has to go hand in hand with solid branding," Lucci says, emphasizing the importance of branding and marketing. 
Branding is all about the identity of your business. It's how you want people to perceive your business. In the case of Bang Bang, Lucci shares how she designed its brand. "I wanted the people to see and recognize Bang Bang at a glance, so I chose the most attractive colors and readable fonts, and I incorporated it with unique and appealing elements, including Baybayin text and originally designed patterns." 
Lucci adds that Bang Bang is a true Filipino brand so she made sure to design it in such a way that it would highlight Filipino pride. The brand of Bang Bang is visible in all of its product packaging, store design, signages and posters, marketing materials, and even in social media posts.
Since Mike and Lucci are video producers, they used their expertise to bring life to the brand through creatively-produced stunning videos and other marketing materials that caught the attention of both franchisees and customers.
3 Invest in your vision.
Lucci shares the importance of investing in your vision and in mapping out your dreams. "In our case, we use an actual map. We want to visualize our direction and accomplishments." 
As experts would say, if you want your business to go big, you have to envision it. Have a clear map of where you want your business to be in five or 10 years or more and bolster it with a solid action plan.  
Along with that, you also have to work on establishing a strong supply chain and strengthening your back end, especially if your direction is towards franchising. "Being in business is entirely different from being in franchising," Lucci says. "You have a franchise network to take care of. Your franchisees rely on you as the franchisor, therefore, you must be ready to support them." 
Finally, Lucci explains that even if "experience" is the best and most expensive teacher, learning from experts is invaluable. Getting as much wisdom as you can get is necessary to make sure that you are prepared for the venture.
"When we were talking to Francorp, we said that we have a big dream for Bang Bang, and what really stuck with us is that we need to have a solid franchising program," says Lucci. Bang Bang is currently working with Francorp for the development of its franchise program. "Now that we have Francorp in our team and U-Franchise for sales in the future, we know that we have the experts with us."
For franchise inquiries, please visit this site or email us at [email protected].
*****