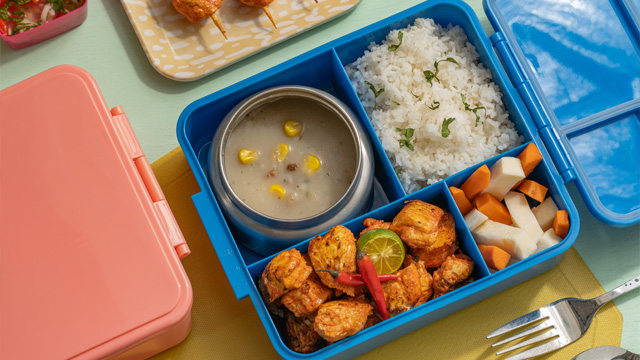 Products and services recommended on our websites are independently selected by our editors. If you buy something through our links, Summit Media may earn an affiliate commission at no extra cost to you.
There's something special about bringing your own baon to work or packing baon for your kids or loved ones. Not only are you able to bring a piece of home with you; it's also a budget-friendly way to ensure you have a delicious and mindfully created meal waiting for you come lunchtime! And when it comes to baon, picking the right baunan is so crucial; aside from any other special features or aesthetics, it needs to be spill-proof and heat-proof, at the very least. Here is where Saja Bento Box can come in. Not only does it have the basic features you'd look for in a bento box; it's also got everything you need to make your baon taste like it's freshly cooked.
What We Like About The Saja Bento Box
The Saja Bento Box may have been designed with kids in mind, but we think they're also great for adult use, too! We recently had the chance to use them for our July 2023 Digital Issue recipes, and here are some of the features we loved:
1 It has four leak-proof compartments.
Some people – especially kids – do not like it when different food touch each other, and with the Saja Bento Box, this is a problem you won't have to worry about! The Saja Bento Box has four leak-proof compartments that will keep the different components of your lunch separate from each other. Not only is this helpful for picky eaters but it also allows you to pack desserts with your rice and ulam without worrying about, say, your cookies tasting like the adobo you've packed for lunch.
How does it prevent these leaks? The cover of the Saja Bento Box is lined with a silicone seal that ensures the food you place in each compartment stays there, even though it might be shaken or jostled during your commute to school or work.
2 The insulated jar is easy to open and leak-proof, too.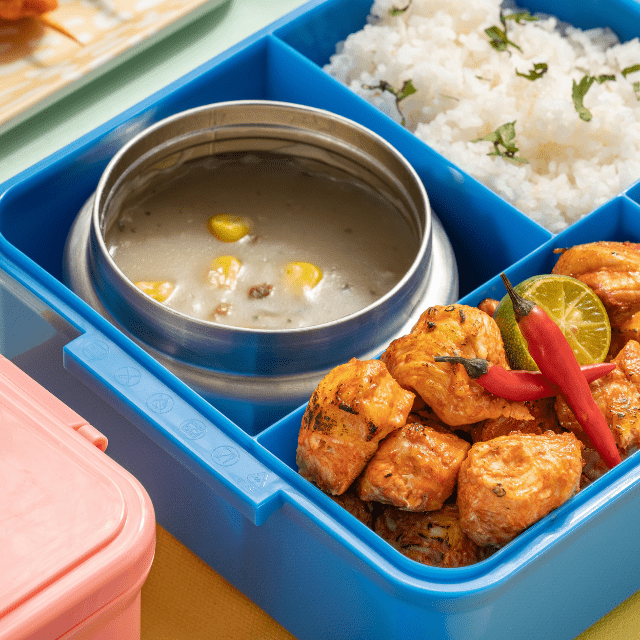 One of the things that struck us the most is just how easy to open the insulated jar was – all you need to do is lift the handle and it comes off quite easily. Despite this, you don't have to worry about it accidentally opening because once you press the handle back down, it vacuum seals the insulated jar securely. This technology is perfect for kids (and also hunger-weakened adults) because unlike jar covers that need to be twisted open, the pressure cap design was made for kids to use so it doesn't need much strength or effort to open.
ADVERTISEMENT - CONTINUE READING BELOW
Recommended Videos
The insulated jar is also double-walled and can retain heat for 6 hours or stay cold for 12. So whether you're packing a comforting bowl of hot soup or a serving of homemade ice cream, you won't have to worry about the temperature of your baon.  
3 It's made with microwave- and dishwasher-safe material.
Dishwashers might not be a popular appliance in the Philippines (yet), but those who have them will be pleased to know that the Saja Bento Box is dishwasher safe. Another practical feature we like is that it's also microwave-safe, so that even if you can't pack the whole thing in the insulated jar, you can still have a warm meal by popping the Saja Bento Box in the microwave! It's also made with BPA-free material, so you won't have to worry about any chemicals leaking into your food.
Other Features and How To Order
Wondering about the dimensions of the Saja Bento Box? Here's all you need to know:
Dimensions: 8.3 × 6.9 × 2.75 in
Total Compartment Capacity: 1650 mL | 55.8 oz | 7 cups
Compartments:
Upper Left: 1.9 cups
Lower Left: 2.55 cups
Upper Right: 0.85 cup
Lower Right: 1.7 cups
Insulation Jar: 8.5 oz
The Saja Bento Box comes in Salmon Pink and Cobalt Blue colors, and can be purchased from their website (P1,200), Lazada (P1,250), and Shopee (P1,199). For more information, you can message them on Instagram.
Links are updated regularly and as much as possible but note that products can run out of stock, discounts can expire, and listed prices can change without prior notice. 
For more discounts and deals, check out Yummy's exclusive vouchers.