Desserts may not quite sustain us like the rest of the food groups, but it does sustain our soul with just how much happiness it can bring. Nothing makes life sweeter than really, really, really, good dessert.
This year's favorite desserts puts the spotlight on the desserts that will give you happy vibes (bookmark these for all your parties and Christmas celebrations, too):
1 Berry Meddley Cream Cheese Cake by Vi
and Lucia
If you love berries, you'll fall in love with this bundt cake. The moist, rich pound cake is generously filled with delicious raspberries and blueberries. Every fruity bite packs a flavorful punch accentuated by the lemony sugar glaze.
Price: P950
Buy: Order via (0917) 983-2488
2 Chocolate Truffle Cake by The
Workshop
Don't underestimate this small cake: it's got bold, robust chocolate flavors in its mousse base. It's a simple dark chocolate mousse cake done right. Pair it with coffee or a sweeter beverage and you'll find yourself wanting more.
Price: P190
Buy: The Grid is at Powerplant Mall, R2 Level, Rockwell Center, Makati.
3 Chocolate Chip Macadamia Cookies
by Elephant Grounds
Elephant Grounds' cookies, in summary, are the "perfect basic." You get the crispy outside, while being soft, and chewy on the inside. Plus, these are as larger than the palm of your hand! What takes these specific cookies up a notch though, are the delicious chunks of chocolate and the macadamia nuts which help break the sweetness so you can get that perfect balance most cookies often neglect.
Price: P145 per cookie
Buy: Elephant Grounds at Lower Ground, One Bonifacio High Street, Taguig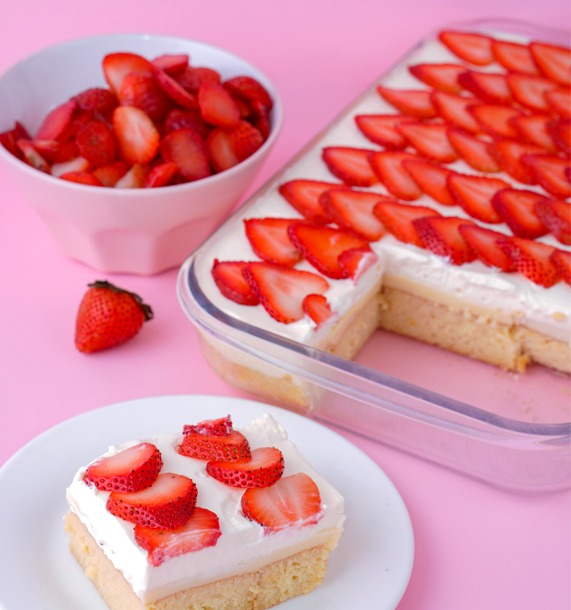 4 Strawberry Tres Leches Cake by
Jeterra Bakery & Cafe
Thinly sliced, fragrant, bright-red, sweet and tangy strawberries sourced straight from Benguet top this tres leches cake like no other. Beneath those neat, perfect slices of inviting strawberries is the fresh whipped cream, and rich, smooth custard, then a milk-soaked chiffon cake. Together, you get a light, perfectly sweet, graceful symphony on your tongue with every bite.
Price: P1,800 for an 8″x12″ tray
Buy: Contact them at 8-640-3116 , 7-212-2460, or (0956) 841-6027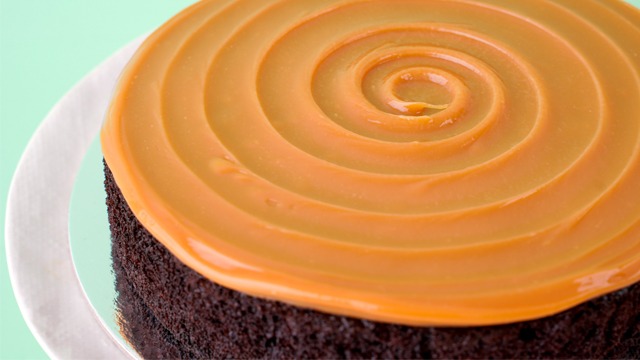 ADVERTISEMENT - CONTINUE READING BELOW
Recommended Videos
5 Dulce De Leche Chocolate Cake by
Sugarbee
Sugarbee gets it: you don't have to stray too far from the classic chocolate cake to get something great. Why mess with perfection, after all? The chocolate cake is moist, chocolate-y, and almost melt-in-your mouth. It also comes with the perfect icing to cake ratio. The icing is a sticky, sweet, dulce de leche with decadent caramel notes.
Price: P550 for a whole cake, P95 for a slice, and P160 for a solo cake.
Buy: Sugarbee at Bonifacio Stopover, Paseo Center, and SM Megamall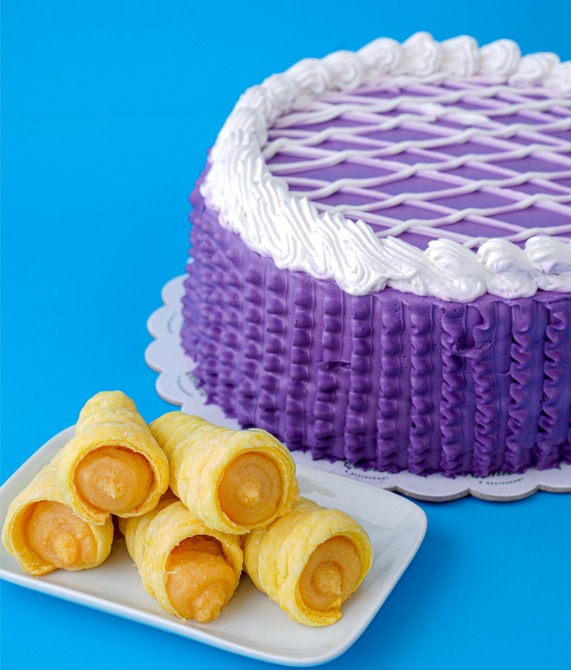 6 Ube Custard Cake by
Conti's
Conti's is a household name for a reason. In this cake, they take your Filipino favorite combination, ube and leche flan, and turn it into something like a cloud of a cake. As huge and overwhelming a slice may seem to be, you'd be surprised how light, fluffy, and creamy every bite actually is. The earthy ube cream and chiffon perfectly balances out the delicate custard for a not-so-sweet, perfect bite.
Price: P895 for a whole cake.
Buy: Conti's branches nationwide and through online delivery.
7 Custard Creamhorns by Alfonso's House of Creamhorns

These little treats aren't just adorable, they're also incredibly delicious. The buttery crispy, flaky pastry cone bursts with a sweet and creamy custard that you're sure to love.
Price: P350/box of 10 pieces
Buy: Message them on Instagram.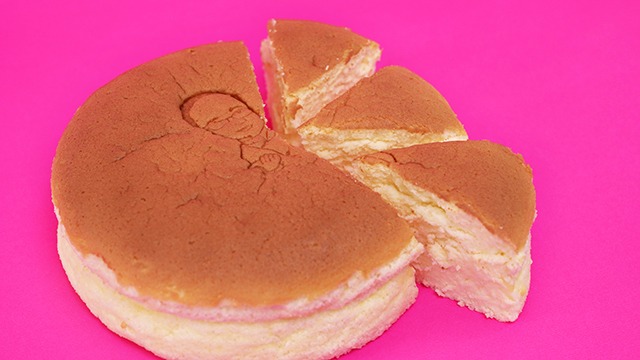 8 Golden Cheesecake by Grand
Castella
Chiffon cakes are so easy to get wrong, but Grand Castella gets it, oh, so, right. Their Golden cheesecake is much like Japanese cheesecake. You get an incredibly light cake infused with the tanginess of cream cheese. Every cloud-like bite is a wonder.
Price: P250 per box.
Buy: Grand Castella is at Ground Floor, Eastwood Mall, Quezon City

9 Cookie Burger by Scout's
Honor
In a world where more is more, the cookie burger is one of the most decadent desserts you can get. Two of Scout's Honor famous ultimate choco chip cookies sandwich an indulgent double fudge brownie, fresh strawberries, tangy cheesecake frosting, gooey Valronha chocolate sauce, torched marshmallows, and crunchy almond flakes. If you've ever been stuck in a conundrum deciding which dessert to get, cheesecake, s'mores, or chocolate chip cookies, you wouldn't have to choose anymore. Why not have it all?
Price: P245
Buy: Scouts Honor can be found at Ayala Malls Vertis North, Hole In The Wall Century City Mall, Makati, Uptown Bonifacio Mall, Santolan Town Plaza, Robinsons Place Manila, and UP Town Center.
10 Mango DreamCake by Le Sucre
Lab
When you open the lid of this tin can cake, you get nondescript, yellow cake crumbles. Dig in with your spoon and the dreaminess starts to unfold itself: you get layers of sweet, sweet mangoes, light, moist, soaked chiffon cake, and a unique, custard-blended cream that brings it all together. This is perhaps one of the hardest gifts to give—it's so tempting to just keep it for yourself!
Price: P595 with a limit of two orders per person.
Buy: Branches at SM Megamall, SM City North Edsa, and at the 3rd floor, 2428 Building Tejeron Street, Santa Ana, Manila. For more information, follow Le Sucré Lab on Facebook.
11 Pork Floss Ensaymada by
Nomnom Oven
What makes a great ensaymada? We like to think it's decadent, generous butter in the pastry that makes it soft, and butter on the pastry that makes it creamy. Have you ever imagined your favorite ensaymada with salty-sweet, umami-packed pork floss though? It's phenomenal. This ensaymada uses the unique texture and flavor of pork floss two-fold as a topping and filling.
Price: P85 per piece, may be ordered in boxes of 6 or 12
Buy: Message them on Instagram and Facebook.
12 Yema Cheesecake Cream Puffs
by Blends and Batter
Cream puffs are amazing pastry treats but can sometimes be boring. The delicious, creamy, rich yema filling and spritz of cream cheese topping makes it unlike any other cream puff you've ever had. Every bite bursts with the right amount of pastry and decadent, smooth cream.
Price: P300 for a box of 4
Buy: Message them on Instagram, filling out their form. You can pay using BPI Deposit, Online transfer, or PayMaya. Shoulder your delivery through LalaMove. Delivery days are every Friday and Saturday from 11 a.m. to 3 p.m. For bulk orders, contact them.
13 Oatmeal Cookies by Mo'
Do you particularly love chewy cookies? These cookies are delightfully chewy, thanks to oatmeal! Check out their Naked Oatmeal that's spiced with cinnamon, making it somewhat like a snickerdoodle. The Walnut Cookie is similar but with a generous amount of walnuts. The Dark Chocolate Oatmeal cookie on the otherhand, is much like a classic chocolate chip cookie, but again, chewier! How can we say no?
Price: P120 for Naked Oatmeal, P145 for Dark Chocolate Oatmeal or Walnut Cookie.
Buy: Mo' is at The Mess Hall, The Moplex, 2316 Karrivin Plaza, Pasong Tamo Extension, Makati City; and UG/F Power Plant Mall, Rockwell, Makati City.
14 Biscoff Alfajores by
Anastasius
Are you already in love with alfajores and its crumbly cookies and gooey filling? Then you'll love this in no time as well. In this version, the thin, tiny shortbread cookies readily collapses against the roof of your tongue and unleashes that decadent, cookie butter filling. Fair warning, though. You might find yourself finishing a package without even noticing it!
Price: P320 per jar
Buy: Viber them at (0917) 549-3388 or message them on Instagram. They also supply at Shell Doña Soledad, Paranaque, and Shell Better Living, Paranaque.
15 Strawberry Kiss Cookies by
Moloko's Handcrafted Cookies

Why limit yourself to caramel and nuts with your cookies? Moloko's Strawberry Kiss cookie is fruity in the best way possible. They use 100% real strawberry fruits (no artificial flavoring or coloring!) to make the strawberry kiss candy lovingly placed on each handcrafted, soft cookie. The strawberry kiss candy is soft, melt-in-your mouth, and has that fresh zestiness of strawberries you just can't get with artificial flavoring.
Price: P510 for box of 6
Buy: Pre-order your cookies from their Facebook and have them delivered to your doorstep. You can also catch them at the occasional event.
16 Shorty De Leche by Notorious
Treats
Crispy, tender, chewy—the simple cookies are perfect in themselves. Add in that gooey dulce de leche center and you've got something over-the-top amazing. So many caramel notes pop out from the wild array of textures from this cookie. If you've got a sweet tooth and a hankering for complex caramel flavors, you'll give this a two-thumbs up.
Price: P270 for 4 pieces, P490 for 8 pieces, and P890 for 16 pieces.
Buy: Message them on their Instagram with your order, arrange to pick it up or have it delivered, and pay through online banking. Repeat buyers are given cash-on-delivery privilege.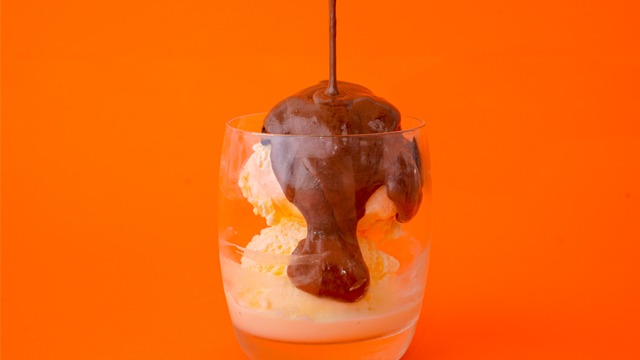 17 Chover by Risa Chocolates
South Cotobato chocolate has deep, earthy, fruity notes that make it much more rich, complex, and addicting. Heated and poured onto cold, creamy, blank canvas vanilla ice cream scoops, and you've got something that is supremely delicious.
Price: P230
Buy: Risa Chocolates at The Grid, Powerplant Mall, Makati City.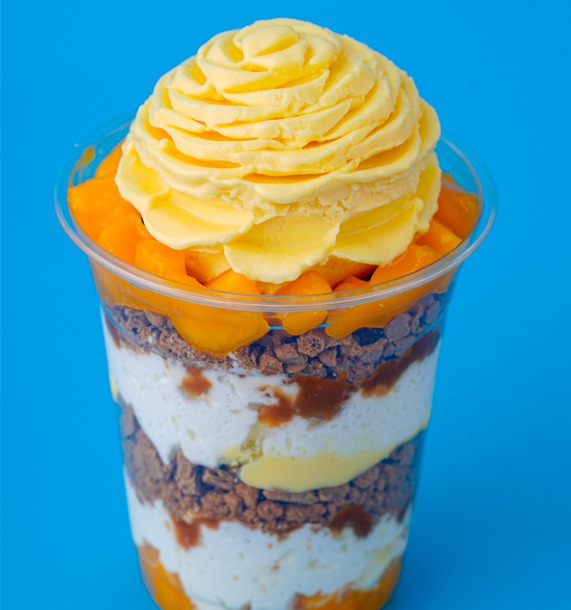 18 Mango Float Gelato by MNL
Creamery
When the mango float trend exploded, Manila Creamery came in to offer a twist to the classic that made it even better. Locally sourcing the sweetest mangoes they could find, combining that with the nostalgic flavors of graham crackers and cream, and then upgrading it with delicious, spiced cookie butter sauce—you get something beyond satisfying; it's elevating.
Price: P170
Buy: Manila Creamery at U.P. Town Center, Alabang Town Center, Vertis North, Quezon City, and SM Megamall.
19 Honeycomb Ice Cream by
Carmen's Best
That deep, comforting flavor of honey is infused and speckled in pieces into every spoonful of perfectly creamy, ice cream. You're bound to be left wanting more.
Price: P150 for a single scoop at the Powerplant Mall branch
Buy: Carmen's Best supplies to a long list of groceries and establishments. Check out their website for a list.
20 Coffee Jelly Ice Cream by
Sebastian's Ice Cream

You can always depend on Sebastian's Ice Cream to come up with something amazing with flavors we're all cozily familiar with. In this particular flavor, they take the classic coffee jelly dessert and turn it into a work of art. The jelly, in spite of the freezer's harshly cold temperatures, remain jiggly and popping with flavor. The ice cream that coats it on the other hand, has the nostalgic flavor of condensed milk. This isn't just good, this is genius.
Price: P160 per scoop
Buy: Sebastian Ice Cream branches at The Podium, Ayala Malls Vertis North and Regis Center, Katipunan.