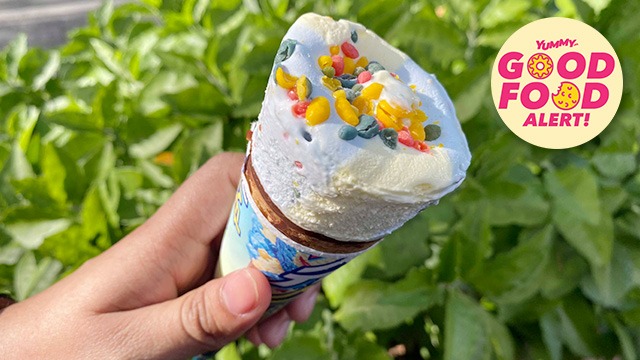 Did you know that in Korea, there's a Baskin Robbins flavor called "Shooting Star" that's exclusively available at their branches? The Shooting Star is basically soda-flavored ice cream with strawberry swirls and blue popping candy.
This flavor is incredibly famous all over South Korea that other creameries have followed suit! Binggrae, the Korean company behind the banana-flavored milk, Melona, Samanco (the fish-shaped wafer with ice cream inside), and Pangtoa (ice cream sandwich), also has its own version of the Shooting Star, named 24 Shooting Star TriColor Cones!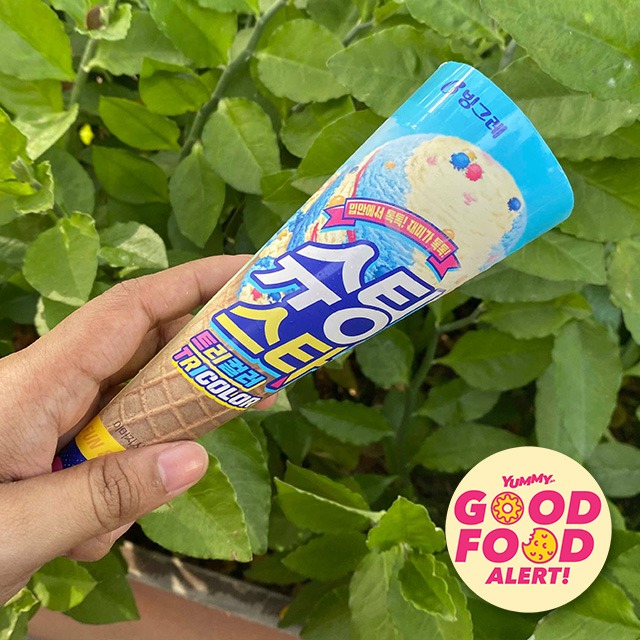 What you need to know
Binggrae's 24 Shooting Star TriColor Cones are made with cones that are coated with chocolate on the inside, filled with soda-flavored ice cream that tastes similar to a flavor combination of vanilla and bubblegum. With just a few licks, you'll find the strawberry swirls in the ice cream, but this actually has a few real mashed strawberries hidden in it, which gives it a sweet and tart flavor.
What's a little bit different is that it's topped with tri-colored crunchy candies than popping candies. It doesn't have that popping effect you'd expect from candies like Pop Rocks.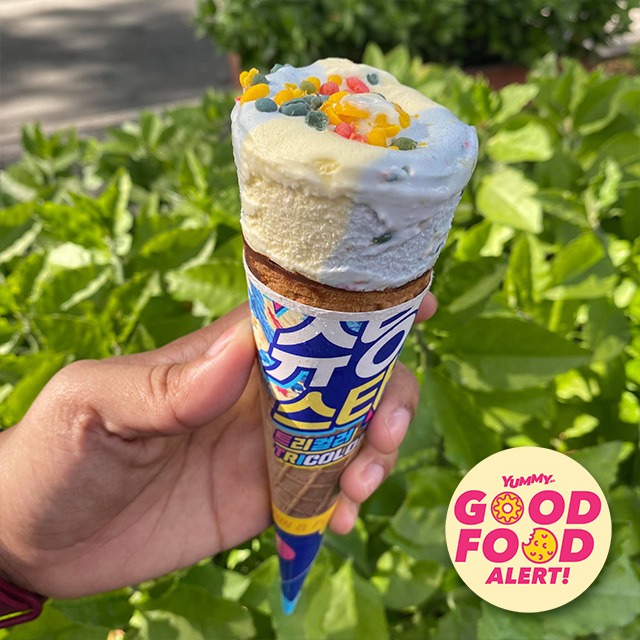 What we love about it
From time to time, it's good to steer away from ice cream flavors that are always readily available in the supermarket like, ube, chocolate, mango, and vanilla. The refreshing soda-flavored ice cream is different; it's candy-sweet and fruity at the same time!
If you ever grew up loving bubblegum-flavored ice cream as a kid, like Kimmy Swirl, Blue Bunny, or Dip n' Dots, then Binggrae's 24 Shooting Star will bring you right back to your childhood days, eating ice cream on a hot summer day.
Plus points: Part of the fun of eating Korean ice cream is how cute they're made and packaged!
Where to get it
You can get Binggrae's 24 Shooting Star at ASSI Fresh Plaza for P60 each cone.
Good Food Alert is a weekly update on editors' picks on new food products, grocery items, desserts that are worth the calories, and dishes you shouldn't miss out on.