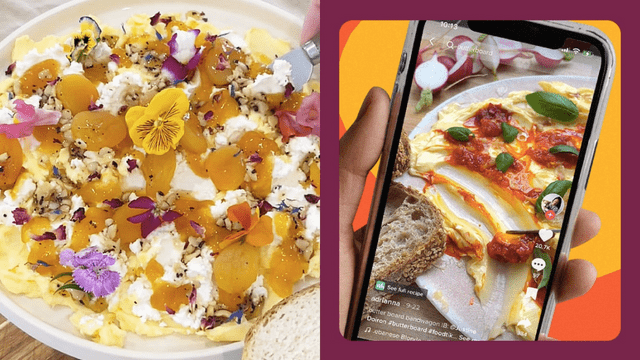 Butter, baby. It's one of the schmexiest ingredients around, not least for its characteristic richness that takes even the most basic slice of toast from "ehh" to exquisite. (Amen, alliterations!) By no means is butter new, but it has become quite the star on TikTok in recent weeks thanks to one of the newest food trends dominating our FYP pages, dubbed butter boards.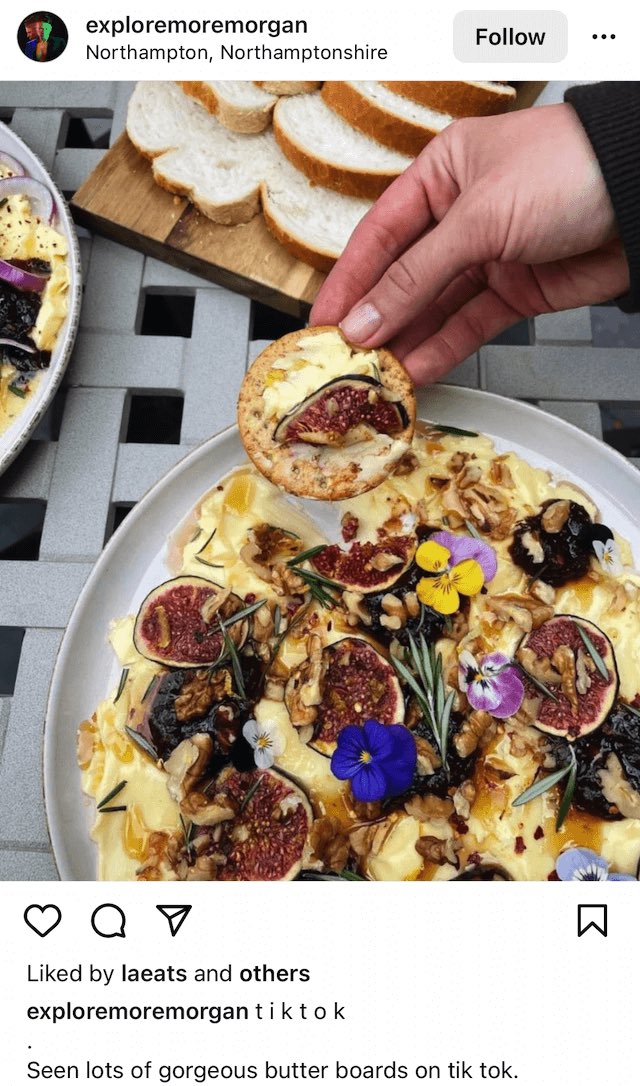 What are Butter Boards?
As you'd know, TikTok's bred a whole slew of viral food and/or cooking trends that's had us doing all kinds of crazy things in the kitchen—from trying (and failing) to whip up a foam out of coffee and sugar, to nuking bowls of salmon and rice (and learning ice cubes don't melt in the microwave, who knew!) and everything in between.
Were you even doing the pandemic right if you weren't baking blocks of feta into stick-to-your-ribs pasta dishes? Or spending extra minutes making mini pancake "cereal" that also made for double-tap worthy #content?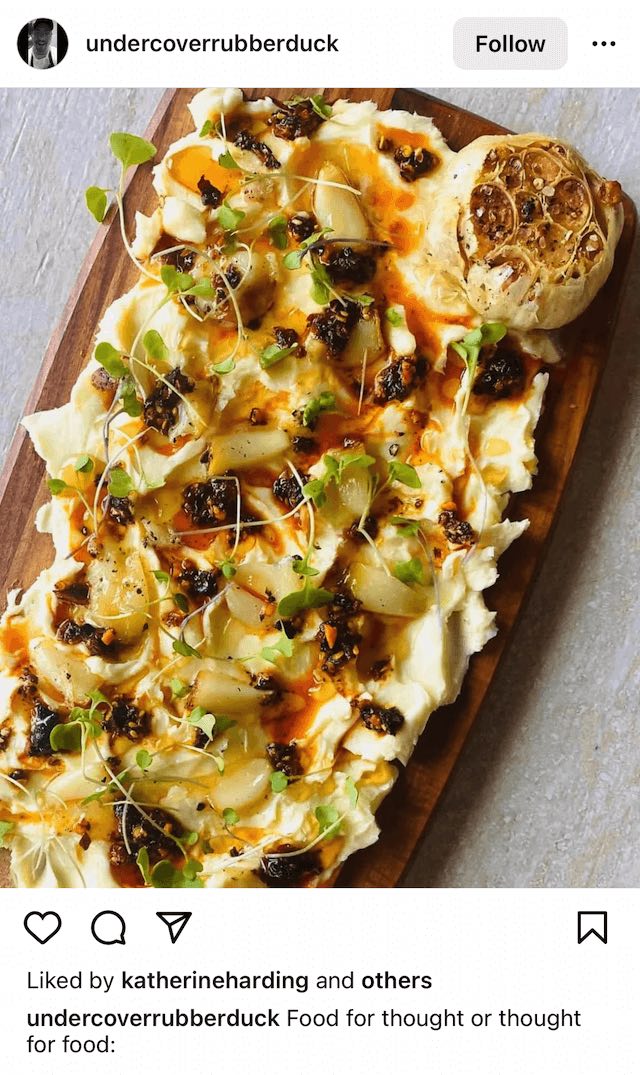 The butter board trend is a much simpler affair that barely involves muscle power nor actual cooking, though this ain't to say it's not a medium to exercise some culinary creativity. Its base form involves butter, softened and spread onto a board then served with bread or other spreaders and dippers.
But what really makes the butter board trend appealing, especially to the millennial and gen Z market, are the toppings on top of the butter, which can range from bits of charcuterie or meats to nuts to veg to fruit to herbs to spices and more, and which contribute color thus upping its visual appeal tenfold, as well as flavor and personality.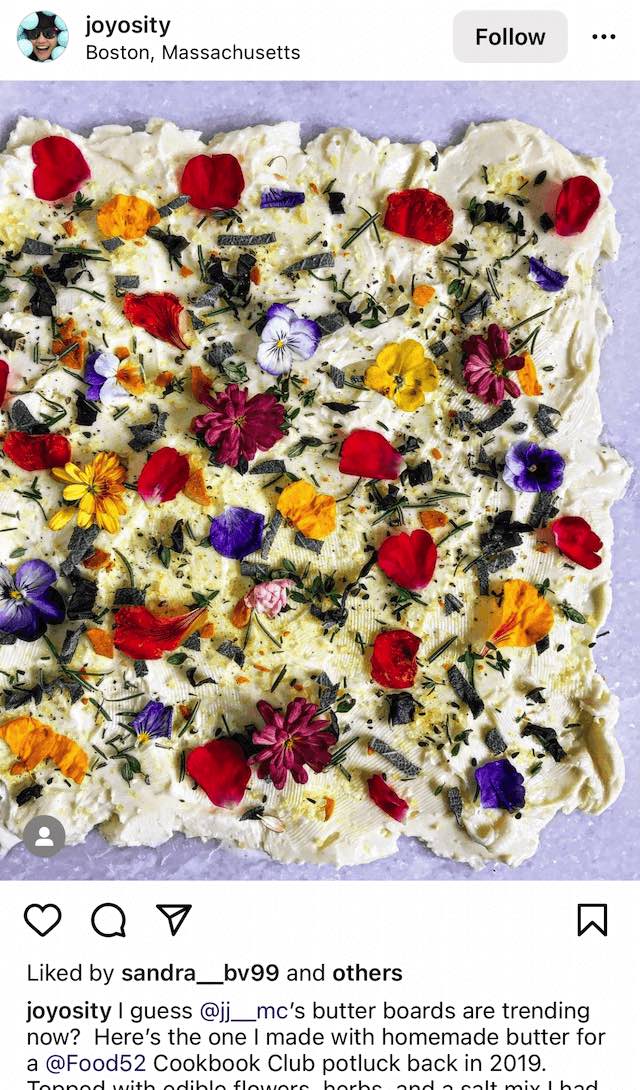 On one hand, this is essentially a glorified way of serving butter and toast; why not just serve the stick of butter and other ingredients separately as they are, one might argue. But being presented on a board, it fits well into any celebration spread and lends itself better for sharing. And say what you will about the TikTok age and valuation of aesthetics, but this is harmless fun and real eye candy!
ADVERTISEMENT - CONTINUE READING BELOW
Recommended Videos
Who started the Butter Boards trend?
Amazingly, the actual creation of butter boards can be traced back to 2017, as Chef Joshua McFadden included a butter board recipe in his cookbook Six Seasons: A New Way With Vegetables. But its sudden rise in popularity is attributed to food blogger Justine Doiron, who published a recipe (slash-formula) for the dish on her Justine Snacks blog in mid-September, and a TikTok video to accompany it.
Doiron spreads softened butter onto a board, swirling and smudging artfully, not unlike how you'd frost a cake. She then takes it to town with toppings of flaky salt, lemon zest, herbs, thin slices of red onions, a drizzle of honey, and edible flowers.
Doiron serves the board with bread that she swipes directly onto the buttery bash below—though as she clarifies in the comments section, you can absolutely serve it with a butter knife and spread it onto the bread like you would with normal butter. The video's received some 1.1 million likes, more than 6,000 comments, and more than 122,000 shares as of writing, as well as countless spinoffs that take the butter-board idea into drool-worthy new realms.
Perhaps the other great appeal of butter boards is their sheer versatility. Makes sense; butter in itself can be taken in a sweet or savory direction. Variations on TikTok are abundant; just search "butter boards" and you'll find folks adding toppings like fig jam and chopped nuts; prosciutto and shallots; and cinnamon, walnuts, and honey. Heck, we even came across an ensaymada-inspired take with shredded cheese and sugar.
You can also switch up the butter base for similar spreadables like hummus or cream cheese, and/or go for a variety of dippers-slash-spreadholders: crusty bread, melba toasts, crackers, crudités, and so on.
Make Your Own Butter Boards
There aren't any real rules as far as toppings and ingredients go, though given butter's sensitivity to temperature (and our being in a tropical country) there are a couple of things to keep in mind. For starters, the butter should be at the right consistency: i.e. soft enough to spread easily, but not too soft that it melts into a mess. Leaving the butter out at room temperature for roughly 30 minutes to an hour, depending on the weather, should help.
Your board base matters, too; picturesque as the sight of butter right on a wooden board might look, it can be difficult to wash the grease off after, so consider putting a sheet of parchment paper underneath for easy cleanup. Make sure your board isn't too hot or cold either, lest the butter melt or harden.
Other than that, it's pretty much a blank canvas, one that delivers maximum results for minimum effort. Run wild with it!
This story originally appeared on Spot.ph.
* Minor edits have been made by the Yummy.ph editors.
*****