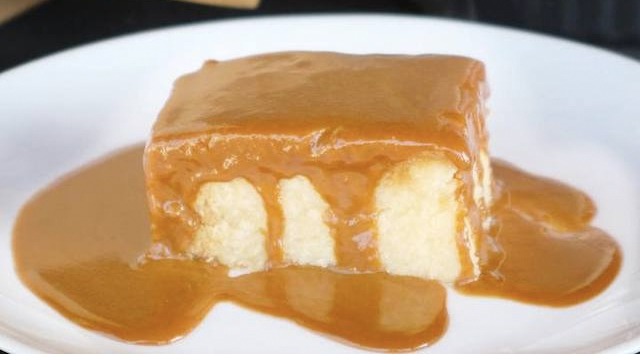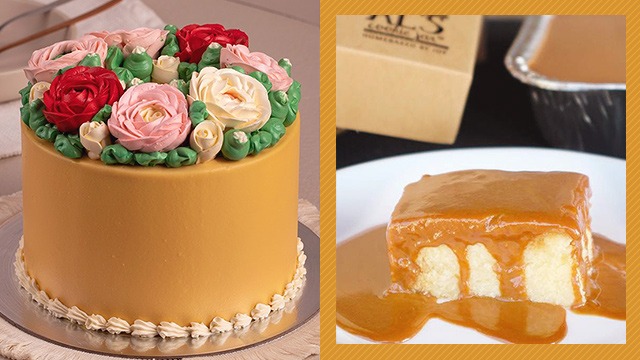 Desserts come in all shapes, forms, and flavors—and when it's a sweet treat that's of the rich, deep-tasting, crowd-pleasing sort that you crave, caramel cake definitely fits the bill. In its most basic and common form, it pairs together a fluffy cake (often of the chiffon or butter cake category) with a caramel frosting, but you'll find other versions that introduce other tastes or textures to the mix, with great results that allude to caramel's versatility.
If you need a great cake right now, there are a number of great versions on GrabFood and Foodpanda that you can order with a few taps on your phone!
You can find these swoon-worthy caramel cakes on delivery apps:
Butter Caramel Cake from Big Al's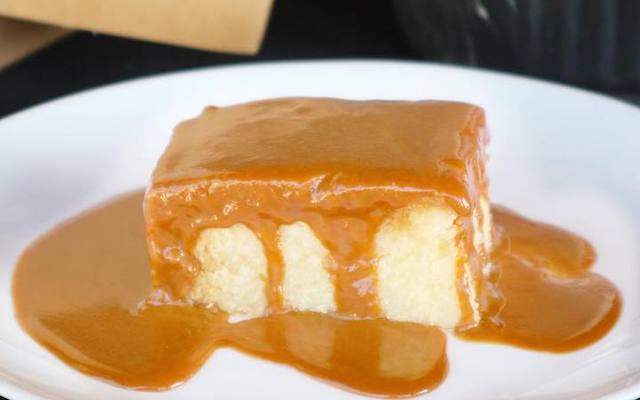 Yup, folks, there's more to Big Al's than just their famous Decadent Chocolate Cake! This time, we're shining the spotlight on their Butter Caramel Cake (P440/loaf), which delivers a different kind of decadence—one that's of the milky, buttery sort, with a subtle burnt-sugar note that brings everything together into a creamy, harmonious union. Heck, it might just become your new go-to order from Big Al's!
Available on GrabFood.
Caramel Butter Cake from Mom and Tina's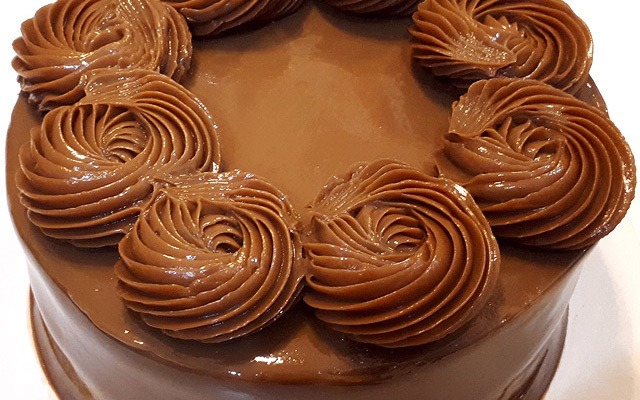 Mom and Tina's Caramel Butter Cake (P797.25) is a no-fail option with an exterior that's as simple as it is alluring. Just look at that deep-amber hue and sheen on the caramel frosting! Inside lies layers of cake that are slightly crumbly but rich and buttery in flavor; the way the cake and frosting transition into one another seamlessly for a truly top-notch dessert.
Available on GrabFood and Foodpanda.
Salted Butter Caramel Crepe Cake from La Creperie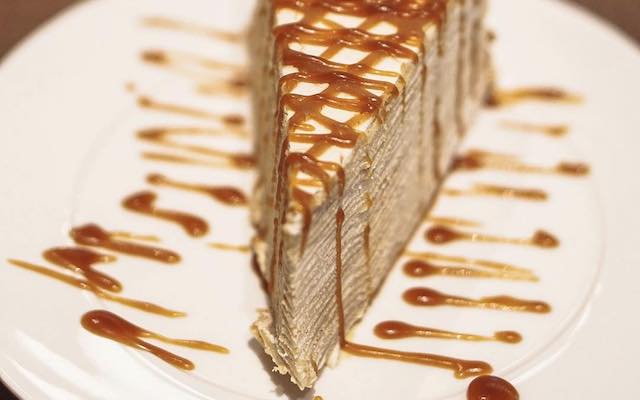 Crepe cakes take the usual cake-plus-frosting tandem into overdrive, as they are made with multiple thin layers (usually around 20 or more!) of crepes and some form of creamy filling, giving you the perfect ratio of these components in every forkful. If there's anyone who does this dessert well, it's local crepe shop La Creperie—and one of their signature flavors is the Salted Butter Caramel (P215/slice)! It's drizzled with a buttery caramel sauce that gives each dreamy slice a distinctive depth and has a subtle saltiness to it to keep each bite from being cloying.
Available on GrabFood.
Caramel Crunch from Park Avenue Desserts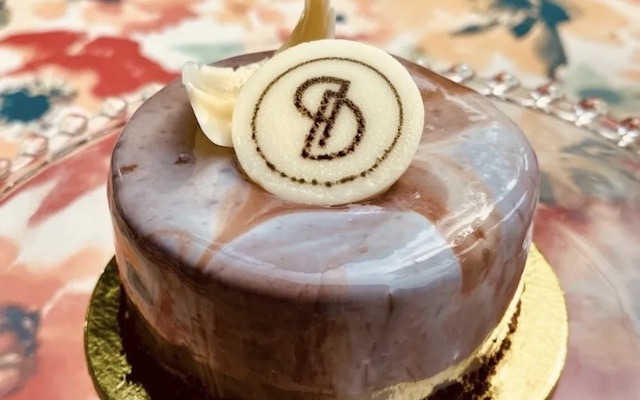 Though the good ol' cake-plus-frosting affair always satisfies, we've got a special place on our craving lists for desserts that play on textural contrasts—Park Avenue Dessert's Caramel Crunch cake (starts at P220/three inches) is a great example of that! As the name implies, it brings in the element of crunch by way of a light and crisp meringue, which contrasts beautifully against the pillowy sponge cake, creamy dulce-de-leche filling, and a sultry caramel glaze.
Available on GrabFood and Foodpanda.
Caramel Cake from Hearts and Bells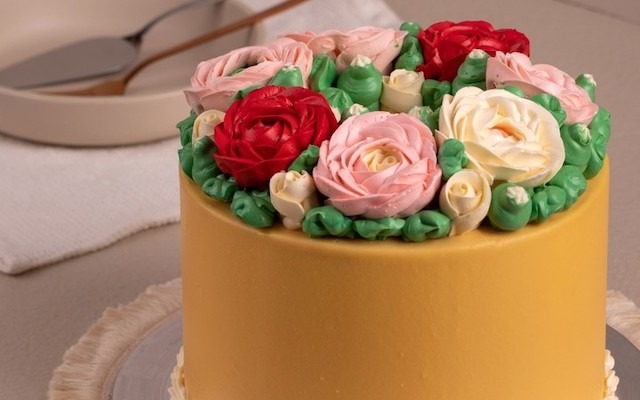 Hearts and Bells is a go-to for cakes with gorgeous floral and garden-themed decorations worth making the centerpiece of any celebration table! You're in for a treat if caramel is your dessert flavor of choice as they make swoon-worthy Caramel Cakes (P1,200) with vanilla chiffon, a creamy caramel icing, and buttercream—and you've got four options for decor, all of which resemble flowers of different colors and sizes against pale-green buttercream "grass."
ADVERTISEMENT - CONTINUE READING BELOW
Recommended Videos
Available on GrabFood.
Caramel Sansrival from Tous Les Jours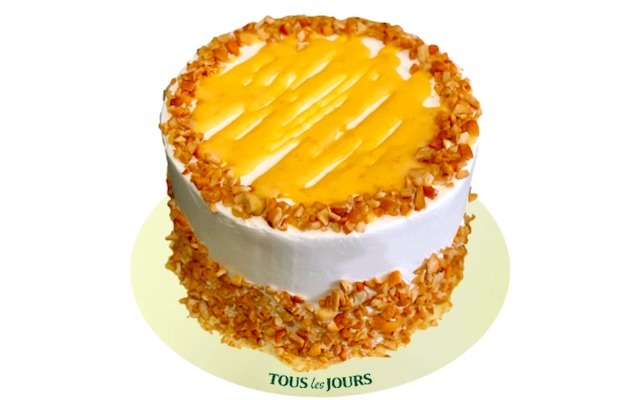 Sans rival cakes are a Filipino classic that appeal for their buttery-meets-crunchy, nut-studded character. Now imagine the dessert with sultry ol' caramel in the mix! Tous Les Jours' Caramel Sansrival (P1,598) gives you just that, as it combines crisp cashew meringue layers with caramel, plus vanilla buttercream for added creaminess. Topped with roasted cashews and more caramel, you get a taste-and-texture party that's best experienced if you get a little of everything in every forkful.
Available on GrabFood and Foodpanda.
Caramel Cake from Sweet Inspirations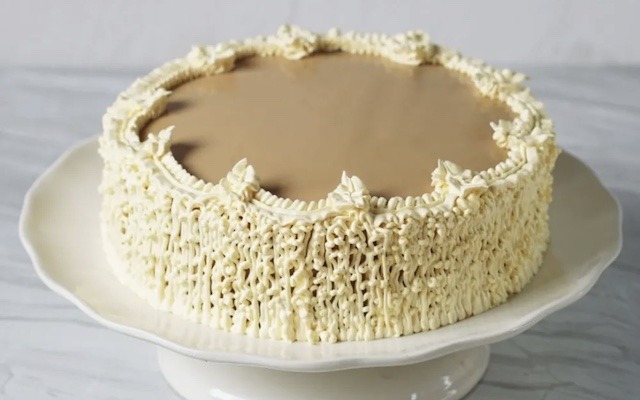 Sweet Inspirations is one of those oldies-but-goodies that's best known for their Mongolian barbecue. But true regulars know it's worth saving room for dessert when ordering from this establishment, as they've got a great lineup of classic cakes too—one of which is the Caramel Cake (P756)! Their simple but reliable take goes for the classic combo of fluffy cake, caramel icing, and buttercream intricately piped around the sides, and while it lacks any frills, it always, always hits the spot.
Available on GrabFood and Foodpanda.
Caramel Pecan Cheesecake from M Bakery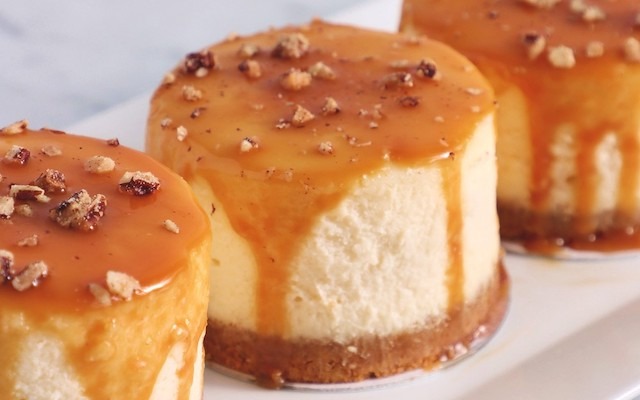 Cheesecakes' tangy, creamy characters are a great base for different toppings. Fruits like blueberries are common, but toppings of the more decadent sort—like caramel—work great, too! You'll see what we mean when you try M Bakery's Caramel Pecan Cheesecake (P325). It's got a dense cheesecake base tinged with vanilla bean, then the dessert is covered with caramel that lends a different kind of depth to the mix, plus bits of toasted pecans for a buttery crunch.
Available on GrabFood and Foodpanda.
Salted Caramel Chocolate Cake from Sugarbee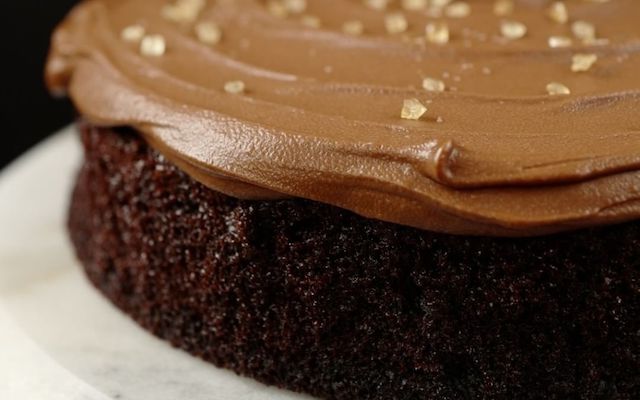 Chocolate cake is always great, but add caramel to the mix and the dessert becomes a thousand times more swoon-worthy! One of our favorite versions in Manila is by cake shop Sugarbee. Their Salted Caramel Chocolate Cake (P580/six inches, P750/eight inches) pairs together a moist and dark-tasting cake base with a bittersweet chocolate frosting that's lent butteriness and depth by caramel. The kicker, of course, is the salt crystals dotting the top, adding just the right amount of salty contrast to keep you going back for more forkfuls.
Available on GrabFood and Foodpanda.
Yema Caramel Cake from Remilly's Yema Cake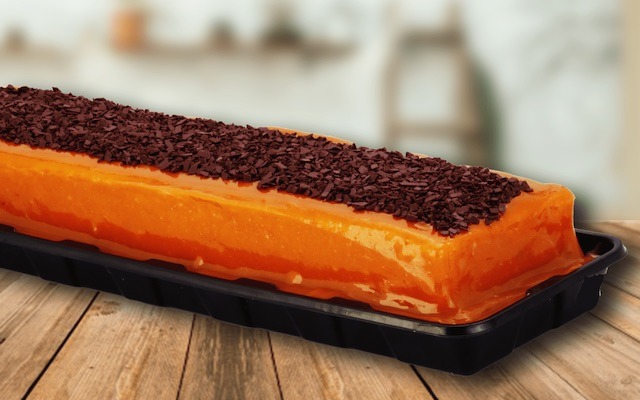 If you've ever had the special kind of yema that's got the egg-yolk candy covered with a burnt-sugar shell, you'll know that yema and caramel are basically a match made in heaven. Try the pairing in cake form with the Yema Caramel Cake (starts at P85/single) by Remilly's Yema Cake, which is covered with a more deeply caramelized yema frosting-slash-sauce and comes topped with chocolate shavings to boot.
Available on GrabFood and Foodpanda.
This story originally appeared on Spot.ph.
* Minor edits have been made by the Yummy.ph editors.
*****