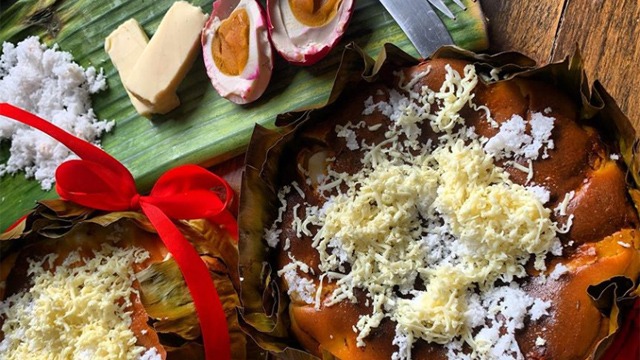 If you've been trying out different kinds of cheesecake since the quarantine started, we're pretty sure there's room for one more. You can get Bibingka Burnt Cheesecake from David's Food Orders! 
READ THESE: MORE ARTICLES ON BIBINGKA
It comes topped with shredded coconut and grated cheese and lined in banana leaves just like a real bibingka. But instead of fluffy, soft rice cake, you get a creamy and smooth cheesecake base with bibingka flavors! A spoonful of the cheesecake base also reveals salted egg in between: it's a really nice fusion of the well-loved bibingka and a dessert favorite.
David's Food Orders has been selling cakes and breads since 2019 but mostly to friends and family. The pandemic hit owner David Merin's main source of income, which was a small events company. It was then that he decided to expand and offer these sweet treats:
READ THESE: MORE ARTICLES ON BIBINGKA
He also makes soft butter bread, cream cheese pandesal, and cakes such as strawberry shortcake, rose mango cake, fluffy pancakes, and variations of the Burnt Basque cheesecake (he has ube, chocolate, and quezo de bola-flavored ones).
Payment options include bank transfer, GCASH, and cash payments (for pick-up). For orders and inquiries, check out David's Food Orders on Instagram.
RELATED ARTICLES: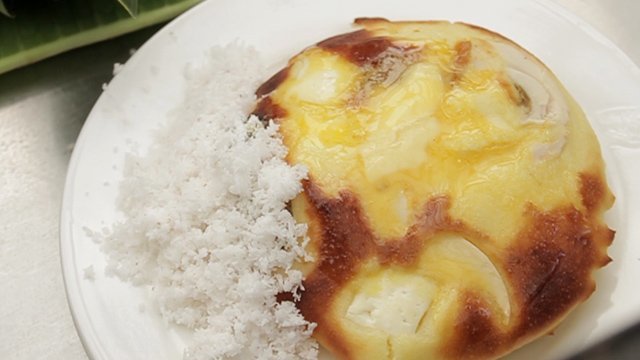 WATCH: Here's How Bibingka Is Made
Posted in:
News + Trends
ADVERTISEMENT - CONTINUE READING BELOW
Recommended Videos