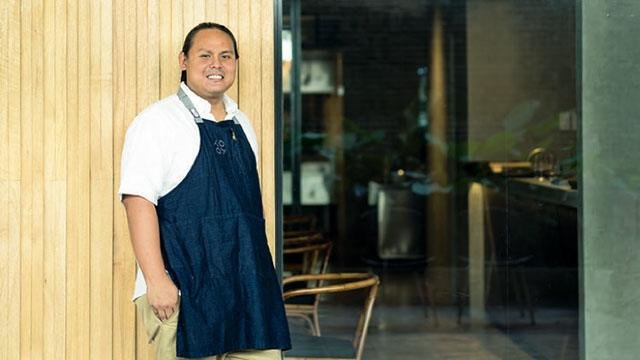 Chef Jordy Navarra kicked off the last day of Madrid Fusion Manila, April 8, with an almost-full conference hall on a Saturday at 9 a.m. Not a surprising feat for a chef who has made waves with his tasting menu (then at Black Sheep and now at Toyo Eatery in Makati) where familiar flavors and ingredients are made to woo you with modern yet subtle strokes.
Navarra began by taking us back to where his mind was ten years ago, before he discovered haute cuisine and learned from the best in the industry (he worked at Heston Blumenthal's Fat Duck in UK and Michelin-starred Bo Innovation in Hong Kong). He shared that he realized food could be more than just consumption and that "food could have meaning."
Chef Jordy's Bahay Kubo includes all the vegetables in the Filipino folk song. 
He has taken that realization—along with his training, travels, and experiences—and literally and figuratively plays with food. It is evident in dishes like his Bahay Kubo (which is part of his tasting menu at Toyo Eatery) where he takes the vegetables mentioned in the Filipino folk song and turns it into a bowl of vegetables like you've never had them before (this dish has dehydrated eggplant and peanuts to represent 'soil').
He talked about "ingredients as building blocks" to any great meal. "When you're cooking, you're only as good as the ingredients around you." This is perhaps his loudest ode to sustainability and it is something he preaches and practices day in and day out at Toyo Eatery: choosing to work with local ingredients in new ways, in imaginative ways no one has thought of before.
ADVERTISEMENT - CONTINUE READING BELOW
Recommended Videos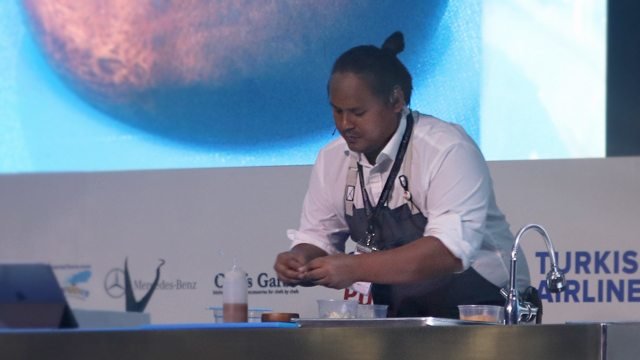 Travel, both out of and around the country, obviously plays a big part in his creative journey as a chef. "We travel to learn techniques and ingredients; we try to understand what to use and what not use to use." He also echoed something we might know already, but never realized: "Traveling also teaches us what we don't like and reminds us what we love." Anyone who has stayed away long enough from Manila know this to be true. We might not miss the traffic jams but we do have sudden pangs of aching for family, for the city's chaos, and heck, even that bowl of sinigang.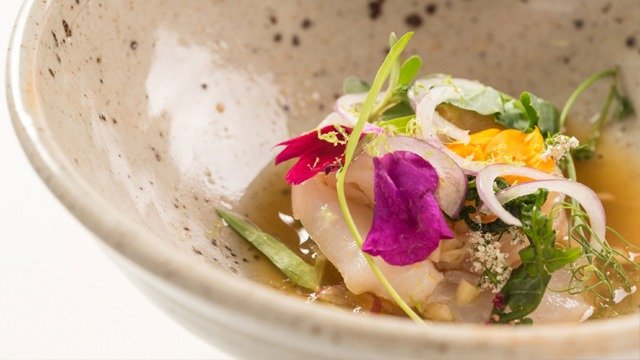 Kinilaw Dorado which he made onstage. 
He continued, though, that Manila is not the only place to find the Pinoy artisan. There is craftsmanship in small-scale tapuey (rice wine) producers as much as there is craftmanship in Batanes fishermen such as Mang Jun who expertly broke down a Dorado, a rare fish, onstage as part of Navarra's talk. "The reality is that Manila is just a speck of what the islands represent."
Navarra also stressed that we can take cues from outside but we have to remember to look inwards, too, even as we use what's outside the country as a gauge for our own progress. And it's a philosophy that shouldn't be exclusive to chefs or anyone in the food industry, too: "We don't always value our own as much as we should. We should always represent the Filipino." And what a fine rep he was that Saturday morning.