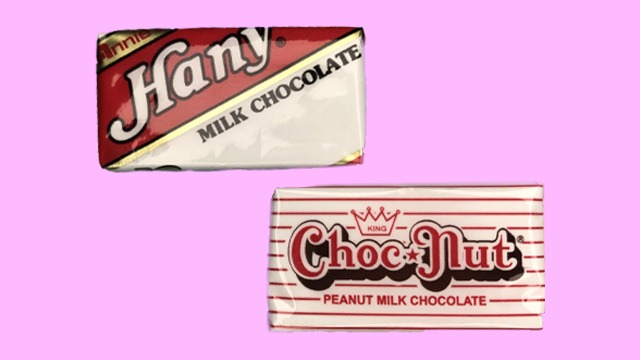 "Tabi tabi po," Alexandra Trese, star of the popular Netflix show summons the nuno, an enchanted sprite popping out of a manhole. Shortly after, she bribes the magical creature with none other than a giant bar of Choc Nut. The bribe works like a charm and you know what, we get it. Alexandra bribes the nuno repeatedly throughout the series in varying sizes of Choc Nut, and the Nuno devours it with beastly fervor each time. #Relatable. 
Whether you bought it in individual pieces at your school canteen, at the sari-sari store, or in bulk at grocery stores, or if you're living abroad, at Asian supermarkets, most Filipinos began their love for Choc Nut or Hany at a very early age.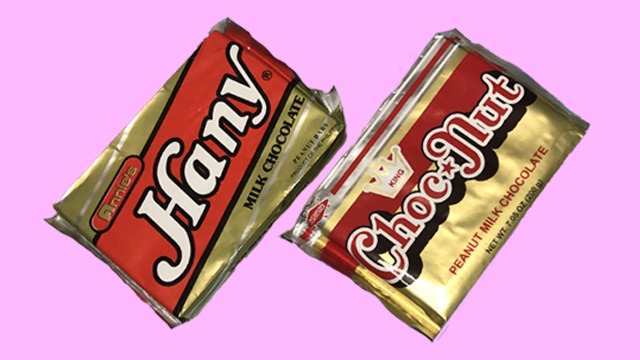 That leads us to this disclaimer: the battle between Choc Nut and Hany is a personal one and we all already have our biases. But if you've ever wondered what the difference between the two of them are, or, if they're actually just the same—then you're in the right place.
Is Choc Nut and Hany Actually Just The Same Thing? 
Don't let the packaging fool you, Choc Nut and Hany stans know they're not and will fight you for it. Some do argue that they're essentially the same thing. Here are some common misconceptions about this local peanut-chocolate snack: 
Choc Nut and Hany are made of the same stuff.
A quick inspection of the wrappers shows that somebody copy-pasted the ingredients list and rephrased the other. They're even the same weight. They're even listed down in the same order.
Choc Nut ingredients: Roasted Peanuts, Sugar, Milk Powder, Cocoa Powder & Vanilla Net Wt. 8 grams
Hany ingredients: GROUND ROASTED PEANUTS, SUGAR, POWDERED MILK, COCOA POWDER AND VANILLA FLAVOR WT. 8 GRAMS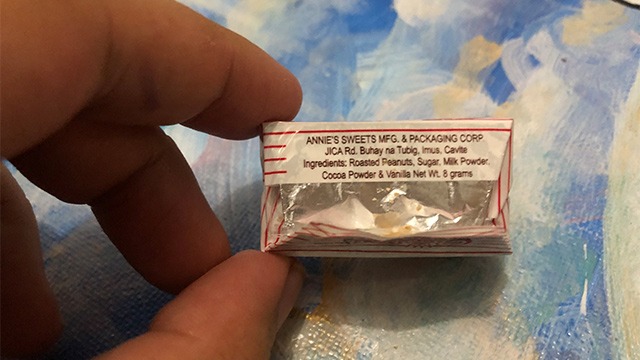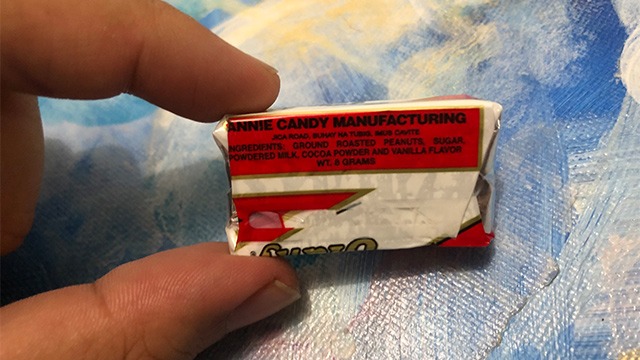 They're made by the same company.
Packaging-wise, Hany and Chocnut are eerily similar with their retro color scheme of red, white, gold, and black. Upfront, you'll see the logo of their original manufacturers: Hany's by Annie's, and Choc Nut is Unisman's. But in the same place you saw the ingredients list, you'll see a sinister plot unfold: they come from the same manufacturer.
ADVERTISEMENT - CONTINUE READING BELOW
Recommended Videos
Choc Nut: ANNIE'S SWEETS MFG. & PACKAGING CORP, JICA Rd. Buhay na Tubig, Imus, Cavite
Hany: ANNIE CANDY MANUFACTURING, BUHAY NA TUBIG, IMUS CAVITE
What happened? Did Choc Nut just give up the fight? Did Hany win the lottery and just decided to get rid of the competition by buying them out? What is sure is that some time in 2012 or 2013, Hany's manufacturer (Annie) acquired Choc Nut's (Unisman). The acquisition came with no big announcement, and it was just discovered by an accidental examination documented during an online discussion on "chocnut vs hany" in 2013. 
If you go around asking people about their choco-peanut candy preference, if you look around pop culture references, or even bakers and ice cream makers' choices, it's always Choc Nut. The lack of hullabaloo was purposeful as Choc Nut could keep its clout.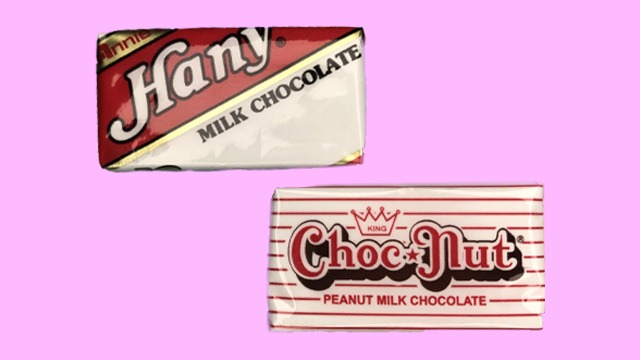 Is Choc Nut and Hany the same thing?
Panicked fans may then wonder if they're now the same recipe but the proof is in the pudding: they still taste distinctly different.
Even with the packaging taken away, anyone who carefully tastes both brands will know that there are differences in peanut flavor, cocoa flavor, sweetness, creaminess, and crumbliness. Is Choc Nut and Hany the same? Absolutely not.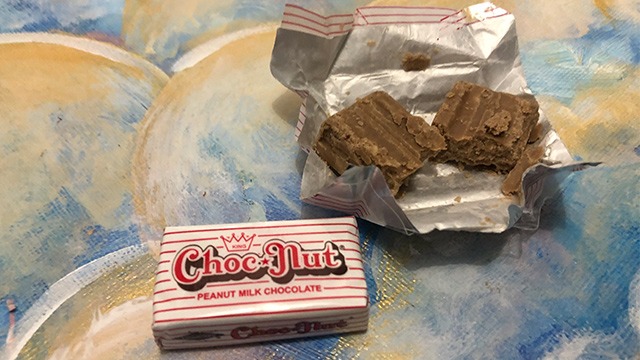 Team Choc Nut Versus Team Hany: What's the Difference?
Ingredients-wise, there isn't a big difference. The difference lies in how they were made. They may have used the same mold, but one of them was clearly made better. 
Upon tasting both, you'll quickly notice that Hany is both sweeter and oilier than Choc Nut. This is barely because of the recipe, but more likely because they were processed differently. Although we can't confirm with the factories their trade secrets, the biggest proof is in the actual finished product. It's not about what Choc Nut and Hany are made of, but their difference is in how they were made. 
If basing on actual amounts of sugar put into the recipe, it's actually possible that they have the same amount of sugar. Though Hany can be perceived much sweeter because of the whole sugar granules that burst with sweetness with every crunch, Choc Nut's sweetness is spread out evenly. The difference would be comparing the saltiness of a brownie with salt dissolved into the batter versus coarse salt sprinkled on top before eating.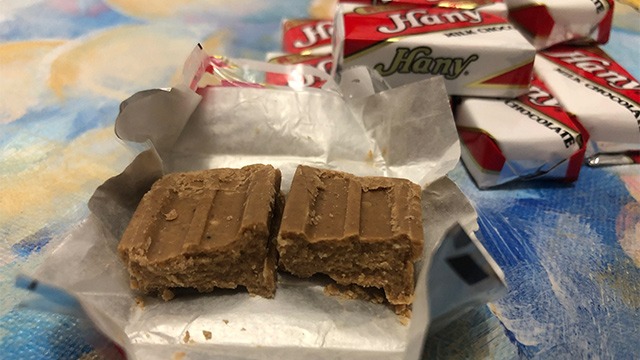 This puts Hany at a disadvantage right from the get-go. White sugar has a way of killing other flavors by bombarding your mouth. Plus, there's just something jarring about chewing on sugar granules.
If you look at the ingredients list, you'd see that there is no additional oil added to both recipes, meaning, there's only the natural peanut oil that's produced when peanuts are heated and crushed. Now, if Hany had more oil then it would mean that they also used more peanuts in its recipe—but that doesn't seem to be the case. Side by side, Choc Nut's nuttiness is leagues away from Hany's flavor profile. Hany simply doesn't taste more nutty. 
Then why does Hany seem to be oilier? The answer is in the texture. There are more crunchy bits in Hany of crystallized sugars and bits of ground nuts because it's groundless. The mixture then isn't completely combined with the oil. Similar to how oil sits on top of peanut butter but at a microscopic level—there's a separation between oil and the rest of the ingredients. Once you put it in your mouth, the bind breaks, you feel the powdery mixture, and the oil separately. For some people, that's why they tag Hany as "oily" or "moist."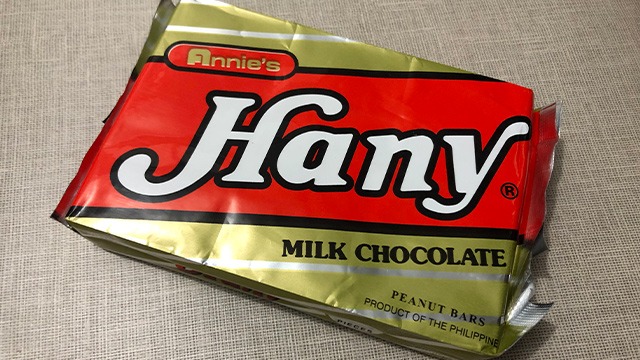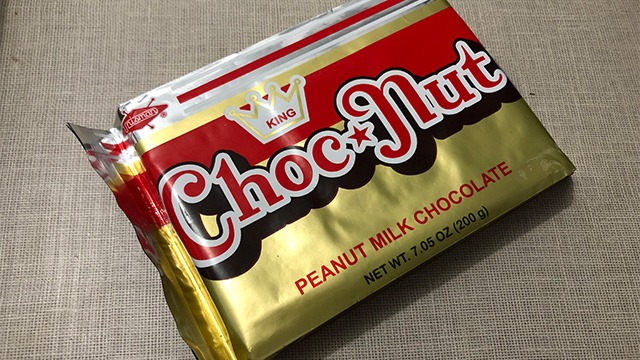 The oiliness is keeping the flavor from coming through better. Have you ever tasted the oil on top of peanut butter? It tastes almost like nothing. The flavor is in the ground peanuts—in the thick yellow part. If you mix it well, you won't taste the "nothingness" of the oil. Don't mix it well, and you get that oily film in your mouth and taste less flavor. 
In the same way, Choc Nut lands a stronger, deeper, nuttier flavor profile because it is ground and crushed better, and smoother. This gives Choc Nut a homogenous texture. Like peanut butter you mix well before eating—you get better flavor, better texture, and you don't get that oily film. Choc Nut's may seem crumblier because it's ground finer, but it also melts faster in your mouth, giving it that creamier mouthfeel. 
Verdict: Long Story Short: Choc Nut is ground better and that makes all the difference. 
The difference between the two are only stark as night and day when you eat them side by side, intentionally, in the name of Science or a food review you're writing. So if you're craving for something sweet and nutty—go with what's available; Choc Nut, Hany, or dare I say, peanut butter.
***