Is it really Valentine's Day without chocolate?
Teashop pioneer Serenitea collaborated with none other than Auro Chocolate to create a line of limited-edition cacao drinks guaranteed to make chocolate lovers swoon this Valentine season.
For those not in the know, Auro Chocolate is an award-winning Filipino bean-to-bar company committed to producing the finest cacao and chocolates sourced from Mindanao farms. Since launching in May 2017, Auro Chocolate has won a total of 24 international awards from prestigious organizations like the Academy of Chocolate, Great Taste Award, and International Chocolate Awards.
To showcase the distinguished flavors of this homegrown cacao, Serenitea was inspired to create three decadent drinks for its upcoming Cacao Lovers beverage collection.
If you're a chocolate devotee, try the Trio Chocolate (large only, P200), a drink that features the indulgent combination of chocolate ice cream, Auro cacao, and crushed cookies.
Equally tempting is the Cacao Cookie Supreme (medium, P185; large, P200) that blends Serenitea's best-selling cookie brûlée together with the award-winning flavors of Auro cacao.
For something simple but no less decadent, go for the Cacao Frost (medium, P150; large, P165) that features the goodness of Auro cacao topped with Serenitea's signature frost.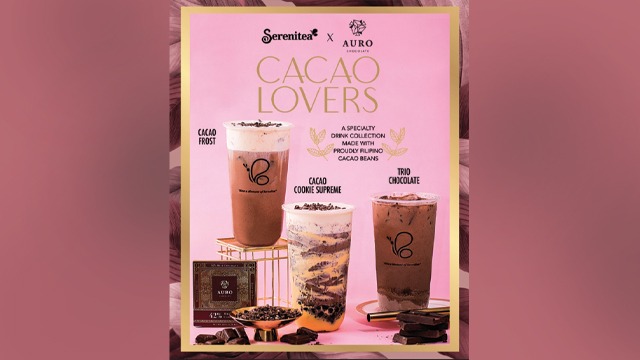 The limited-edition Cacao Lovers drink collection by Serenitea and Auro Chocolate will be exclusively available in Serenitea stores nationwide starting February 10 to April 10, 2020, or until supplies last.
Mark your calendars—and bring a date! Get a taste of these special drinks celebrating the flavors of Filipino cacao before they run out!
Follow Serenitea on Facebook for more details.