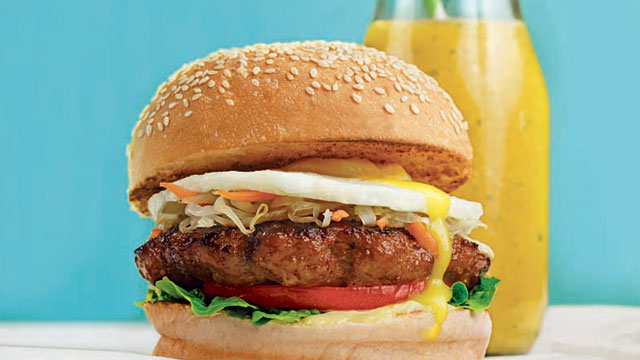 Summer isn't complete without a beach trip and beachside eats such as the Boracay-famous chori burger. But did you know that it's easy enough to make at home? Here's a tip: mix your pork with different kinds of seasonings, then add all-time favorite toppings like mayonnaise, lettuce, atsara, and fried egg.
Chori burgers are hefty, tasty, and perfect for summer afternoons and weekends. While you can fry these chori burgers on the stove top, it's still best to slap these burgers on the grill to get that distinctive smoky flavor on them!
Chori Burger Recipe
Makes 8
1 kilo ground pork
½ cup sugar
3 tablespoons garlic, minced
3 tablespoons vinegar
3 tablespoons soy sauce
2 ½ teaspoons salt
1 teaspoon black pepper
Vegetable oil, for frying
1/3 cup mayonnaise
8 pieces burger buns, halved crosswise and toasted
8 pieces lettuce leaves, trimmed
16 thin slices tomatoes
½ cup atsara, drained
8 eggs, fried sunny side-up
1 Make the chorizo patties: Mix the pork, sugar, vinegar, soy sauce, salt, and pepper together in a large bowl. Cover tightly with plastic wrap and refrigerate overnight.
2 Divide meat mixture into 8 portions. Form into patties.
3 Heat oil in a large frying pan. Fry patties in batches for 4 to 5 minutes per side. Transfer to a plate.
4 Spread mayonnaise on the insides of each burger bun half. Place a lettuce leaf and 2 tomato slices on a bottom half. Top with a chorizo patty then with 1 tablespoon atchara and 1 fried egg. Cover with a top bun half. Repeat to make a total of 8 burgers.