As we live in these challenging times, let's not forget that Christmas remains a special time of the year. And no celebration — no matter how simple — is complete without a delicious holiday spread.
If you want something special yet classic, effortless, and most importantly, friendly on the pocket, how about having your Noche Buena menu delivered to your home?
Goldilocks offers home party packages that include sumptuous, ready-to-eat dishes and desserts, helping make holiday food preparations easier on families this Christmas season. Instead of spending hours and hours in the kitchen, you can opt to have key dishes — particularly those that are labor-intensive – delivered for your Christmas feast with the family.
One of Goldilocks' food packages is even a complete holiday menu in itself. The Goldilocks Christmas Home Party Package, which is good for five people, includes the following: 5 pieces of Golden-Fried Chicken, 1 party pack of Beef Caldereta, 1 party pack of either Pancit Sotanghon or Pancit Palabok, and 12 pieces of Pork Barbecue.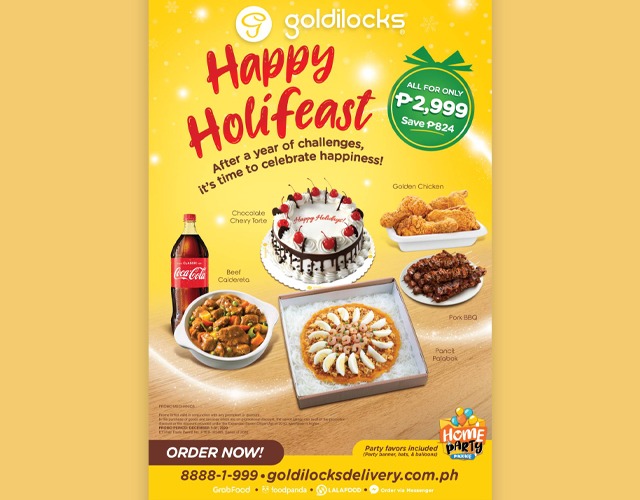 What's more, for only P2,999 (SRP), you get all of the aforementioned holiday dishes and one Goldilocks cake! All in all, that's around P824 in savings!
You can pick among the following flavors: Choco Cherry Torte Cake, Black Forest Cake, and an 8 x 12 Greeting Cake
And as a bonus, Goldilocks added the following celebration must-haves to the home party package: a set of party materials (hats, banners, and balloons) and one 1.5-liter bottle of Coke!
In case you still want to cook some of your family's Noche Buena favorites and would prefer to get only certain dishes and desserts from Goldilocks, the beloved Filipino foodshop-bakeshop also offers other home party packages that can be a great addition to your family's feast.
Have a delicious and happy Christmas with Goldilocks!
Order Goldilocks home party packages, baked goodies, and ready-to-cook Pinoy dishes via www.goldilocksdelivery.com.ph or by calling 8888-1-999. Visit Goldilocks on Facebook for more information.