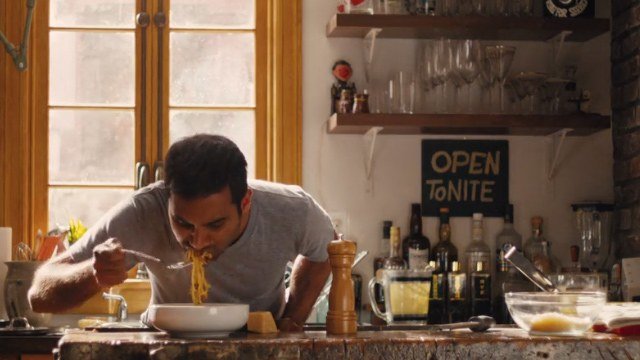 Ah, Netflix—the sometimes black-hole-of-anti-productivity, yet other times, a life-lesson-generator. Whichever it is to you, we're here for one thing: cooking shows and the valuable lessons we pick up from them. We rounded up our top picks for you to check out on your next weekend binge. Trust us—once you see Dev from Master of None whip up a classic carbonara, or watch international bread hero Nancy Silverton knead a perfectly golden loaf of bread—you'll head straight into your kitchen for a cooking binge instead. Say goodbye to the old couch potato that once was!
1 Chef's Table: Get tips from the pros 
Of course this is the first show on our list. This documentary series follows some of the world's best chefs as they prep and cook their flagship dishes. Watch Nancy Silverton, the woman behind Mozza, teach you how to shape the perfect round loaf of bread with her flawless push-and-twist-back motion. "You have to be obsessed," she says. When it comes to bread, nothing beats time spent on repetition and attention to detail, especially with fermented ingredients that act unpredictably.
Any pasta afficionado will enjoy Italian chef Massimo Bottura's up close and personal take on homemade pasta from one of his mentors, Lidia Cristoni. There is so much heart that goes into prepping and cooking it—it's true when Italians say that when you cook, you must be happy! Lidia insists that you sing a song before you cook tortellini for the first time, too.
"I'll sing now," she proclaims.
That little bouquet of flowers
That come from the mountains
I want to give it to my sweethear
When he comes tonight
2 Anthony Bourdain: No Reservations: Learn about different food cultures without jumping on a plane 
Immerse yourself in food and culture with Anthony Bourdain as he travels around the world—you'll get to see places like Brooklyn, Rio, and Japan and experience the rich flavors each place has to offer. Season 3 has an infamous episode of Bourdain slurping up raw blood soup in Thailand, and Season 4's Singapore episode follows him as he chows down on dishes from his favorite hawker food stalls. A Season 8 notable episode is Bourdain's homage to what is known to be the world's greatest restaurant, El Bulli.
"In the end, we are working with very humble ingredients," says chef Ferran Adria, after he and Bourdain dig into a tomato tartare—a simple dish that brings out the most basic, natural flavors of tomato.
3 Master of None: Learn to enjoy good food without being an expert in the kitchen 
Aziz Ansari's comedy isn't exactly a show about food per se—but its presence is felt in every single episode. The show's main character, Dev (played by Aziz himself), explores new restaurants in NYC almost every day with his friends, and is unequivocally in love with pasta. Watch him make a batch of carbonara from scratch in Episode 9 of the first season: pasta dough needs to look supple, and the ingredients must be kept simple. Classic carbonara is made from pork, cheese, eggs, a sprinkle of black pepper, and nothing more.
ADVERTISEMENT - CONTINUE READING BELOW
Recommended Videos
"I did it!" Dev exclaims ecstatically after taking in a mouthful of his homemade carbonara.
Season 2's Thanksgiving episode is also worth a mention: it will give you a glimpse of the ultimate Thanksgiving turkey!
4 Cooked: Get a glimpse of the science behind food and cooking 
For bookish culinary lovers out there, Cooked provides thought-provoking commentary on food and its evolution throughout history. By presenting food and its relationship with the four elements: fire, water, air and earth, this documentary series will give you a new perspective food's place in society and effect on culture. In Cooked's Air episode, Michael Pollan runs us through the very basic art of fermentation, showcasing staple ingredients like bread and cheese.
"If I gave you a bag of flour and water, and you had nothing else to live on, you could live on that for a while. But,  eventually, you would die," says Michael. But if you take that same bag of flour and water and turn it into bread, you could live indefinitely."
Fermented food not only nourishes our bodies, but are there to give more naturally developed flavors into our home-cooked dishes. Try cooking with artisanal bread, aged cheeses, and kimchi more often.
5 Samurai Gourmet: Hone an appreciation for Japanese food 
Samurai Gourmet tells a visual tale of the thrilling relationship of Japanese retiree, Takeshi Kasumi, and food. The experience of having meals depicted in the style of high-energy samurai comics makes the show fun and easy to watch. You'll most likely be watching, literally, Takeshi smiling and sighing at his food out of sheer love and appreciation for it. Season 1's episode on Takeshi dissecting his free bento lunch set is a sight for sore eyes, especially if you're a baon lover. You'll see a mix of everything: pickled plums, white fluffy rice, grilled yellowtail teriyaki, omelet, a light salad, pickled radishes, and pork soup on the side. Are you getting any ideas for baon yet? Just remember to separate each component properly, bento-style!
"Well, where should I start?" Takeshi thinks to himself as he opens his lunch set. "While I am tempted to have the main course of grilled fish first, I must start with the omelet," taking a bite into his cold food. "Delicious! A perfect supporting role," he muses.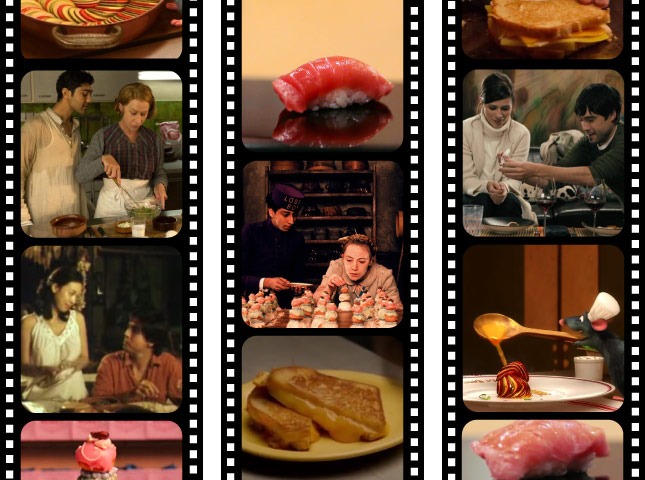 7 Tasty Food Scenes in Film
Posted in:
News + Trends