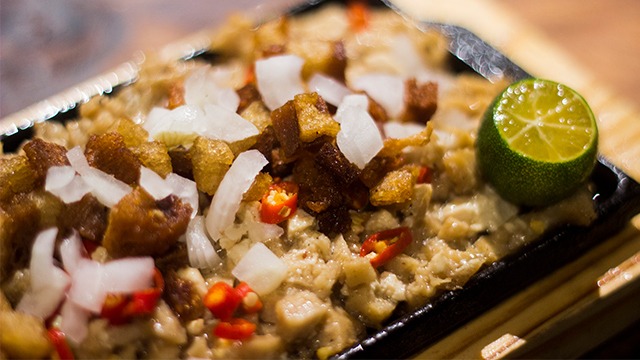 Along the street of Kalayaan Avenue, there's a hidden gem of a restaurant (with no signage!) sitting right above a Ministop branch. You have to look for a black and white painting of an eye to know you're in the right place. Once you see it, you need to go up a narrow stairwell that leads you to a dimly-lit restaurant with huge wooden tables and hand-painted walls. Welcome to Cosmic, a vegetarian and vegan restaurant in Poblacion that opened last October 2018.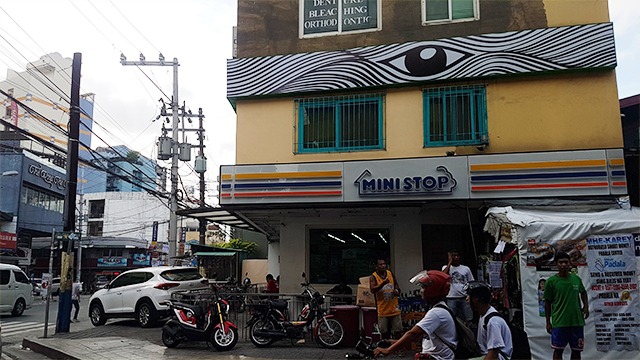 Cosmic is a restaurant that knows how to make vegetarian vegan dishes right. If you came inside the restaurant unaware of the dishes they serve, you probably couldn't tell that what they served you doesn't have pork, beef, or seafood. Cosmic veganizes well-loved appetizers, dishes, and desserts.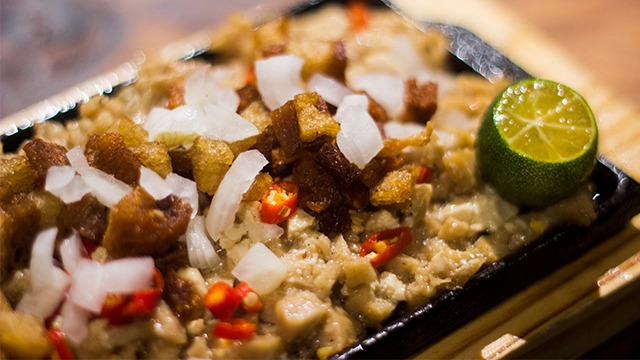 One of the easiest and most popular dishes you can turn into a vegan dish is sisig. Cosmic's sizzling Sisig with Bagnet (P170) is made with seitan, tofu, and chilis. Seitan, a type of wheat gluten, is what gives this dish the flavor of bagnet. Cosmic fries the seitan to a golden-brown color which makes it look and feel like meat, too!
The Sisig with Bagnet is topped slices of white onions and, hopefully to the delight of Kapampangans, is served with kalamansi and it doesn't have mayonnaise in it! You have the option of adding chili or siling labuyo to add a bit of spice to each umami-filled bite.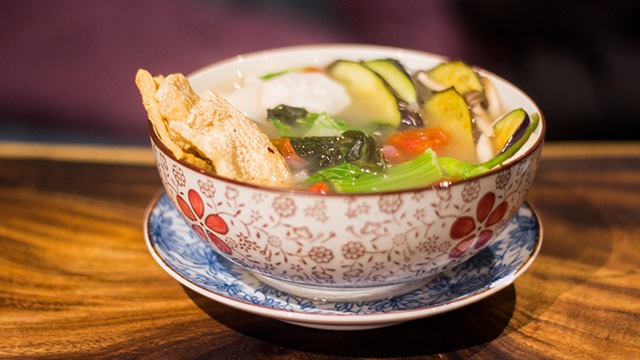 Another Filipino-favorite that you should order in Cosmic is their Miso-Mushroom Sinigang (Vegetable Tamarind-Miso Soup) (P120). The miso paste gives the broth the tang or acidity we always look for when sinigang is served. Instead of pork or seafood, Cosmic's Miso-Mushroom Sinigang uses different types of mushroom as its meat. This sinigang has mushroom chicharon and beech mushrooms that are added to mustard leaves, sitaw, eggplant, radish, and tomatoes.
If that's not enough to whet your appetite, Cosmic also offer appetizers that are deep-fried in their house-made tempura batter mix, salads that use fresh vegetables, an all-day breakfast that puts the spotlight on their Scrambled Tofu-Egg Platter, comfort bowls and noodle dishes, fruity mocktails, coffee, and dessert.
Cosmic is located at 2/F 5057 P. Burgos, Cor General Luna, Makati.
For more information, follow Cosmic on Facebook.
ALSO READ: