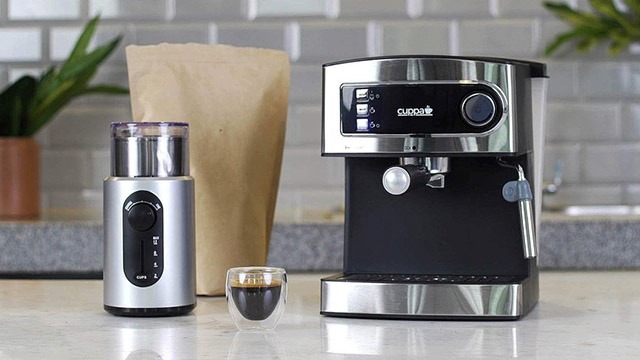 It is virtually impossible for me to function without coffee. But even though I love drinking coffee, my experience in making it has been pretty basic: I can put together a decent cup of instant coffee, brew some in a coffee maker, or make enough for two in a French press. Pulling espresso shots from an espresso machine has always been something I thought was best left to the professionals, but I was excited to try it with the Cuppa Personal Espresso Machine!
This home espresso machine is from Cuppa, a Filipino coffee equipment startup that launched in 2019. Aside from the Personal Espresso Machine, we also tried out the Cuppa Coffee Blade Grinder.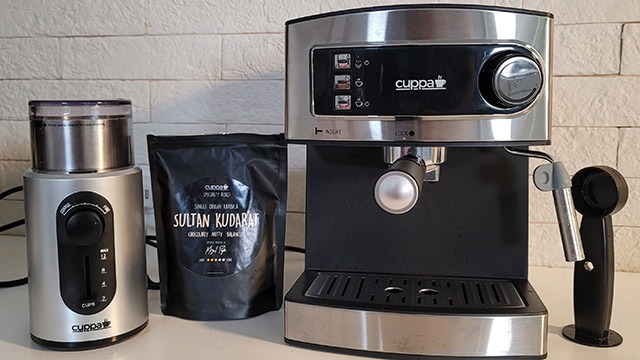 What makes an espresso machine different?
There are many, many ways to make a cup of joe. There are boiling methods like for Turkish coffee, steeping methods that use the French press or to make cold brew, dripping methods like how a coffee maker or pour-overs work, and pressure methods like the Moka pot or, in our particular case, the espresso machine.
Using an espresso machine is a unique coffee-making method not only because you need a usually pricey piece of equipment to make it; it's also the only method that yields a kind of coffee that has its own name: espresso shots. Espresso shots are super concentrated shots of coffee that are made with an espresso machine, which forces a small amount of hot water through finely-ground coffee beans under a large amount of pressure. This method gives you a small but very strong dose of coffee, which is perfect not only for coffee lovers who enjoy a strong kick, but also for coffee-based or coffee-flavored baking recipes!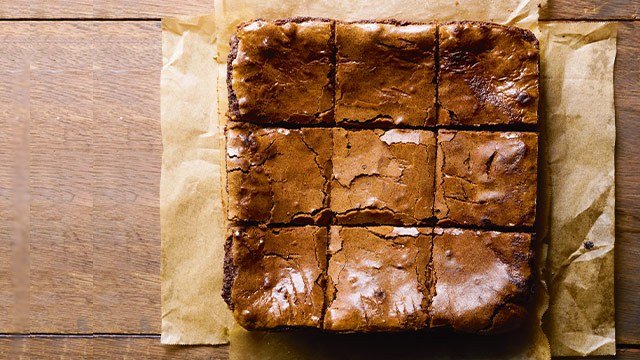 Espresso Brownies Recipe
Posted in:
Recipe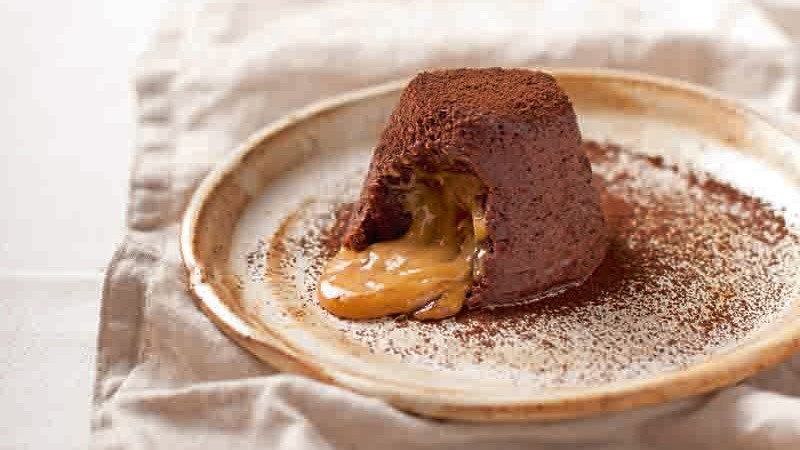 Chocolate-Espresso Lava Cake Recipe
Posted in:
Recipe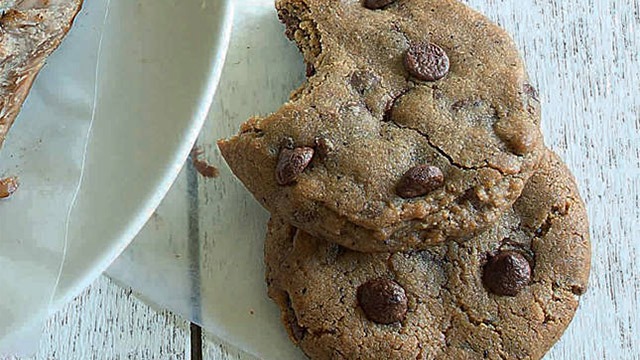 Chocolate Chip Espresso Cookies
Posted in:
Recipe
Features
Cuppa Personal Espresso Machine
[instagram url="https://www.instagram.com/p/CNtnAUtLT05/"]
The Cuppa Personal Espresso Machine has a 20BAR pressure pump, a detachable 1.6L water reservoir, intelligent temperature control, and is equipped with a milk frother or steam wand. Aside from this, the espresso machine package includes a portafilter, and a handy 2-in-1 coffee ground scooper and tamper.
As an espresso newbie, I didn't know what was so impressive about the 20BAR pressure pump (if you are like me and didn't know what BAR is, it's a unit of measurement for pressure). A little research revealed that an espresso machine exerts high pressure at the start which lessens as it passes through the coffee grounds. So the more pressure, the more likely the machine will reach the ideal pressure to produce good espresso which is 7 to 9BAR. However, many home espresso machines aren't powerful enough. With a 20BAR pressure pump, the Cuppa Personal Espresso Machine definitely is. 
Cuppa Coffee Blade Grinder
[instagram url="https://www.instagram.com/p/CR2uELOKpcs/"]
ADVERTISEMENT - CONTINUE READING BELOW
Recommended Videos
You can't make good espresso without ground coffee beans, so the Cuppa Coffee Blade Grinder was useful. It comes with stainless steel blades, removable stainless steel bowl, a transparent lid, 5 grind settings, and 2-12 cups setting. But as someone who has limited kitchen counter space, what I loved the most about this grinder is that it's not only compact; it has a built-in cord reel that lets you retract the cord when you're not using it!
Usage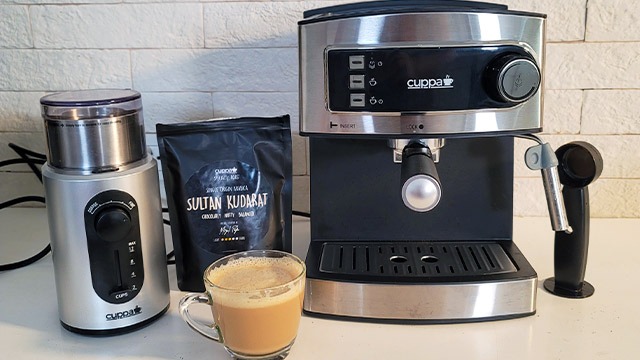 Have I mentioned that prior to trying out the Cuppa Personal Espresso Machine, I had no idea how an espresso machine works? This is where the manual came in handy with instructions. Where some manuals can be too technical, I found the instructions were straightforward yet detailed enough to be easy to follow, and within 10 minutes of reading the manual and setting up the machine, I was able to pull my first coffee espresso shot!
Grinding the beans
The first thing I had to do was to grind the coffee beans, but though the manual for the grinder was detailed on how to use it, it didn't mention how to make a proper cup of espresso. I simply went online to find which setting to use for an espresso shot, and how much coffee I needed to make one. I found that the standard "dose" of coffee grounds for a double shot of espresso is anything between 13-20 grams, so I put 20 grams into the blender and ground it on the finest setting.
Using the machine
Time to pull the espresso shot. It was easier to transfer the ground coffee to the transparent lid and then scoop it out from there to the portafilter. Instead of the 20 grams, I was only able to fit about 14 grams of coffee grounds into the portafilter. It was easy to fit it into the machine, and after that, all I had to do was press the "Coffee/Hot Water" button and set my timer! I read that you only need to let the water go for 20-30 seconds, and for me, exactly 20 seconds yielded a strong yet flavorful espresso shot.
Using the frother
I also tried making a cappuccino, so this meant I had to learn how to froth milk with the steam wand. Again, the manual and Youtube were my go-to. The knob that controls the frother is tight, however, so you really need to put some effort into turning it smoothly to control the steam output. I was able to make a decent (but far from perfect) steamed milk using a ceramic milk jug. My latte art skills are nowhere near existent, but it was satisfying to see the froth on top of my freshly-made cappuccino!
Cleaning the machine
The last part that I was dreading was the cleanup. I was worried about how I was going to clean up coffee stains on the machine or dried milk on the steam wand, but I didn't have to. The manual had detailed instructions on how to clean the espresso machine, including getting rid of mineral deposits in the water reservoir. Plus, most of the things that you'd need to wash are detachable, and the ones that aren't are easy enough to wipe with a moist kitchen towel.
Pricing
The Cuppa Personal Espresso Machine retails at P7,200, while the Cuppa Coffee Blade Grinder retails at P2,100. Compared to other home espresso machines that have 20BAR pressure pumps, Cuppa's is one of the cheapest options available without sacrificing quality.
While the Cuppa Coffee Blade Grinder's price point is within the standard range, as someone who also enjoys cold brew (which needs courser grounds), Cuppa's blade grinder settings allow me to adjust how coarse or fine I can grind my coffee. Added bonus: since it has a stainless steel bowl, not only is it easy to wash; I can use it to grind herbs and spices, too.
Final Thoughts
I have very little space on my kitchen counter, but the Cuppa Personal Espresso Machine, which is approximately 9 inches wide and 11.5 inches long, fits right in. It's literally about the same size as short bond paper. Meanwhile, the Cuppa Coffee Blade Grinder is compact enough to store on a shelf or in a cabinet, especially because of the retractable cord reel!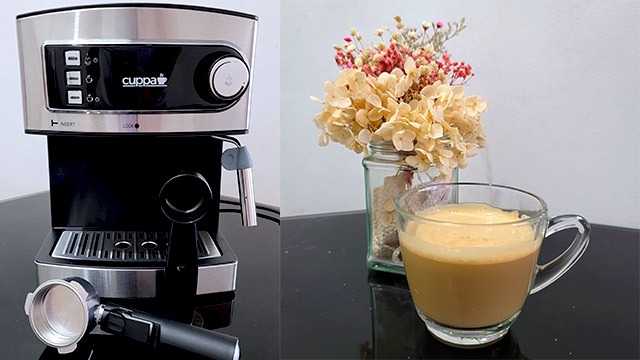 Did I become a pro at making espresso overnight? No. But hardly anyone ever becomes a professional barista that fast. What I quickly picked up, however, is that pulling espresso shots is fun, and I am definitely looking forward to improving my currently nonexistent skills, one cup at a time.
Apart from the fact that using the espresso machine allowed me to make several great cups of coffee, a big part of why I found making espresso so engaging was because both the Cuppa Personal Espresso Machine and the Cuppa Coffee Blade Grinder are easy to use, especially for someone whose idea of a "complicated" coffee-making ritual is any method that includes grinding your own coffee beans.
The Cuppa Personal Espresso Machine and the Cuppa Coffee Blade Grinder can be ordered online through the Cuppa website, and they also currently have a 20% off discount on ALL ITEMS! You will also get free shipping and a free gift from Cuppa with a minimum order of P1,000 until May 31, 2022 or until supplies last.
You can also win a Coffee Starter Kit that includes the Cuppa Coffee Blade Grinder, Cuppa Personal Espresso Machine, and a 125g pack of Sultan Kudarat Single Origin Arabica. For more details, you can check out @cuppaespressoph on Facebook, Instagram, and Tiktok. 
***