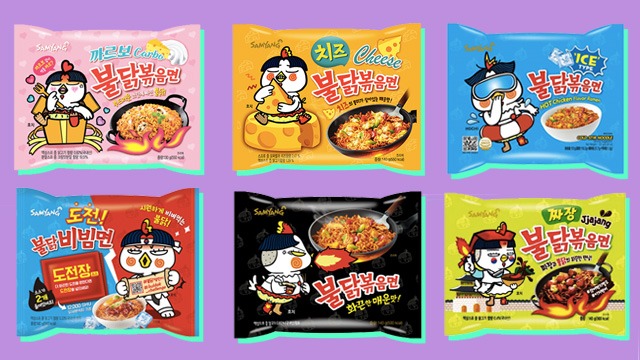 Products recommended on our website are independently selected by editors. If you buy something through our links, Summit may earn an affiliate commission at no extra cost to you.
Do you remember the Fire Noodle Challenge? It was around 2018 when people challenged themselves or other people to finish a serving of "Fire Noodles" or the Buldak Bokkeummyun, one of the spiciest instant noodles manufactured by Korean food company Samyang. This food challenge became a litmus test to find out who can successfully eat these piquant noodles with ease and without shedding a tear.
A quick search on YouTube will give you thousands of results about the Fire Noodle Challenge. There are tons of entertaining reaction videos where you can see participants who can only take one bite and their eyes would instantly start to water, but there are also people who can go through one to two servings without needing to drink milk to counter the heat.
This line of instant noodles can still be found in most Korean groceries and even our local supermarkets. People who tried it and loved it still buy Samyang's Buldak Bokkeummyun for its painfully spicy but addicting taste.
Samyang's Buldak Bokkeummyun comes in different flavors with a corresponding level of heat or Scoville Heat Unit (SHU). For those who have been scarred by this food challenge, you should know that there are other less spicy flavors worth trying. For those who feel unchallenged, maybe you haven't tried the spiciest flavor just yet.
Here's a guide to the different

Samyang

Fire Noodles, ranked according to spiciness: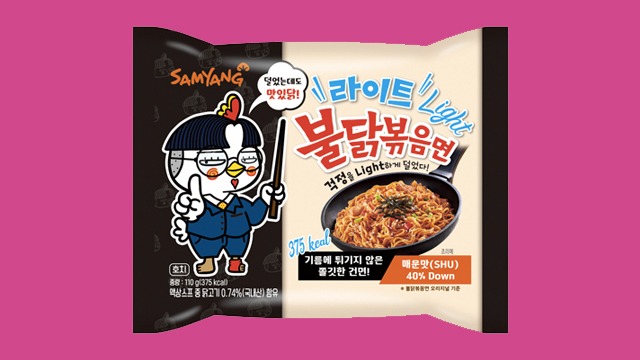 Buldak Bokkeummyun – Light (SHU: 1,762)
Samyang's Buldak Fried Noodles Light reduces the spiciness and the calories of their original Buldak Fried Noodles flavor. This lighter version only has a total of 375 calories!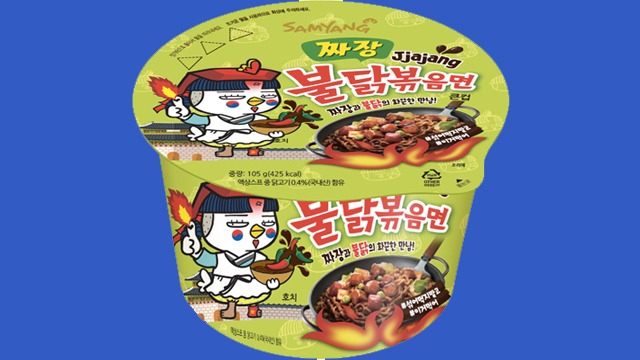 Jjajjang Bokkeummyun (SHU: 1,920)
This combines the spicy Buldak Fried Noodles and jjajjangmyeon, a popular noodle dish in South Korea. The jjajjangmyeon is commonly made with noodles coated in a black bean paste then topped with meat and vegetables.
BUY HERE: SAMYANG Buldak Jjajang Flavor, 105 g, P70, Sarang Korean Mart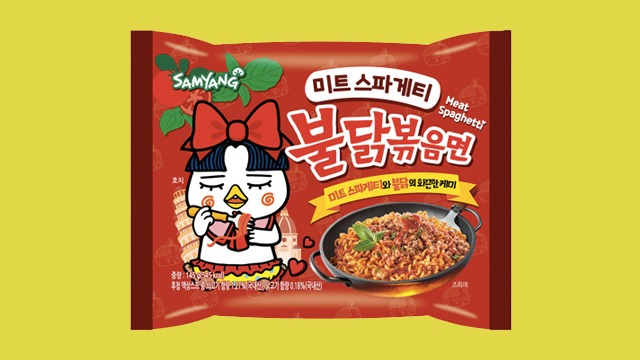 Meat Spaghetti BuldakBokkeummyun (SHU: 2,600)
Samyang has a spaghetti version of its noodles, too. This Meat Spaghetti Buldak Noodle combines the hot Buldak sauce and a rich, meaty tomato sauce.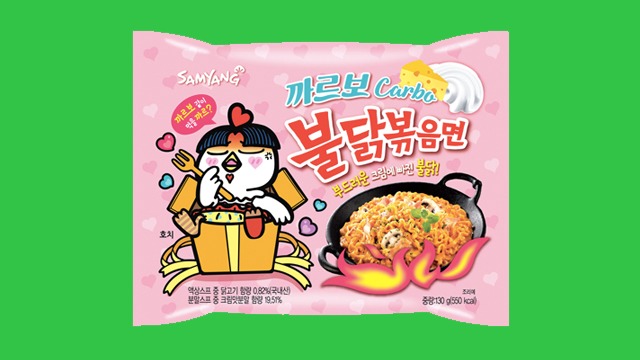 Carbo Buldak Bokkeummyun (SHU: 2,600)
The Buldak Fried Noodles also includes not-so-spicy flavors like this Carbo (short for carbonara). This flavor has a creamy taste, which counters the spiciness of the original Buldak Fried Noodles. It makes the spicy flavors less intense!
BUY HERE: Samyang Carbo Hot Chicken Flavor Ramen 5 pcs, P258, S&R Lazmall Flagship Store
BUY HERE: Samyang Buldak Carbonara Pouch, P75, Sarang Korean Mart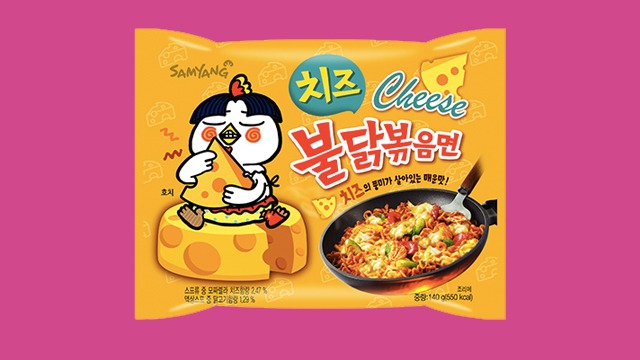 Cheese Buldak Bokkeummyun (SHU: 2,323)
The Cheese Buldak Fried Noodles combine the complementary flavors of chili and cheese. This flavor uses its classic Buldak Fried Noodles with mozzarella cheese powder.
ADVERTISEMENT - CONTINUE READING BELOW
Recommended Videos
BUY HERE: Samyang Buldak Cheese Hot Chicken Flavor Ramen 5 pcs, P244, S&R Lazmall Flagship Store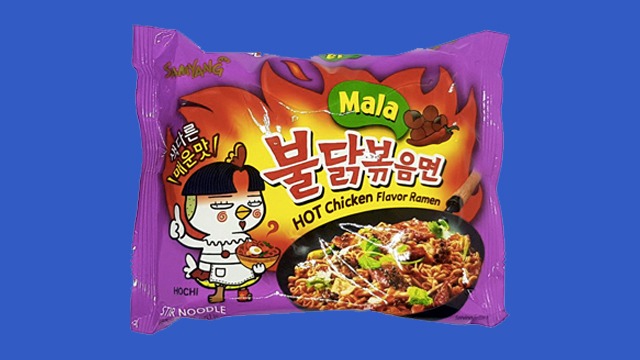 Mala Buldak Bbokkeumyeon (SHU: 2,700)
Contrary to what the packaging of this instant noodles say, this is not four times spicier than the original Buldak Fried Noodles which has a SHU of 4,404. The Mala is a popular Chinese sauce made with simmering Sichuan peppercorn, chili pepper, and various spices in oil.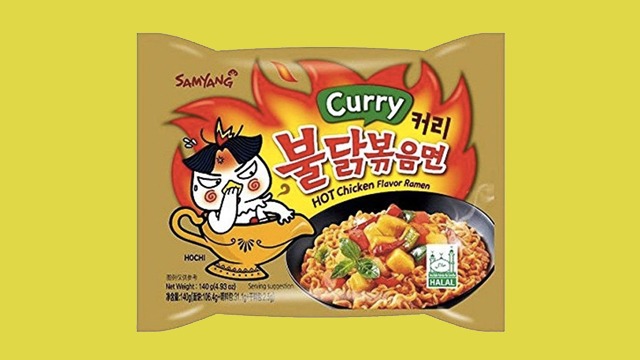 Curry Buldak Bokkeummyun (SHU: 3,810)
This Curry Buldak Bokkeummyun is still a little spicy, but not as spicy as the original Buldak Bokkeummyun. It has a sweetness to it because of the curry flavors and it feels like actual curry with the added dehydrated potato and carrots.
BUY HERE: Samyang Buldak Curry Ramen Pouch, P85, Sarang Korean Mart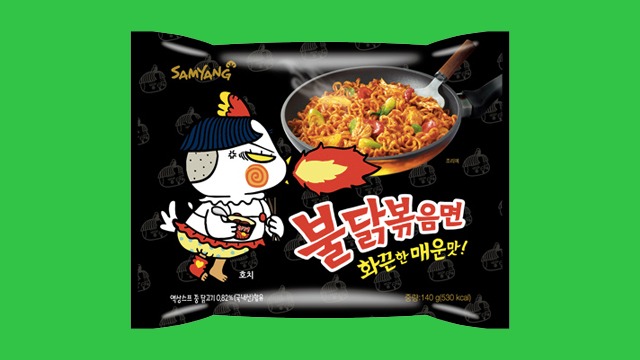 Buldak Bokkeummyun (SHU: 4,404)
This is the OG Buldak Fried noodles! According to Samyang's website, this has a 4,404 SHU because of its similar taste profile to the Cheongyan chili pepper. Each pack comes with a packet of savory grilled seaweed powder and crispy sesame seed for garnish.
BUY HERE: SAMYANG Buldak Original Stir-Fried Ramen Pouch, P65, Sarang Korean Mart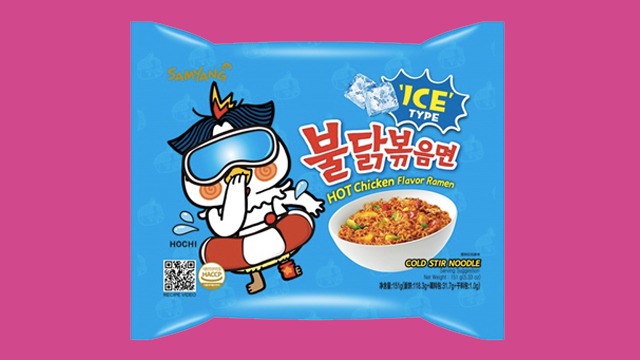 Ice-Type Buldak Bokkeummyun (SHU: 4,404)
This flavor has the same level of spiciness as the Buldak Fried Noodles, but the difference is that this flavor is served ice-cold. After boiling the noodles, you should transfer it to a bowl with ice water, and then add the seasoning and garnish.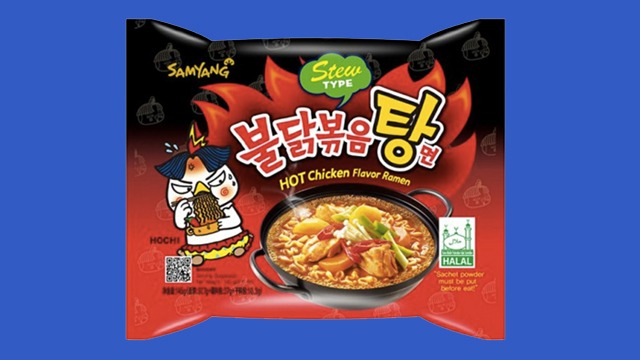 Stew-Type Buldak Bokkeummyeon (Hot Chicken Stew) (SHU: 4,705)
Yes, this Buldak Fried Noodles has a thick spicy soup. According to Samyang's website, the hot broth is good for mixing with rice after eating the noodles.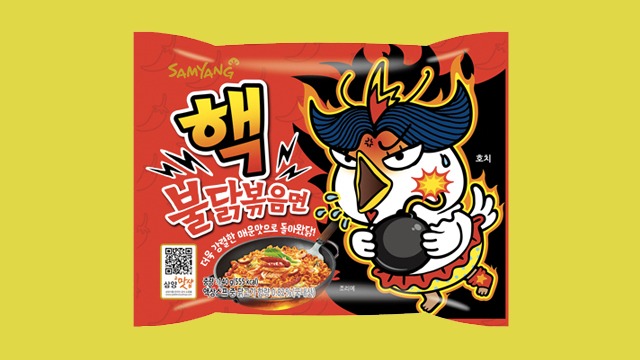 Nuclear Buldak Bokkeummyeon (SHU: 10,000)
This was first launched as a limited-edition flavor back in 2017 which had an "x2" in the packaging and a doubled SHU amounting to 8,000. Now that it's relaunched, this flavor has a whopping 10,000 SHU.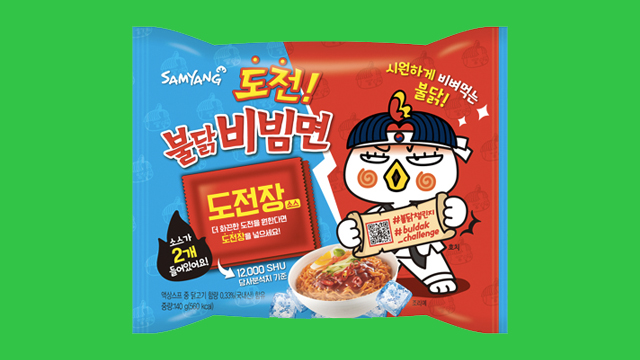 Challenge Buldak Bbibbimyeon (SHU: 12,000)
If you're up for a challenge, this Buldak Bbibiimyeon has an extremely spicy taste. It has a Scoville index of 12,000 and this is the hottest flavor in Samyang's Buldak lineup.
Samyang's latest addition to their Buldak Bokkemmyun lineup: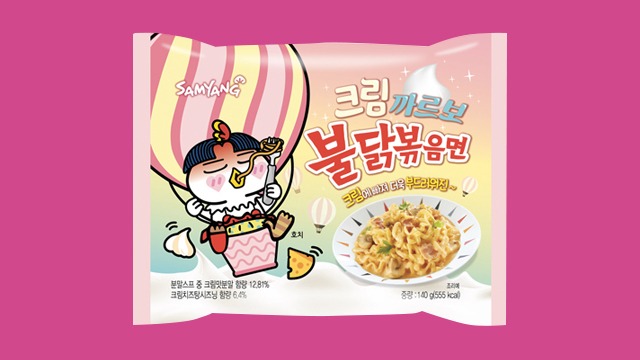 Cream Carbonara Buldak Bokkeummyeon (SHU: unknown)
A leveled-up version of the Carbo Buldak is the Cream Carbonara Buldak Fried Noodles. This flavor has cream cheese in the mix for creamier, cheesier notes.
BUY HERE: SAMYANG Buldak Cream Carbonara Pouch, P85, Sarang Korean Mart
RELATED ARTICLES:
Links are updated regularly and as much as possible, but note that products can run out of stock, discounts can expire, and listed prices can change without prior notice.
***
Thinking about what to cook next? Join our Facebook group, Yummy Pinoy Cooking Club, to get more recipe ideas, share your own dishes, and find out what the rest of the community are making and eating!
Got your own version of the classic dishes? Pa-share naman! Get your recipe published on Yummy.ph by submitting your recipe here!