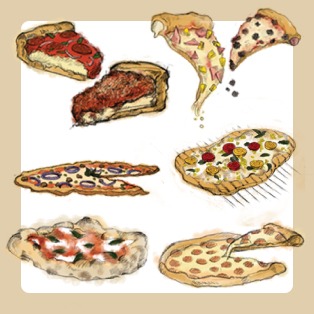 Pizza is, without a doubt, an easy crowd-pleaser. Considered by many to be a party staple, pizza has taken over the world as a favorite celebratory treat. And rightly so, with endless topping combos and delicious crust variations available. These are the kinds of pizza available in the Philippines, which one is your favorite?
Deep-dish or Chicago-style Pizza
Who doesn't love an ooey, gooey, over-spilling deep-dish pizza? Wholly satisfying and filled to the brim with toppings, this style is popular in Chicago where many pizzerias bake their pizzas in a dish that is a couple inches deep.
Stuffed Crust Pizza
There are people who eat through their pizza slices and then leave their crusts behind. The answer to this wastage? Cheese-stuffed pizza crust! We love how there is a pizza style to fit everyone's preferences.
Thin Crust or New York-style Pizza
This is a pizza style that many people are the most familiar with— you get the crunch of the bottom crust, the chewy goodness of the toppings and melted cheese in one bite. This style keeps it simple by using only a handful of toppings to keep the crust from getting soggy and overloaded.
Grilled Crust Pizza
This trend has sneaked into many pizzerias in Europe and the United States, and it is popular among home cooks who have a charcoal grill in their homes. The dough, usually sized for single servings, is placed straight onto the grill, toasted for two minutes, and then flipped. Light, pre-prepped toppings are immediately placed on the grilled side upon flipping.
Neapolitan Pizza
This style means a thin-crusted pizza baked in a wood-fire or coal oven. The crust has a signature light and airy crunch, and the dough specifically uses very fine flour called "Type 00" to ensure its light texture.
Thick Crust or Pan Pizza
Pan pizza is the ultimate party pizza! The thickness of the crust allows for a judicious amount of toppings without compromising its quality, so take this as an opportunity to pile on the toppings with this one.
ALSO READ:
WATCH: How To Make a 3-Ingredient Skillet Pizza
How To Make Quick Sourdough Pizza
Infographic by Kristina Catap