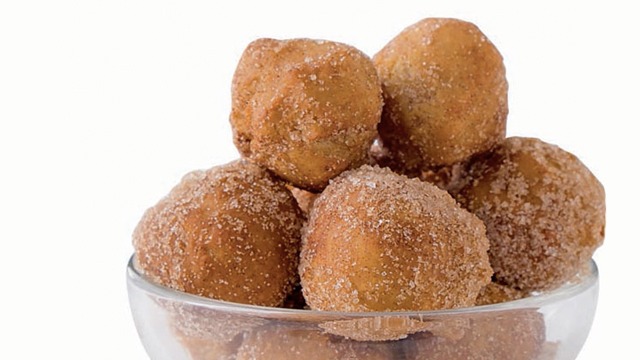 With some of your go-to restaurants and cafes slowly opening their doors again, you could probably just have the desserts you're craving for delivered to your house. The downside is that it can get pretty expensive. 
But quarantine has taught us that we are actually more resourceful than we thought. For example, who knew you could do *so* much with pancake mix? In an effort to continue experimenting in the kitchen, here's another easy recipe you can try if you're craving donut holes.
YouTuber Emma's Goodies makes doughnut holes with just two ingredients: self-rising flour and any plain yogurt.
If, however, you don't have those in your house, the yogurt can be substituted with 1/2 cup of milk and the self-rising flour can be made with either 1 cup of plain flour + 1 1/2 teaspoon of baking powder or 1 cup of plain flour + 1/2 teaspoon of baking soda.
Combine the ingredients in a bowl to make the dough. Then transfer this dough in a ziplock bag (if you don't have a piping bag). Preheat the oil for frying and it should be around 160 degrees celsius. According to Emma's Goodies, because the doughnut holes don't contain any yeast, they will initially stay at the bottom of the pan. Don't worry, it's normal! Cook the doughnuts until they're golden and enjoy.
This story originally appeared on Cosmo.ph.
* Minor edits have been made by the Yummy.ph editors.