Chinese New Year happens on January 22, which is less than two weeks away! Eng Bee Tin usually releases a special tikoy each year to celebrate the occasion: Cheese Tikoy was launched in 2020, Dulce de Leche Tikoy in 2021, Peanut Sesame Tikoy last year, and this 2023, the Year of the Rabbit, it's Mango Sticky Rice Tikoy.
[facebook url="https://www.facebook.com/iloveengbeetin/posts/pfbid0DHEsBmFuuMXgVsaK7jnStPsaJibLEoeBFx36DTP2oLqABVk194DdhwMi273pkug6l"]
Eng Bee Tin's Mango Sticky Rice Tikoy is the new addition to their lineup of limited edition dessert tikoy. This flavor has the distinct sweetness and nuttiness we all love about mango sticky rice. According to Eng Bee Tin, this is best served with a scoop of vanilla ice cream on top—like a brownie a la mode, but instead of a brownie, there's sweet, soft, chewy tikoy.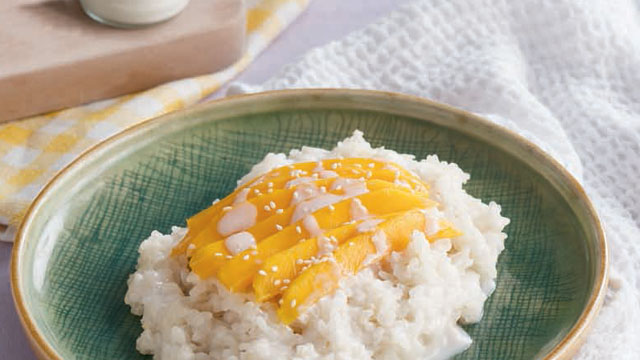 Eng Bee Tin's Mango Sticky Rice Tikoy is a nod to Thailand's popular mango sticky rice dessert which is typically made by cooking the glutinous rice in coconut cream and sugar, then served with mangoes on the side or on top and finished with a drizzle of coconut cream. If you've ever been to Bangkok, this rice dessert, much like our kakanin, can be found in the streets too.
You can order Eng Bee Tin's Mango Sticky Rice Tikoy via Ube Delivery, priced at P308/box. For same-day deliveries, you can opt for GrabMart and PICK-A-ROO.
*****