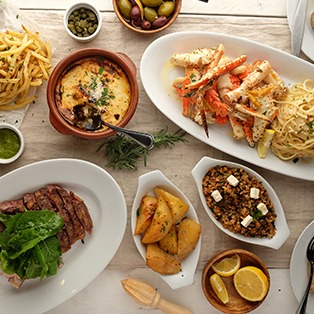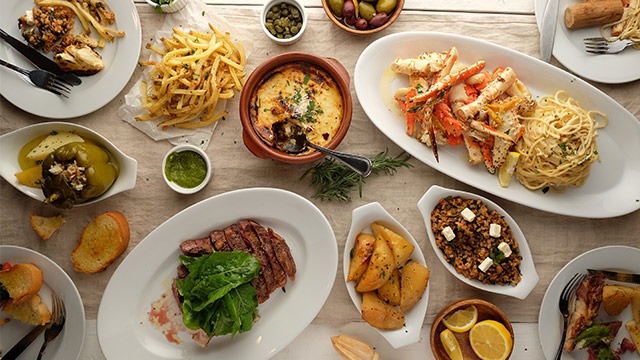 It is a well-known fact that Greeks love food. It is intrinsic to their country's identity, deeply rooted in its history, culture and even geography.
While the Philippines may be a few thousand miles away from the Grecian coast, that doesn't mean that we can't appreciate the country's unique knack for bright flavors, rich roast meats and beautifully-cooked seafood. On the contrary, with a bit of knowledge and a visit or two to some of Manila's amazing Greek restos like Cyma, we can totally take a culinary trip to that side of the Mediterranean.
To get things started, here are a few things that you might like to know about one of the world's most fascinating food cultures:
1 It's all about flatbreads and dips
Whenever you go to a Mediterranean restaurant, much like Cyma, you will most likely find a platter of dips meant to be served with piles of freshly-baked pitas. Whether the restaurant is Greek, Turkish or Israeli, you are bound to fill up on bright, flavorful dips such as hummus, baba ganoush and tzatziki, all smothered in fresh extra virgin olive oil, best smeared on pieces of warm pita breads.
While we typically eat these dips as starters or mezzes, locals from the region tend to prefer eating these dips for breakfast or as a quick lunch!
2 Vegetarians can eat, too!
While Mediterranean restaurants tend to be known for serving juicy, glistening meat served straight from the fire pit, Greeks and Turks actually have a soft spot for refreshing and healthy veggie dishes! Locals tend to favor indigenous ingredients such as beets, red onions, feta cheese, olives, bell peppers, chickpeas, and eggplants, all of which are hearty veg best eaten just barely cooked and covered in bright, lemony dressings and greek yogurt.
3 Greece knows how to do fish
This shouldn't be that much of a surprise, given Greece's proximity to the ocean. As with most coastal or island nations, Greece's food would be nothing without fresh seafood. There is nothing more Greek than fresh seafood, such as whole sea bass or slowly softened octopus, grilled simply and served with fresh herbs and a squeeze of lemon.
5 Simple is best
Every Greek grandmother will make it a point to tell you that Greek food is about simplicity and heart. Greek food, whether it is slow-cooked lamb on sweet, tomato-y orzo or simply grilled porkchops, prawns and beef ribs, is always about highlighting the natural flavors of the ingredients themselves. The Greeks believe that the less you do to an ingredient, the better it will taste.
5 Their desserts are something else
Greek desserts are things of legend. Their names alone sound like magical, mythic tongues practically forgotten to the ages, and their flavors are just as fantastical. Powdery kourabiedes biscuits, floral and syrupy baklava, dense custards flavored with rose and mastic, all lend a fantastical end to any Greek meal.
ADVERTISEMENT - CONTINUE READING BELOW
Recommended Videos
For a taste of real Greek cuisine, make sure to drop by Cyma Restaurant to try out their brand new, totally authentic menu!
Photo courtesy of Cyma