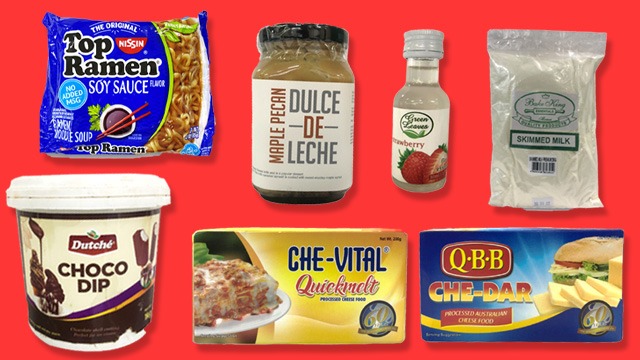 Be warned! Some products you find on shelves at your local supermarket, groceries, and even baking supply stores may not have passed the government's standards of quality according to the Food and Drug Administration or FDA. 
The products in question are among a series of FDA food advisories issued last September 12 to 14 which include these popular food products: 
• BAKE KING ESSENTIALS Skimmed Milk Premium, Rice Flour, and Glutinous Rice Flour 
• BOHOL'S FINEST Peanut Fingers
• CHE-VITAL Quickmelt Processed Cheese Food
• DUTCHE Choco Dip
• DULCE DE LECHE Maple Pecan
• GREEN LEAVES Mango and Strawberry Flavor Essences 
• GREEN LEAVES Brown and Black Liquid Food Coloring
• NISSIN Top Ramen Ramen Noodle Soup Soy Sauce Flavor
• QBB CHE-DAR Processed Australian Cheese Food
"Since these unregistered food products and food supplements have not gone through (the) evaluation process of the FDA, the agency cannot assure its quality and safety," the advisory said. A Certificate of Product Registration or CPR is required under Republic Act No. 9711 from all food manufacturers for food safety reasons because the FDA inspects and ensures the factories are in compliance with the regulation standards. 
Want to know what other food products on shelves and even online have been issued food advisories?
Here are more food products that the FDA warns us against buying and consuming until the advisory is lifted from the product: 
Do you have any of these products? Don't throw it out just yet! The good news is that despite having been issued food advisories, these advisories can be lifted such as in the case of Reno Liver Spreads. Other products that have been issued FDA food advisories include Conching rosquillos egg cookies, Hormel Chili with Beans, and Bongong's Piaya. 
If you're wondering if a food product you want to buy or have bought has been registered with the FDA, you can find out by using the FDA Verification Portal website and typing in the FDA Registration number on the product label or the name of the product. 
For more information about these food advisories and other such concerns, visit the Food and Drug Administration (FDA) Philippines website. 
*** 
ADVERTISEMENT - CONTINUE READING BELOW
Recommended Videos